By Teng Bingsheng – Professor of Strategic Management, Associate Dean of Executive Education Programs, CKGSB
With the domestic pandemic under control, China's VC market has recovered significantly and seen a major rebound.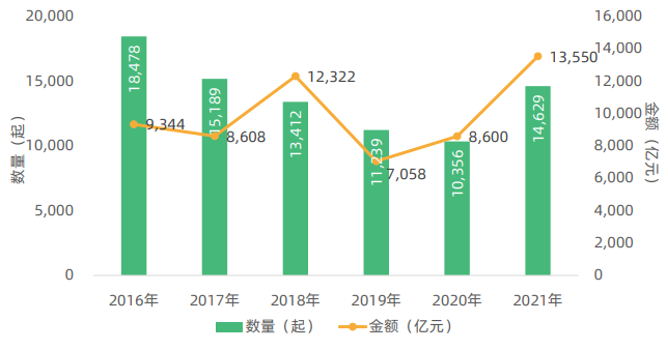 China's total domestic VC investments (bar chart on left axis) vs total amount invested in renminbi (line chart on right axis)
As seen from the above chart, China's domestic VC market disclosed a total of 14,629 investment and financing events in 2021, an increase of 41% on 2020. The total financing amount was 1,355 billion yuan, an increase of 58% compared to 2020, which is the highest financing amount in recent years.
In 2021, the number of investment and financing events, as well as the amount of financing in major fields both increased compared with 2020, among which the number of financing in advanced manufacturing, consumption, medical care, and corporate services picked up. In the future, technology-based unicorn companies will occupy a more prominent role with their number and valuation increasing significantly.
A unicorn is defined as a privately held startup company valued at over USD $1 billion. CB Insights identified over 1,191 unicorns worldwide as of Sept 2021. Among the 40 most valuable global unicorn companies, 20 are from the United States and 10 from China.
From 2015 until now, the average annual growth rate of unicorn companies in the US is 32%. China is doing even better, with an average annual growth rate of 45%. Whereas in the US, most unicorn companies are in the software as a service (SaaS) and fintech sectors, in China, unicorn companies branch across the industries of mobile communications, e-commerce, hardware, education technology, and automobiles and transportation.
The rapid growth of the number of unicorn companies in China has stemmed both from the rise of technological innovation and entrepreneurship, as well as the impact of globalization. There are five reasons behind the rise of unicorn companies in the fields of advanced manufacturing and hard technology:
1.China has entered a historical environment of technology-driven development: Since laying the foundation for industrial development after reform and opening up, China has become the only country outside the United States that has the ability to develop all-round high technological capabilities.
2.Technology-driven development has become a mainstream trend: Hard technology has reached a point of accumulation. The life science sector is changing rapidly and average life expectancy is expected to increase significantly in the next 20 years. Moreover, sustainable energy resources are also increasingly being developed for commercial use.
3.Changes in the global economic and capital environment: Inflation in the United States and the new global political and economic landscape present historic opportunities for Chinese hard technology innovation.
4.The development of China's macro environment has facilitated investment in hard technology.: In August 2022, the Ministry of Science and Technology and the Ministry of Finance issued an action plan to guide enterprises to strengthen their core technology research capabilities. Other aspects include China's dual circulation strategy and consumption upgrading which have enabled China to fully embrace hard technology.
5.From the policy end, science and technology innovation has become an important strategic support for China's development.
Policy has driven the building of new infrastructure and supported emerging industries such as new generation information technology and high-end equipment. In addition, the government has formulated policies on finance, taxation, and finance to facilitate the operational environmental in many industries. For example, logistics companies have improved their distribution efficiency through autonomous driving; technologies such as artificial intelligence and blockchain have also improved the security of financial companies.
The increase in market demand has provided technology companies with a broad market while accelerating product output that meets market expectations, thereby improving commercialization capabilities.
In terms of capital, the top-level capital structure, including the Science and Technology Innovation Board (START Market), has gradually improved, providing a positive capital environment for the development of technology-based enterprises. With policy support and strong market demand, capital has poured into high-growth technology companies, especially technology-based unicorn companies.
For unicorn companies, technological and business model innovation will be the foundation for future development. In the past 20 years, many Internet companies have regarded business model innovation as the engine for growth; however, the importance of technology is becoming increasingly evident. In the future, they will go hand in hand – innovation will be driven by both a company's business model and technological capabilities.
Enjoying what you're reading?
Sign up to our monthly newsletter to get more China insights delivered to your inbox.