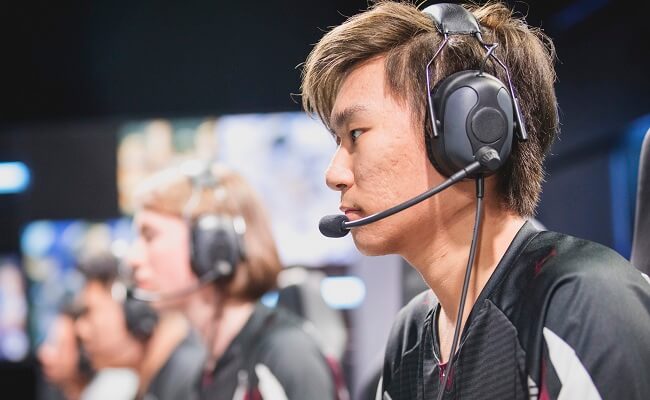 That means game on for Tencent and Alibaba
China is a country well used to both great triumphs in sport, as well as shocking lows. But when the Chinese eSports team Newbee fell to a comprehensive defeat at the hands of Team Liquid from the Netherlands in the final of the 2017 International Dota 2 Championship in August, it seemed to encapsulate both, with many computer game aficionados taking to Weibo to express their dismay at the failure to claim the top spot.
The fact that a competitive computer game match could have such reverberations speaks to the growing importance of the field known as eSports—and of China's huge role in it. Indeed, nine of the top 20 eSports players in the world by earnings are Chinese, with Li Peng, who plays under the handle iceice, raking in just shy of $2 million in winnings so far, according to e-Sports Earnings. By comparison, the top-earning player—Germany's Kuro Takhasomi—has made $3.367 million. Such figures, although well short of the incomes of the likes of Cristiano Ronaldo and Stephen Curry, are indicative of how eSports have tapped into the current moment.
"eSports are symbolic of our age: contested on-line, driven by technology, involve co-creation by users, and can be engaged in according to a participant's circumstances," says Simon Chadwick, professor of sports enterprise at the University of Salford's Salford Business School. "Many of us live large parts of our lives in online environments; we want to utilize and benefit from the latest developments in technology; we are not prepared simply to be passive consumers, we want to be part of creating consumption experiences; and we live time impoverished lives where we simply can't afford to spend time watching traditional sports."
With global revenue for eSports reaching $493 million in 2016, according to the games market intelligence company Newzoo, and expected to grow to $696 million in 2017, eSports is big business. China's slice of that market is expected to reach $104 million, or 15%, making it the second largest territory after North America, which has a 37% share. Meanwhile, some companies put the figures even higher—Niko Partners estimates that the market for professional eSports in China will hit $1.26 billion this year, a 32.6% increase year on year.
Such growth is driven by, among other things, the rapid increase in sponsorship and media rights deals, with millions of fans watching eSports games online. Indeed, Niko Partners estimates that live streaming of eSports events will be the top source of revenue in China in 2017—as it was in 2016—at $625 million. And further commercial interest in the field stems from the fact that eSports offers access to a demographic that brands have found tricky to reach and connect with—millennials.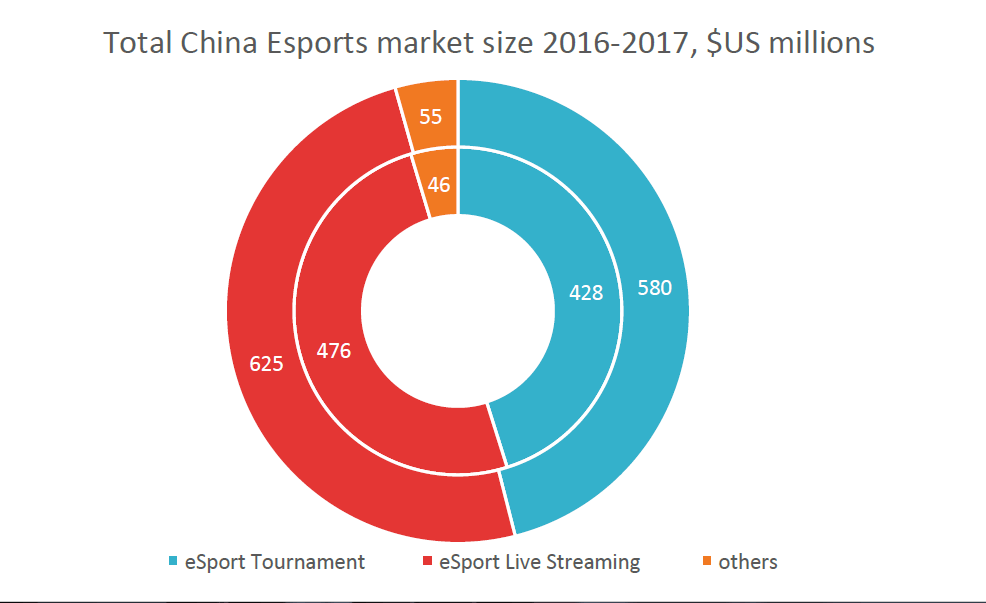 "The most value for brands in eSports versus traditional sports comes from targeting the millennial audience, which eSports mostly consists of. This audience is increasingly hard to reach through traditional media channels, such as TV, radio or print. Millennials are often cord-cutters, who no longer have a traditional TV subscription, don't listen to the radio anymore and don't have a newspaper or magazine subscriptions. eSports offers brands a way to target this valuable consumer group again," says Jurre Pannekeet, senior market analyst and head of eSports at Newzoo, noting that under-18s—who likely have never had any engagement with the aforementioned types of media—are well represented in eSports' fan base as well.
"eSports offers brands a way to target these difficult groups again and connect with the favorite pastime of millennials, namely gaming."
Going for Gold
But there are also specific conditions in China that has seen eSports take off in the country, while in other gaming nations it has not. For example, Japan, in some ways the spiritual home of computer games, has a much more limited eSports scene.
"China eSports growth is solid thanks to the huge gamer user base, [investment] and the strong demand for the specific game titles that have catapulted eSports to the front page of newspapers globally," says Lisa Cosmas Hanson, founder and managing partner of Niko Partners, citing the games League of Legends, Overwatch, Dota 2, Clash Royale and Honor of Kings.
And China's advanced technological and internet ecosystem also plays a key role in eSports' success, along with some more prosaic factors.
"China is arguably the most sophisticated digital and social environment in the world, hence eSports plays directly into people's appetite for online and electronic products," says Chadwick. "At the same time, it eliminates the needs of traditional sports for large spaces in which to play. In urban areas particularly, eSports enable people to compete with one another without demands being made for spaces to play. In areas of pollution, players need not leave their homes; nor are there long commutes to places where one might meet other players. Given the constraints of everyday life in China, eSports are a convenient solution for those seeking to be part of sports competitions."
That digital sophistication has led to the rapid adoption of new technologies—for example mobile payments—particularly by young people. Indeed, China has been an innovator in mobile-first internet, and Hanson notes that mobile is fast becoming its own segment within eSports and stands to drive growth in 2017 and beyond. Meanwhile, further strong growth is on the cards due to improving connectivity in rural areas.
As is to be expected with any aspect of China's internet landscape, the eSports ecosystem in the country features fewer globally familiar names, with homegrown entities instead taking their place. Where Amazon-owned Twitch is the dominant means of streaming eSports in the United States and other markets, in China it is Douyu TV, and in August 2016, the company raised $226 million in a series C funding round, with Tencent among the lead investors. Rival platforms include Panda TV, which was set up by Wang Sicong , son of Dalian Wanda Chairman Wang Jianlin (the younger Wang is also the owner of eSports organization Invictus Gaming, which he founded in 2011).
"The streaming scene in China is very different to the West in terms of companies involved, but not very different in terms of content they offer or how they work," explains Jurre Pannekeet.
But there also more significant differences. Underpinning eSports in China is a piece of digital infrastructure that has largely been consigned to the trash in the West—the internet cafe. Although suffering a downward trend in China of their own in around 2011 and 2012 as the wealth of Chinese consumers increased and a shift towards mobile internet began in earnest, internet cafes have since bounced back with the growing popularity of eSports.
"The biggest differentiator with China's internet ecosystem that sets it up for success in eSports is the vast Internet cafe network, which is made up of 150,000 locations strong and rising," says Hanson. "Many of these are small, independent, utilitarian internet cafes, yet many are high-end, large I-cafes designed for five-versus-five gaming environments and tournament participation as well as viewing. The investment into these is robust lately and they make it possible for 'everyone' to feel like a competitive gamer."
1v1
Naturally, China's internet giants play an important role in the country's nascent eSports sector. Tencent, with its strong gaming background (online game revenue rose 25% to hit RMB 70.84 billion in 2016, 47% of total revenue that year), has established itself as an early leader, and the company has made several significant investments.
In June, Tencent set out a five-year plan for the development of the Chinese eSports sector, with an aim of creating an industry worth RMB 100 billion by 2022. Published by the company's eSports subsidiary, which was established in December, it envisages the creation of leagues, tournaments and industrial parks in pursuit of this goal. An early indication of what these parks will look like came in May, when Tencent announced plans for one in Wuhu, Anhui Province. As well as including business clusters dedicated to animation and cloud data, the park will feature a "gaming university".
And in a separate development, the company will also work with the State General Administration of Sports to establish standards for eSports.
"Tencent's involvement has been vital in China," says Pannekeet. "Through Riot Games, it has owned and supported the most popular eSports title in China over the years.
"Add to the mix its recent announcement of planning to invest even more heavily into eSports, and it is one of the most important companies contributing to China's eSports scene's success."
Alibaba is also getting in on the act, with eSports accounting for 40% of the operations of Alisports, the company's sports arm. In April, the subsidiary announced a partnership with the Asian Games Council to introduce eSports as a demonstration event at the Asian Games in Indonesia next year. At the same time, it was revealed that eSports would be a fully-fledged medal event for the 2022 Asian Games in Hangzhou.
Alibaba already has a partnership with the South Korea-based International e-Sports Federation, a global organization that seeks to have eSports recognized as a legitimate sport, and the company invested RMB 150 million into the inaugural edition of its World Electronic Sports Games (WESG) competition, which culminated with a final in Shanghai in January involving players from more than 120 countries battling it out for $5.5 million in prize money.
For the second edition, Alibaba has sought host cities—similar to the approach taken by the Olympic Games—in order to bring down its costs. The company lost between 60 and 70% of the money pumped into the first WESG, Alisports' eSports General Manager Wang Guan told the South China Morning Post.
The e-commerce giant is also exploring synergies between eSports and its other operations. Mobile Taobao, for example, has been used to promote WESG, and Alibaba is exploring opportunities for stadium-based advertising and product promotion. Then in July, a new platform was established by Tmall and Intel to offer hardware for professional gamers, as well as merchandise, news and other eSports content.
"The involvement of Alibaba is less significant at the moment, but it's looking for business opportunities and has, of course, a very good track record in other businesses," says Pannekeet. "I believe they will prove to be a key player in the Chinese market in the future, and will figure out their role in the ecosystem."
Follow the Leader
For all the growth and excitement in eSports, there are still challenges that the field faces. As Hanson notes, the growth in eSports could be inhibited by government regulation. Indeed, a sign of that risk came in July after a commentary in the People's Daily, the voice of the Chinese Communist Party, described Honor of Kings as harmful to teenagers—shares in Tencent, the game's publisher, promptly fell 5.1%. Meanwhile, the Chinese government is actively promoting traditional sports, notably soccer, and the sedentary nature of eSports means it may find itself conflicting with public policy.
Furthermore, eSports is still overshadowed by traditional sports such as soccer and basketball, which each boast their own multi-billion dollar industries. But even they are waking up to the challenge and opportunity presented by eSports, with several European soccer clubs, including heavyweights such as Manchester City and Paris Saint-Germain, creating their own eSports teams. And even football world governing body FIFA, hardly an organization famed for innovation and the embrace of technology, now co-organizes the World Cup for the FIFA video game. Following in their footsteps are Chinese Super League clubs, 10 of whom teamed up with Tencent in June to establish the Chinese E-Sports Football League.
But whether eSports will eventually cut into the audience for traditional sports remains unclear. Of course, appreciation of the two isn't mutually exclusive, as exemplified by the fact that people have been fans of different sporting codes for years, and according to Newzoo's Pannekeet, about three quarters of Chinese eSports fans also follow soccer. In any case, established teams will be able to use the strength of their brand and organizational muscle to promote their eSports offerings, and vice-versa.
Such uncertainty makes clear the still youthful nature of eSports. But it is this that offers China the chance to have such a great impact in this emerging field and become a real leader. As a result, eSports may also provide the country with success that has continued to elude it elsewhere.
"eSports may be an opportunity for a Chinese team to win a soccer World Cup in the virtual space, long before they do so in the real world," says Chadwick.
Enjoying what you're reading?
Sign up to our monthly newsletter to get more China insights delivered to your inbox.