The unlikely partnership of China and Hollywood is creating big blockbusters like Iron Man 3 and Furious 7. But why are such co-production arrangements necessary?
The record-breaking Hollywood blockbuster Jurassic World just had a spectacular opening weekend: it netted an eye-popping $500 million at the box office, $99 million of which came from China alone. Unlike the usual release schedules where a China release follows the US release, Jurassic World did it the other way round. It was released in China and eight other places in Asia and Europe three days prior to its release in its home market, the US. If anything, this certainly projects how Universal Pictures, the movie's distributor, views the Chinese market despite the fact that English is not even the first language here.
Now the second-largest film market after the US, China's annual box office proceeds reached a massive $4.76 billion in 2014, up by 36% from the previous year, according to data from Entgroup, a Chinese consulting company specializing in the entertainment industry. Among the 388 films screened in China in 2014, the 308 local films generated 54.51% of the total box office proceeds, while the remaining part was shared by the (only) 80 foreign language movies. The biggest winner of the year, Transformers: Age of Extinction, which saw box office proceeds of more than $300 million in mainland China alone. Entgroup, also estimates that the scale of all film-related industries in China has grown to over $11 billion in 2014.
However, cracking the Chinese film market is much harder than it sounds. In order to protect the domestic film industry, the Chinese government has a policy of only granting 34 distribution licenses to foreign films each year (incidentally, the 34 movies is actually an increase over the quota of 20 that was in place till 2012).
But if the film qualifies as a co-production with a Chinese company—which typically means the film has scenes shot in China, has at least one Chinese character, and a Chinese company or companies contribute at least one-third of the investment—then it will have a chance to bypass the 34-film quota (it is ultimately the Chinese government regulator's call). "So we can have Chinese Na'vi; [and in the live-action sequences] we can also have Chinese actors who speak English in the film," director James Cameron told Hollywood Reporter while commenting on co-producing Avatar 2 with a Chinese company. For the big Hollywood flicks, China is too lucrative a market to ignore.
Already some Hollywood movies have reaped rich rewards by taking the co-production route. Examples include Transformers: Age of Extinction, Iron Man 3 and Furious 7. Starring renowned Chinese actress Li Bingbing who played the factory owner Su Yueming, Transformers: Age of Extinction walked away with over $300 million box office from China. Co-produced by the Beijing-based DMG Entertainment, Paramount Pictures and Marvel Entertainment, Iron Man 3 incorporated some especially tailored extra scenes in Mandarin where Chinese actors Wang Xueqi and Fan Bingbing appear as Dr Wu and his assistant. In these scenes, available only in the version of the movie screened in China, Dr Wu 'revitalized' Iron Man with Yili milk and traditional acupuncture. Although audience feedback on the extra scenes was mixed, Iron Man 3 made $109 million in China alone. More recently, Furious 7, a Chinese co-production with no obvious Chinese elements, garnered $389 million.
Big name directors like Michael Bay and James Cameron are already buying into the idea of China-Hollywood co-productions, and this is just the beginning. Ang Lee, who won two Oscars for best director (for Brokeback Mountain and Life of Pi), is creating a sequel to Crouching Tiger, Hidden Dragon. Being co-produced by Weinstein Company and China Film Group, Crouching Tiger, Hidden Dragon II: The Green Legend will be released in August 2015. 2016 will see the release of Kung Fu Panda 3, the result of a collaboration between DreamWorks and Oriental DreamWorks (a Shanghai-based joint venture founded by DreamWorks Animation, China Media Capital, Shanghai Media Group and Shanghai Alliance Investment). It is said that third sequel will have an additional version with characters' lips synced with Chinese voiceovers.
But this is just a tip of the iceberg. To give you a better picture on what filmmakers in China and the US are co-producing, please click on the infographic below.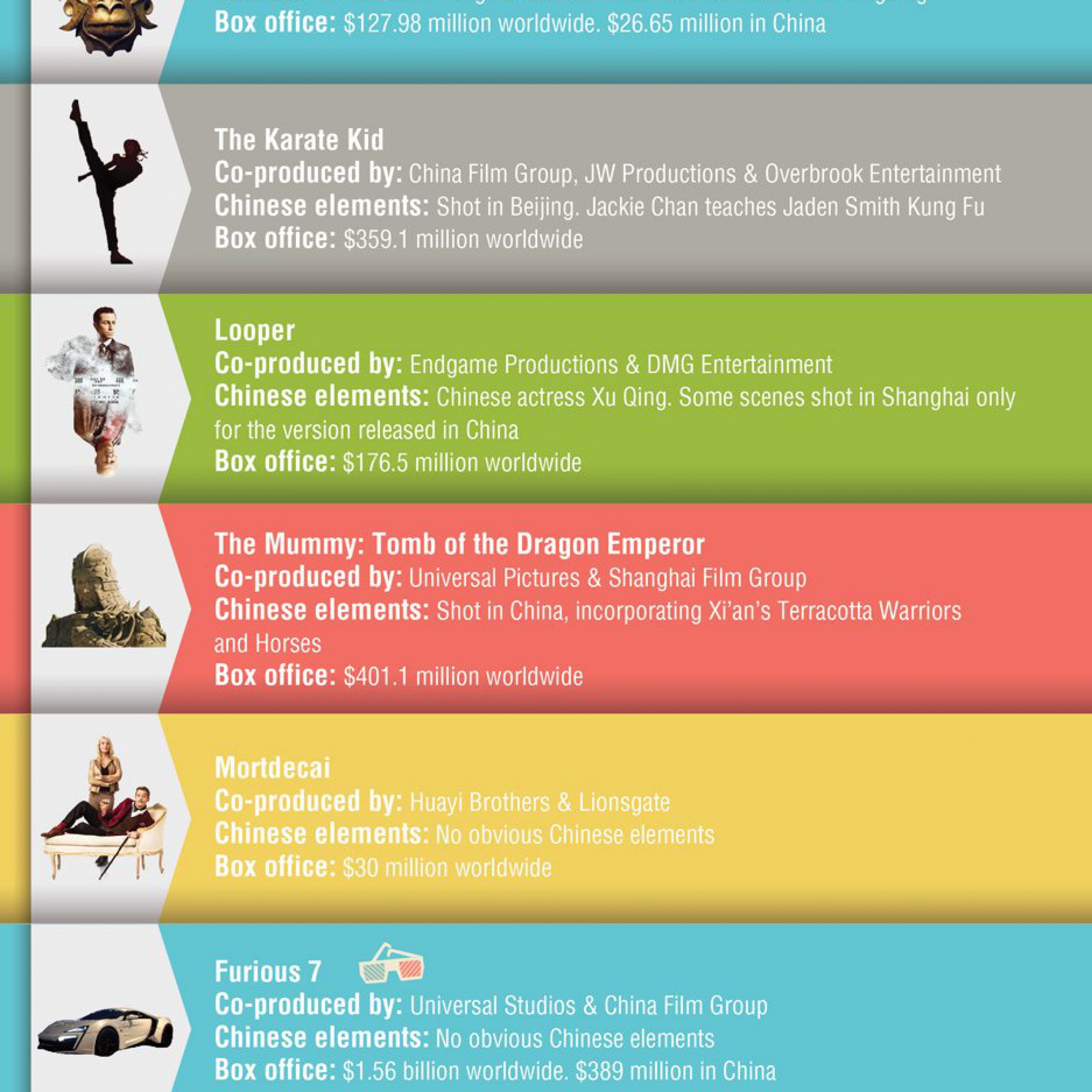 For more on whether politics and culture will spoil the deal for China-Hollywood co-productions, please click here.
To understand what foreign production companies are up against in the race to win in China, please click here.
Enjoying what you're reading?
Sign up to our monthly newsletter to get more China insights delivered to your inbox.