The latest CKGSB Business Condtions Index indicates that Chinese entrepreneurs have a modestly positive outlook
With all the talk of growth slowing down, how are China's entrepreneurs faring? Are they actively making new investment decisions, or are they being cautiously optimistic, or even downright pessimistic? Each month CKGSB's Case Center and Center for Economic Research conduct a survey of leading entrepreneurs in China to gauge and track changes in their business sentiment. The result of this survey, the CKGSB Business Conditions Index (CKGSB BCI), produced under the guidance of Li Wei, Professor of Economics and Emerging Markets Finance, provides a barometer on the state of the economy as viewed from the eyes of China's entrepreneurs.
According to the August BCI, released in early September, the overall index has increased to 59.6, up from July's 57.1. This indicates China's business leaders are optimistic about business conditions over the next six months.
The CKGSB Business Conditions Index is generated wholly on the basis of statistics gathered from leading enterprises whose executives have studied or are studying at CKGSB. We ask respondents to indicate whether their company is more, the same, or less, competitive than their industry average, and from this we derive an industry competitiveness index. Consequently, as most of our sample firms are in a relatively strong competitive position in their respective industries, the CKGSB BCI indices are higher than the government and industry PMI indices. Users of the CKGSB BCI index may therefore focus on changes in the data over time to help them forecast trends in China's economy.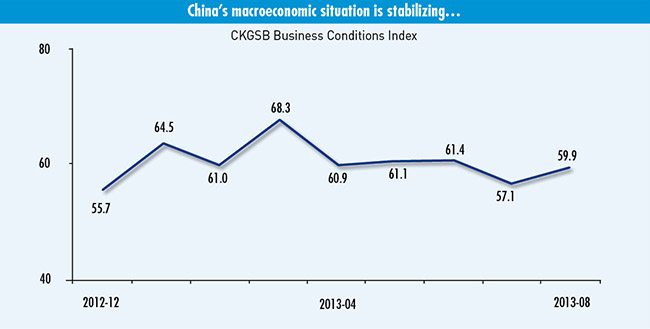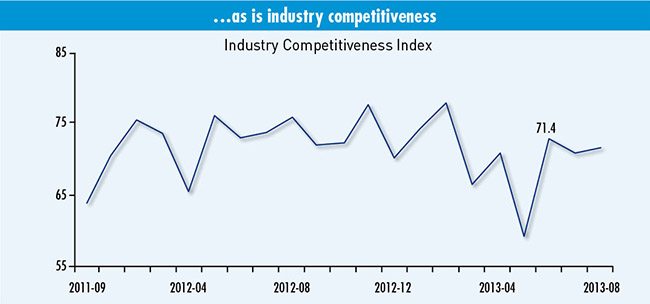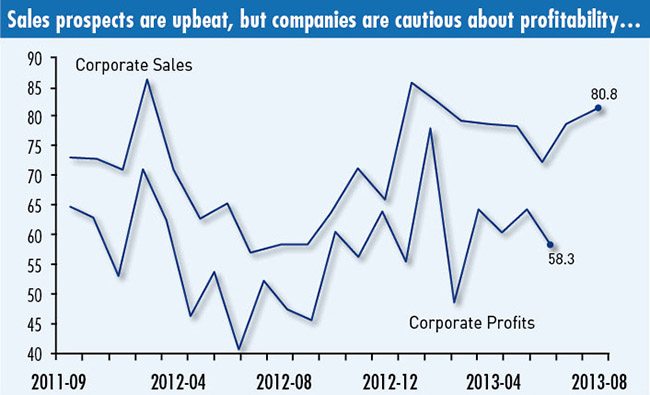 The corporate sales index has risen for two consecutive months, bringing an end to a downward trend that set in earlier in 2013. The corporate profit index is 6.3 points lower than in July, at 58.3. These two indices show that firms are not pessimistic about prospects for the next six months.
Optimism about financing is seen by most companies as being at a similar level to the same time last year. As the majority of our sample comes from private firms, this mainly reflects the financing situation for the private sector.
The downward trend in 2013 with four consecutive months reading below 50 bears witness to Chinese firms' inventory reduction efforts that started last year.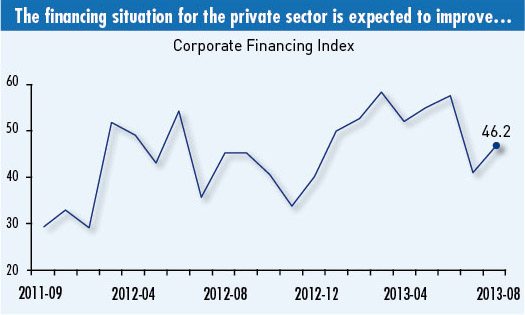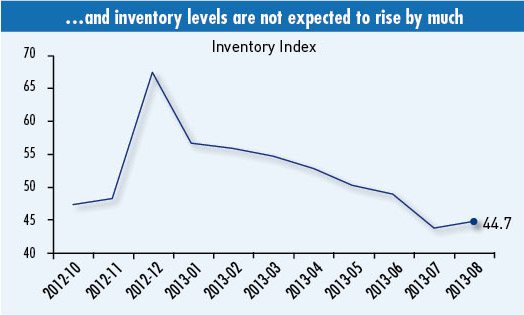 Enjoying what you're reading?
Sign up to our monthly newsletter to get more China insights delivered to your inbox.