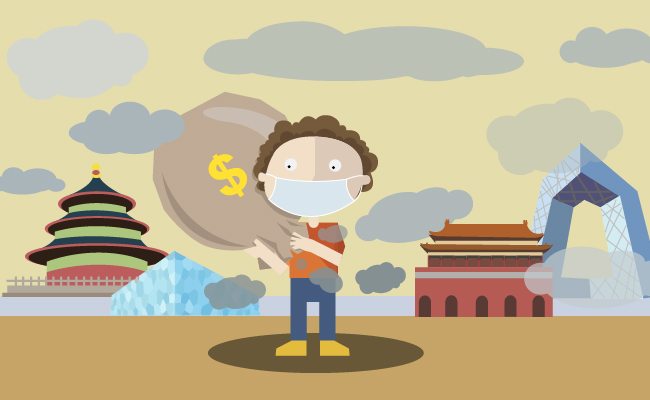 Air pollution in China has become so bad that it is impacting everything, from health to tourism and industrial output. And even the country's GDP.
It started as a joke. Some years back maverick Chinese multimillionaire Chen Guangbiao sold cans of fresh air to drive home the point that China's pollution problem had gotten out of hand. Everyone laughed. More recently, Canadian company Vitality Air started to ship similar cans of oxygen-rich air from the Banff region in Canada to China. This time no one laughed. Instead, if the company is to be believed, people in China appear to be serious about buying these cans, despite the high price tag ($14-$20 a can) and even though doubts remain about whether canned air can really do you much good.
The sad part though is that the joke is no longer a joke.
In northern China, winter has become an unpleasant season. Emissions from vehicles, factories and burning coal are cloaking entire cities under a mucky shroud of smog. Left with no choice, people wear masks to filter out the fetid air and go about their lives. Such quick-fixes aside, the big question remains: how can the problem of air pollution be solved?
After two incidents of hazardous smog in winter this year, Beijing's municipal government decided to issue a red pollution alert—for the first time ever and ironically coinciding with the United Nations Climate Change Conference in Paris. From 8th to 10th December, schools cancelled classes, factories shut down production, cars were allowed on the roads with odd-even number plate restrictions and construction work was banned. Some offices encouraged staff to work from home instead of commuting to office. Within two weeks of the first one, there was a second red alert. Clearly, for the government air pollution is becoming a major cause for concern, much like the slowing economy.
Given this backdrop, a blue sky day in a city like Beijing is a cause for much celebration. When not caused by natural factors like wind, these blue skies come as a result of meticulous planning, and often at a huge cost. Before important events like the 2014 APEC Summit and the 2015 China Victory Day Parade, Beijing and Hebei Province worked hard to ensure blue skies at the right time. Several vehicles in Beijing were off the roads and factories around Beijing had to reduce 30% to 50% of their production for a week or two. The impact is huge, but it doesn't last for long. After all, steel and coal plants have to go back to their normal production schedules after these events, factories need to, well, produce, and cars cannot stay off the roads forever.
So at the moment, China is grappling with two things: the cost of smog-related problems like premature deaths and spiraling health care costs, and the costs of ensuring blue skies, such as production losses due to shut factories.
According to a 2009 World Bank estimate air pollution dents China GDP by 3% every year. This includes the impact on health and damage to natural resources. In 2009 alone, illnesses and premature deaths cost China about $100 billion, and a 2012 research by Tsinghua University found that for each ton of coal produced and used, the damage to the environment and health added up to RMB 260.
Pollution impacts agriculture too. Studies based on satellite imagery and ground-based observations suggest that air pollution affected the harvests of rice and winter wheat by 5% to 30% in eastern China.
Due to the notorious smog and other factors, China's image as a tourist destination has taken a serious beating. The number of foreigners coming to China slumped in the first half of 2013, and the decline continued in 2014. Beijing, a city with several attractions, saw the biggest drop of 10.5% due to its "crazy-bad" PM2.5 levels.
Foreign companies that need to recruit for roles in China are facing an uphill task: convincing employees to move here. Last year, Panasonic openly stated that it would pay employees in China a wage premium to compensate for the hazardous air pollution levels. According to a Bain & Company and American Chamber of Commerce in China survey, in 2013 34.9% of the companies reported difficulties in recruiting expats, and in 2015, the number of companies facing this problem went up to 53%.
Our infographic below sums up the cost of smog in China.

Enjoying what you're reading?
Sign up to our monthly newsletter to get more China insights delivered to your inbox.