Xue Yunkui – Professor of Accounting, CKGSB
Revenues and Growth
With 97% of its sales coming from its online marketplace Amazon is the quintessential Internet company. Since its listing in 1997 until 2021, Amazon has enjoyed a compound annual growth rate (CAGR) of 40.0%, however, over the last decade Amazon's growth rate of 25.4% has fallen short of other many more innovative 3.0 e-commerce models.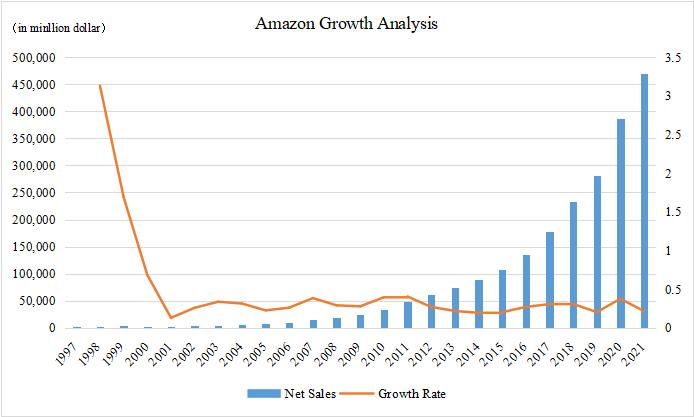 Alibaba has performed better than Amazon over the last decade with a CAGR of 48.8%. Moreover, during the pandemic Alibaba grew at a rate of 35.3% in 2020 and 40.7% in 2021.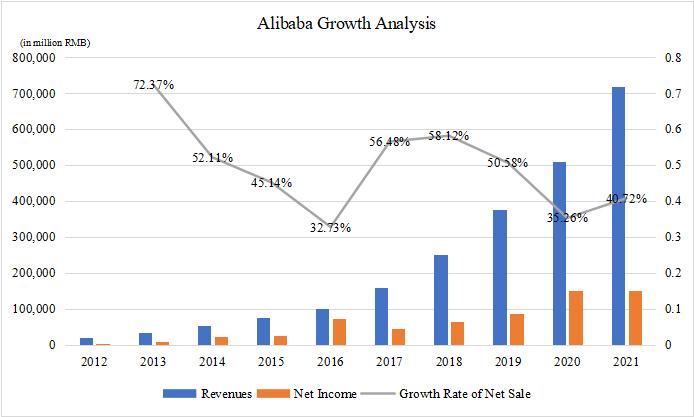 JD.com's CAGR of 41.7% from 2012 to 2021 is higher than Amazon but not as high as Alibaba. JD.com grew more slowly during the pandemic at a rate of 29.3% in 2020 and 27.6% in 2021.
Revenue Component within each Business
In 2021, Amazon's greatest revenue came from its online marketplace, which accounted for 47.3% of its total revenue. Alibaba's largest revenue generator was advertising and transactions fees, which accounted for 54% of total revenue. JD's business is still focused on a 2.0 direct sales model, constituting 87.4% of revenue in 2021.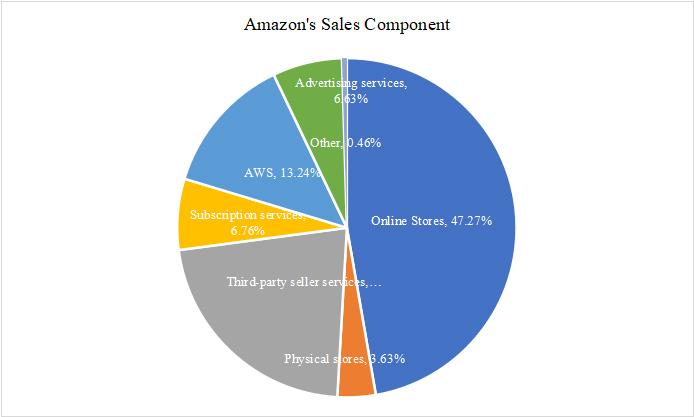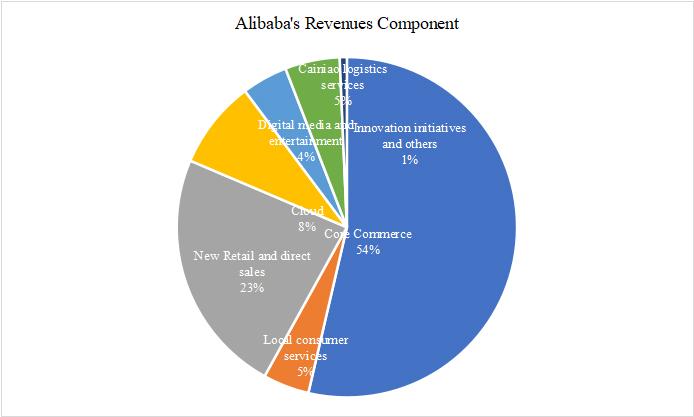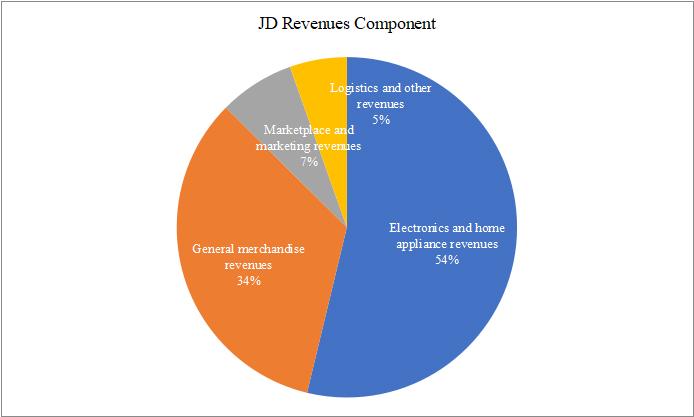 Revenue from Overseas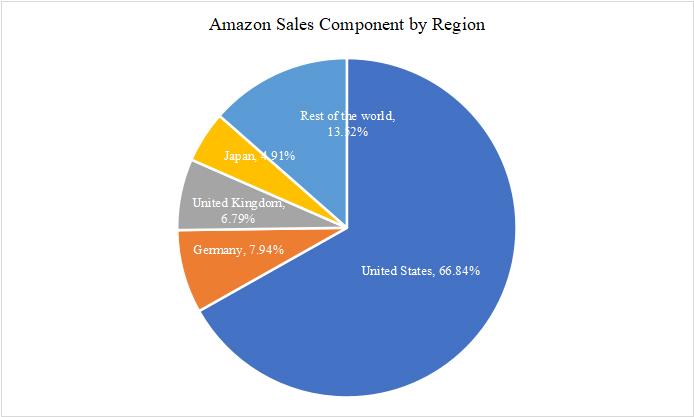 With 33.16% of its revenue acquired outside North America, Amazon is a more global company than both Alibaba and JD.com. Although Alibaba has achieved huge growth over the last decade more than 93% of its revenue has been generated in China; at the same time the proportion of Alibaba's overseas revenue has been on the decline from 18.8% in 2012 to 6.81% in 2021.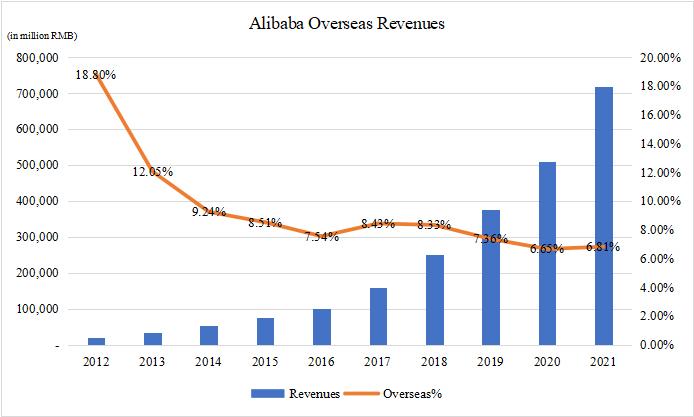 Gross Margin
The gross margin rate of Amazon, Alibaba, and JD.com in 2021 were 26.0%, 41.3%, and 13.6%,respectively.
With large investments in more profitable industries such as cloud computing and other subscription-based services, Amazon's gross margin rate has been increasing.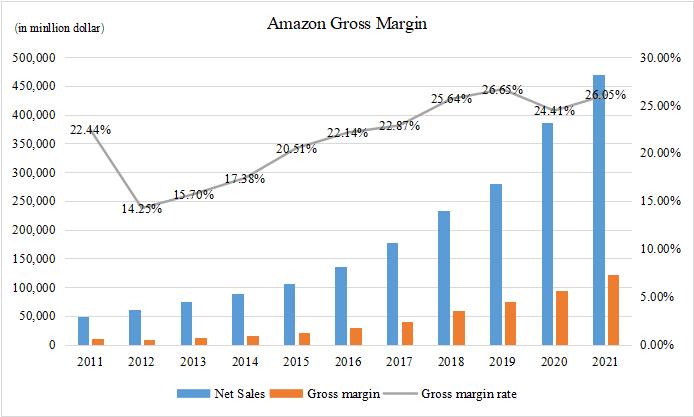 Meanwhile, Alibaba's gross margin rate was the highest of the three companies in 2021. It should be noted that this rate has been declining in recent years which we believe is a result of the company's expansion into less profitable industries such as direct sales and its acquisition and development of offline stores.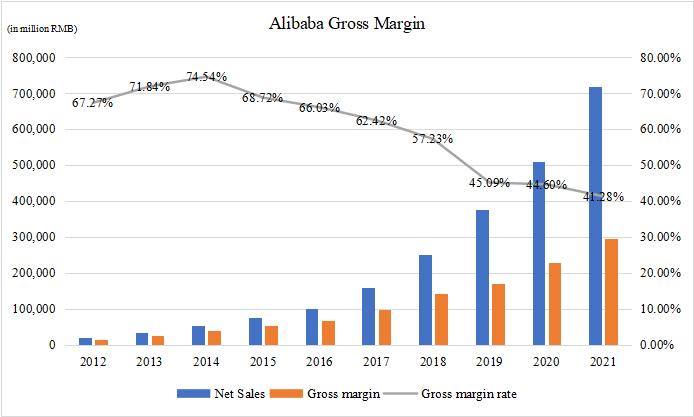 JD.com's gross margin rate has been growing due to its recent investment in AI and smart logistics which have significantly increased its efficiency.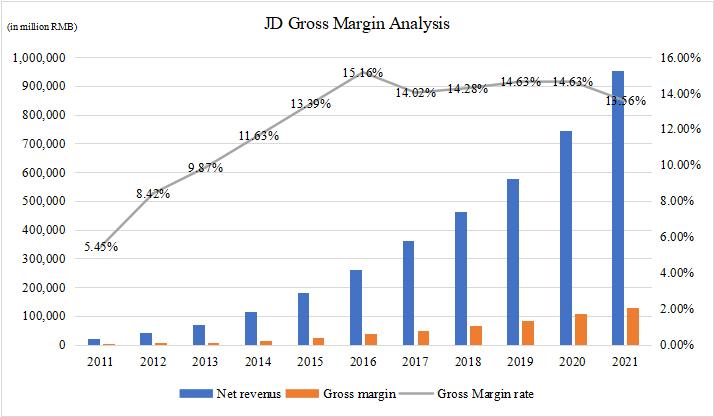 R&D
Furthermore, we examined the proportion of R&D and marketing investment across the three companies. Amazon is far ahead of both Alibaba and JD.com in terms of its R&D, investing USD $56.1 billion in 2021 in what it defines as "technology and content". This is almost half (45.8%) of its gross margin.
Alibaba invested significantly less in R&D, spending RMB 57.2 billion (USD $7.9 billion) in 2021 and accounting for 19.3% of gross margin.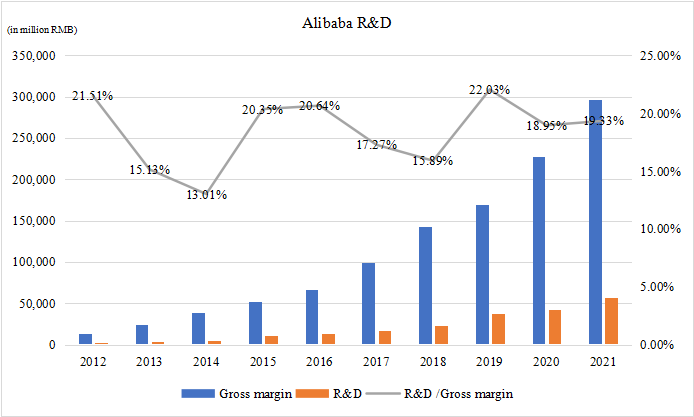 JD.com's R&D was RMB 16.3 billion (USD $2.24 billion) in 2021, accounting for 12.7% of gross margin.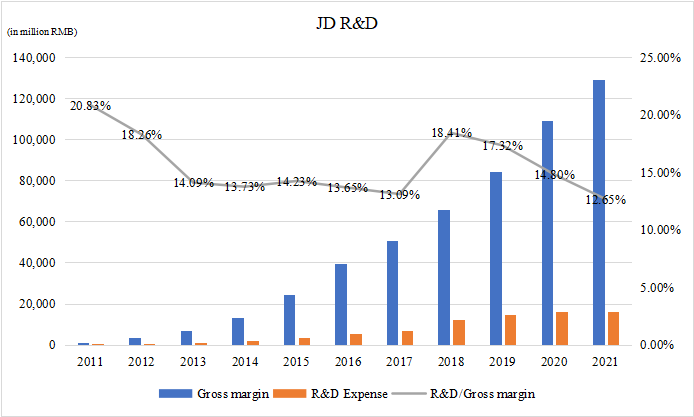 Sales and Marketing Expenses
Despite Amazon's large investments in technology, its marketing expenses only account for 26-27% of its gross margin. Our results show that Chinese companies tend to be more focused on marketing rather than R&D.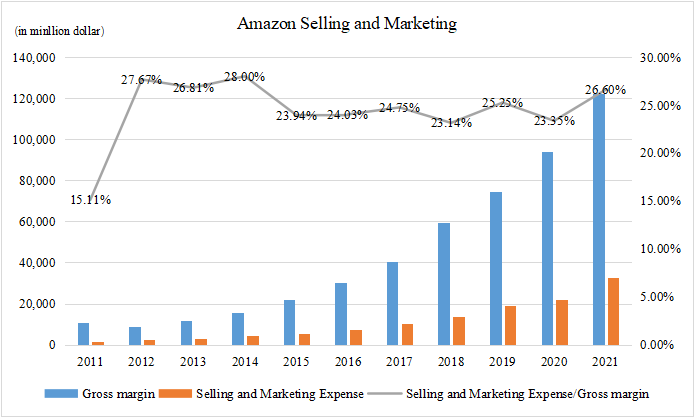 Alibaba invested 27.5% of gross margin in marketing and less than 20% in R&D in 2021.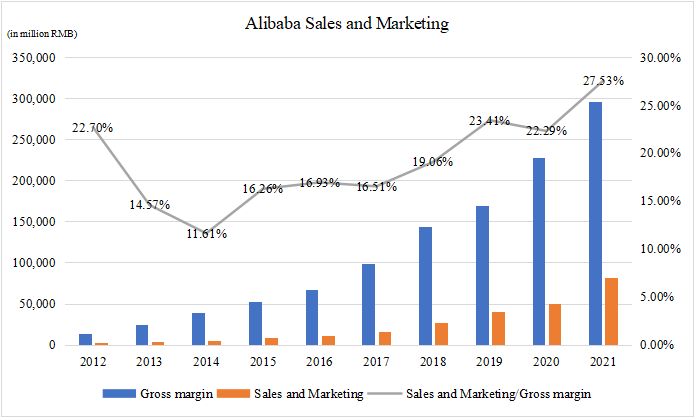 JD.com invested 22% of its gross margin in marketing and 12% in R&D in 2021.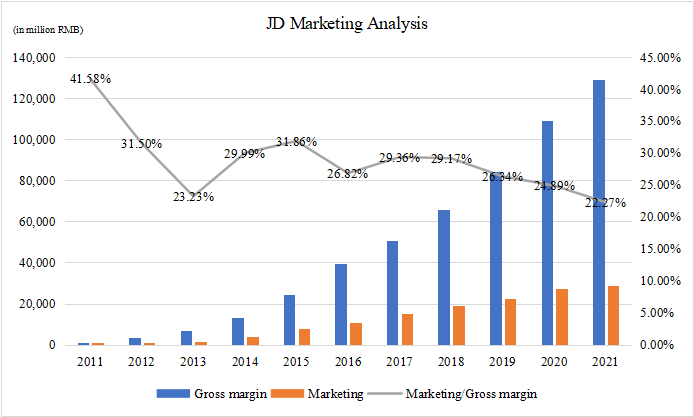 The New Players in China's E-commerce Market
The rapid rise of new players such as Pinduoduo and Meituan have given the Chinese e-commerce sector a new breath of life. This younger generation of entrepreneurs are leading the more innovative 4.0 model.
Pinduoduo
Pinduoduo, launched in 2015, created a revolutionary 'team purchasing' model. It groups customers together in the purchasing process while also enabling manufacturers to sell directly to consumers. In addition to merchandise revenues, Pinduoduo makes revenue from its marketing services and transaction fees.
The company has grown at a CAGR of 184.4% since 2016 which is far beyond that of Amazon, Alibaba, and JD.com. Its revenue increased from RMB 500 million in 2016 to RMB 93.6 billion in 2021, while its gross margin rate is 66.2%. Due to huge expenses in marketing services (its largest revenue generator), the company made net losses in its early stages.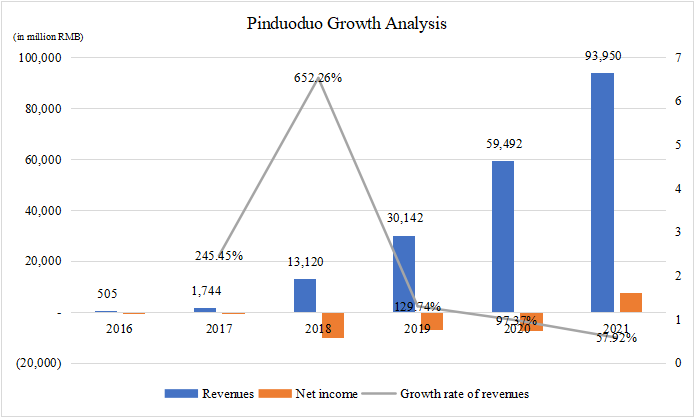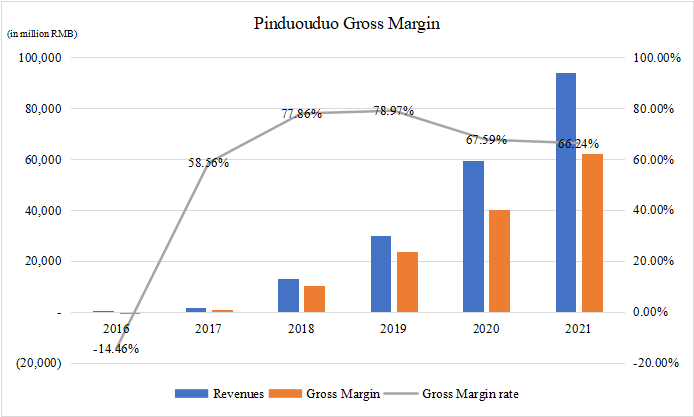 In 2021, 77.2% of Pinduoduo's revenues came from online marketing services, 15.1% from transaction services, and 7.7% from merchandise sales.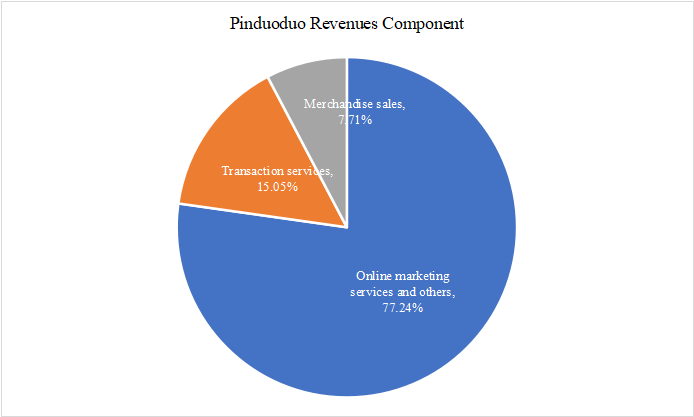 Meituan
Meituan is a leader in the online to offline (O2O) market, known for the vast array of third-party services it offers across multiple sectors including entertainment, travel, food delivery, groceries, and household services. Its 4.0 model has enabled it to grow at a CAGR of 88.3% which is also faster than that of Alibaba and JD.com, although not as fast as Pinduoduo.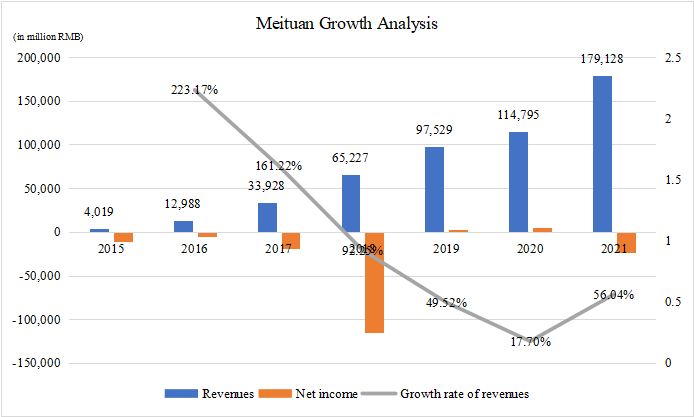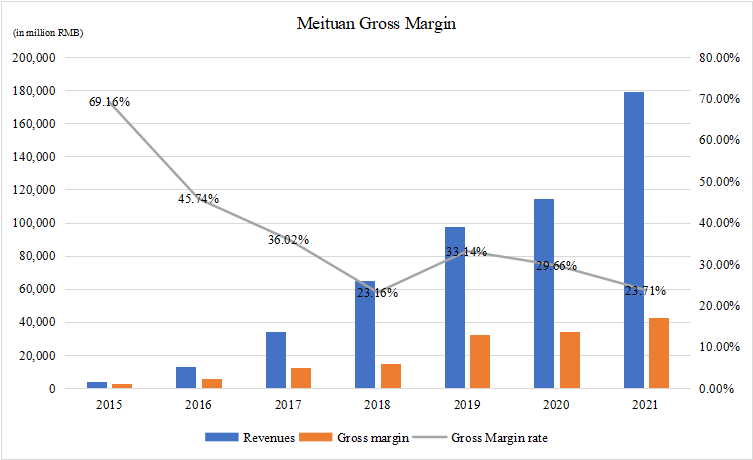 Meituan's gross margin rate, which initially was 69%, has gradually declined in recent years to 23.7% in 2021. This is perhaps due to its expansion from a solely information service platform into less profitable offline services such as food delivery and household services.
Conclusion
When examining e-commerce businesses like Alibaba, JD.com, Amazon, Pinduoduo, and Meituan, it is important to consider the nature of their business models to decipher whether they have the capacity to generate long-term sustainable development. It took many Chinese companies ten years to go from a 2.0 direct sales business model to a more advanced 4.0 model, and it is these 4.0 platform companies like Pinduoduo and Meituan that are leading the e-commerce sector. In the future, companies will need to continue to innovate and move beyond a 4.0 model to achieve long-term success.