Share

What Happened to the Sharing Economy in China?
A steep economic slowdown is exacerbating the problems for once-golden startups in the sharing economy, from those offering shared office space to shared umbrellas
In China's sharing economy, it is no longer possible to just share and share alike. The concepts encompassed by the phrase "sharing economy" inspired a huge injection of investment funds into a wide variety of products and business models, but the glow was already off the idea well before China's economic slowdown or the coronavirus hit. Startups have run out of cash and steam, and many unicorns, those worth $1 billion or more, have turned out to be paper tigers.
According to the World Economic Forum, the sharing economy is an economic model that focuses on peer-to-peer (P2P) sharing, the provision or acquisition of goods and services often facilitated by a community-based online platform. The list of ailing "sharing economy" firms in China includes former high flyers such as bike-sharing startups Ofo and Mobike, ride-sharing juggernaut Didi, and a number of local copycat versions of office-sharing giant WeWork, which was forced to jettison its planned IPO amid financial travails. The US office-sharing startup, a symbol of the sharing economy's irrational exuberance, saw its valuation plummet last October from $47 billion to just $7 billion.
At its height, the sharing economy concept was one that everyone wanted in on and the venture capitalists (VCs), including Chinese government investment funds, were lining up to push cash into the hands of entrepreneurs touting the word "sharing."
Crunching numbers
Almost all of the sharing economy companies in one way or another have been tagged as being part of the tech economy, in which startups overall have been facing difficult times. A total of 336 tech startups in China that had collectively raised RMB 17.4 billion ($2.5 billion) from investors shut down in 2019, according to IT Juzi, a business information services provider and startups database.
"Startups face regulatory risks in China, where the government has an outsize role in the private sector," says Jessica Liu, a partner at Taipei-based AppWorks, one of Asia's largest accelerators. "For companies in the sharing economy trying out new business models, it can be tough going."
The coronavirus crisis has exacerbated these trends and has had a huge impact on business plans and investments in all areas of the sharing economy. "Given the debacle of WeWork and the slumping global economy, [a] credit crunch has become the reality," says Daniel Tu, founder of Hong Kong-based Active Creation Capital and former chief innovation officer of the Ping An Group.
For now, only agile, well-capitalized and resilient firms will be able to survive—and ultimately prosper when the economy returns to a degree of normalcy.
One sector, two systems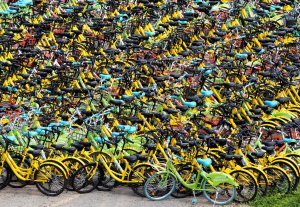 The idea of the sharing economy was not born in China, but it grew quickly here on the back of the smartphone boom. Once Chinese consumers began using their smartphones as digital wallets in 2014, demand for apps of every stripe surged. But even though a wide range of activities are generally included in the definition of sharing economy, they actually divide up into two very different business models.
One is capital intensive and the other is asset light. Examples of the former include bike-sharing startups that own the bikes they rent to users, as well as WeWork, which purchases office space or leases it at a long-term rate and then rents it to tenants. These firms make money from fees that they charge for the use of their assets.
The asset-light model operates more as a third-party platform connecting the supply and demand sides. Examples include Airbnb, the home-sharing operator that connects hosts to guests through its listings platform. The car-sharing platform Didi and its US counterpart Uber are asset-light as well. They do not own the vehicles in their respective fleets, the drivers do. Airbnb, Didi and Uber all make money by taking commissions from sales on the use of the assets that they list.
Capital intensive
The capital-intensive model, which includes shared office spaces and shared bicycles, has not been successful. This is largely because of the degree to which market valuations were based on hype rather than actual economic factors, low barriers to entry by other players and overly ambitious expansion with crazy amounts of money being spent without revenues to cover it.
That's exactly how Ofo, the original bike-sharing unicorn, got into trouble. The company had global ambitions and rolled out a fleet of millions of bikes in 20 different countries, on the hope that its business plan predictions would be supported by the market. With supply far outstripping demand, its yellow bikes sat idle everywhere from Beijing and Singapore to London and New York, and then disappeared.
Tu from Active Creation Capital is not sanguine even about what remains of the bike sharing market. One of the major players, Mobike, was acquired by e-commerce giant Meituan but the purchase has not panned out. "Meituan itself continues to lose money and further losses from Mobike will not sit well with investors and the market," he says. Mobike was "an ill-timed acquisition that could be ultimately jettisoned."
The business model of bike-sharing companies has been shown to be difficult to manage and involves huge upfront investments that are difficult to recover. Liu says: "There is heavy capital expenditure involved in the purchase of the bikes and their deployment across different cities."
The same is true of the office sharing economy, which was one that everyone was initially most optimistic about. Basically all of the shared office space firms are now bleeding money. It is a business concept that will likely survive, but the big question mark over the valuations of the companies has left a dark shadow on their growth potential.
WeWork targeted the China market and invested heavily in expanding here. Before the fallout from its abortive IPO, the US firm made strong headway, but as of October 2019, China accounted for 15% of WeWork's locations, according to Nikkei Asian Review.
"WeWork spent big in China, one of the markets it hoped would fuel its growth," says a real-estate industry analyst in the region, who spoke to CKGSB Knowledge on condition of anonymity. "This capital expenditure has had a draining effect on WeWork's finances."
But the Greater China region took in only around $99.5 million in revenue for WeWork in 2018, Nikkei noted, and local rivals are edging WeWork out of the market.
The competitors, including Zhuhai-based Bee+, offer comparable products to WeWork at much lower prices. Others like Beijing-based Kr Space have watched WeWork hemorrhage cash and adjusted their business strategies. In November 2019, Kr Space announced it had raised $145 million to fund a transformation from a co-working space operator into a "full life-cycle enterprise office service provider."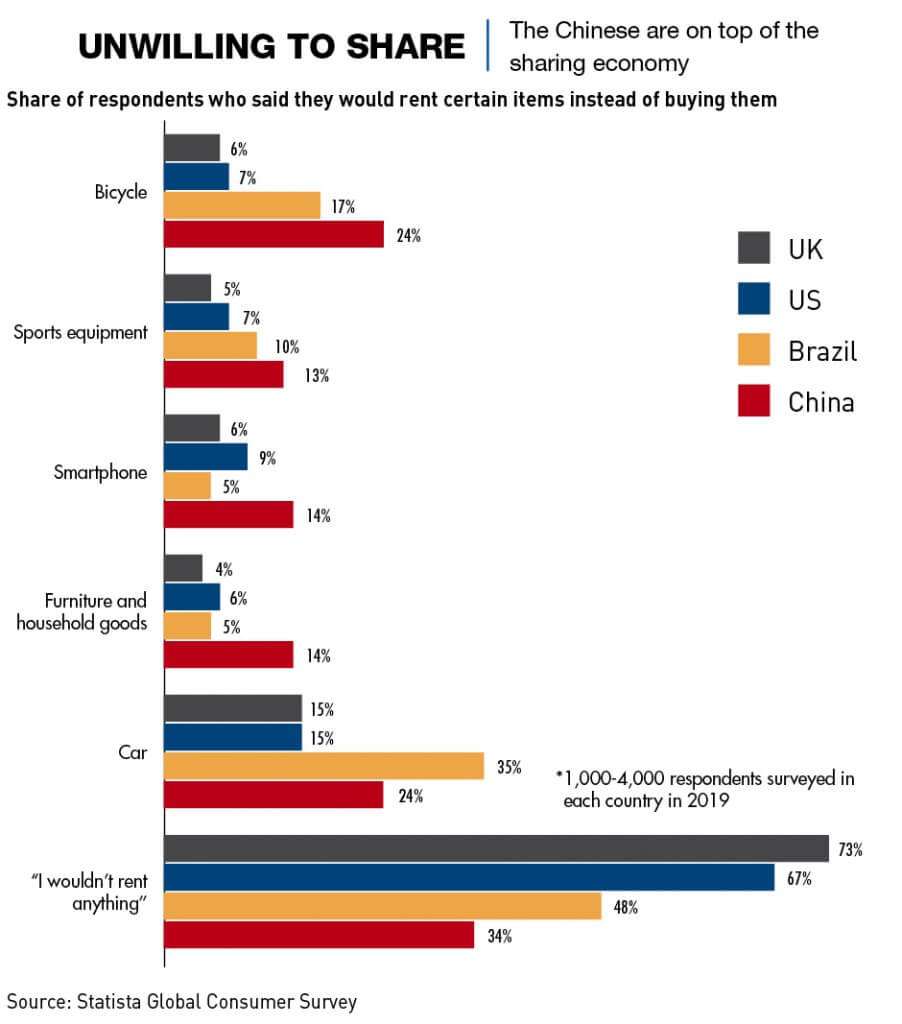 Asset light
The asset-light business model has similarly proven to be difficult, certainly at the market valuations that the companies received when they were launched.
Profitability can be elusive when the prevailing industry ethos involves spending money to quickly accrue a large user base. Even if the firm's fixed costs are limited—compared to the capital intensive form of the sharing industry—the company often has to subsidize both the supply and demand sides.
For example, in the ride-sharing market, pioneer Uber at first tried to dominate China and spent billions in subsidies to both drivers and passengers, but ultimately had no choice but to cede the market to Didi, selling its rival its China operations in 2016 and taking an 18% stake in the Chinese firm. "We like to go after the thing that seems impossible," then Uber chief executive Travis Kalanick told FT Weekend at the time.
But even after Uber's disappearance from the market in the first half of 2018, Didi spent $1.6 billion on subsidies for drivers and passengers, according to data compiled by Bloomberg.
Meanwhile in the home-sharing market, Airbnb has had difficulty achieving economies of scale, despite the size of its network, says AppWorks' Liu. "Because every property and host are unique, the experience cannot be standardized and scaled-up like a hotel brand."
Home field advantage
While China's sharing economy overall is cooling, some startups are faring better than others. One trend is evident: Like in many segments of China's tech sector, local firms have an edge over foreign competitors. That's not to say the foreign firms have inferior business models—they just are not as well equipped to compete as local companies, which know the terrain better, have more local resources and are often more agile.
Airbnb, which is the accommodation-sharing leader in almost all markets around the world, has just 7% of the market here, dwarfed by domestic leaders Tujia and Xiaozhu, two companies which account for nearly half of the market. But Airbnb is an outlier as the only major foreign sharing-economy firm still growing in China. The company has defied the odds, especially after rejecting an overture in 2017 from Tujia to merge its China operations.
With its strong international reach, Airbnb can capture business from outbound Chinese travelers, says Chen Ming-ming, founder of Taipei-based travel activity booking platform kkday. "Airbnb's hosts have properties in many destinations favored by Chinese tourists. It just needs to get them acquainted with its brand," he says.
Survival of the fittest
China is an attractive market for new tech ideas such as those in the sharing economy area because of its smartphone penetration, abundant venture capital funding, tech-savvy consumers and the world's largest consumer market.
But both sharing-economy models as they currently exist are doing poorly. Didi remains in the red as it battles local competitors. One of them, Dida Chuxing, said in September 2019 that it had reached profitability thanks to brisk sales in other units, which include advertising, car maintenance and auto insurance.
Didi has also looked at diversification, and in early 2019 announced the creation of a fintech arm, borrowing an idea from Southeast Asian ride-hailing giants Grab and Gojek, which are both rejigging themselves as digital banks. Because, well, ride hailing just doesn't pay the bills.
"It's not impossible for Didi to succeed in banking, but they will have to capture a very specific customer niche that attracts users away from Alipay and WeChat Pay," says Richard Turrin, a Shanghai-based fintech consultant.
Airbnb, meanwhile, has a key strength that may help the company weather the economic downturn and allow it to stay in the market for the long run—it is well-capitalized. As of mid-March, Airbnb had $3 billion in cash and $1 billion in credit, according to CNBC. In early April, Airbnb raised an additional $1 billion from investors.
But overall, in the near term, sharing companies and other tech startups are facing the toughest business environment in recent memory. A report by IT Juzi published in late March found that investments in China's "new economy" fell more than 31% to RMB 119.1 billion ($16.8 billion) in the first quarter, from RMB 173.5 billion a year earlier. Deals dropped almost 45% to 634 from 1,143.
"For now, I expect the VC industry to pause and review their portfolio companies and assess their realistic runways in the coming year or two," says Active Creation Capital's Tu. "Many startups will fold while others pivot and strive for survival.  Likewise, I see certain VCs closing shop as raising new funds will become increasingly difficult in the next year or two."
"While both models [capital intensive and asset light] have had varying levels of success in scaling, neither one has proved to be profitable," says Tu of Active Capital Management. "Neither model is more viable than the other, whether in China or beyond."
You may also like
China's progress on the UN's Sustainable Development Goals is mostly limited to existing national priorities.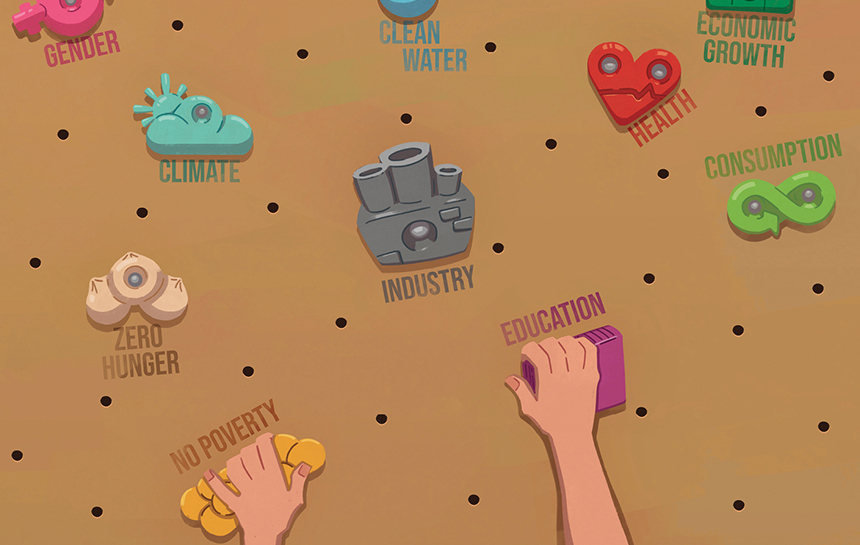 | Jun. 9 2023