Share

Turning Over a New Leaf
Environmental, social and governance-related investments are on the rise, but further increases are slowed by a lack of understanding.
Over the past two years, many shares that fit ESG—Environmental, Social and Governance—requirements have skyrocketed on China's stock exchanges—electric vehicle manufacturer BYD has gone from $10 a share to an eyepopping $78, competitor XPeng's shares have doubled in value and new energy company Sungrow Power now sits atop a share price 15 times higher than at the start of 2020. It's all part of investors jumping on one of the most important bandwagons of the investment world today—awareness of ESG issues.
Valuations spiked after Chinese leader Xi Jinping focused China's attention on curbing its carbon emissions and becoming carbon neutral by 2060. His proclamation is indicative of the rapid uptake of ESG investment in the country. ESG concept shares have done far better overall than the market average and look to continue to perform well as the world's priorities shift.
Globally, around $35 trillion of the $103.1 trillion assets under management (AUM) are invested in funds applying ESG-related criteria. Although China can't currently compete with those levels—in 2019 ESG products constituted only 1% of AUM—there is a clear push towards ESG financing in the country with a $7.6 billion net inflow to ESG funds in the third quarter of 2021 alone.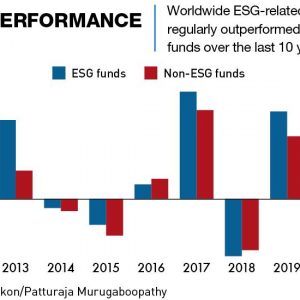 The benefits of ESG investing are clear to many, with ESG funds producing better annualized returns than their non-ESG counterparts over three, five and 10-year periods. But a lack of conceptual understanding is curbing growth and stopping China from becoming the ESG investing powerhouse it has the opportunity to be.
"ESG investing can help investors to better manage risks, identify opportunities and help create long-term returns," says Nan Luo, Head of China at the UN's Principles for Responsible Investment. "But not every Chinese investor has realized and acknowledges the value of ESG investing yet."
Concept clarification
ESG-compliant investment is loosely defined as financial decision-making that takes into account environmental, social and governance issues, alongside economic outcomes. Which ESG issues are material to an organization depends on their core business and desired outcomes from the investment, thus, for some companies ESG comes more naturally than for others.
Over the past few decades, it has become increasingly common for companies the world over to consider the environmental impacts of their actions but social and governance issues continue to be less widely-understood. In short, how a company interacts with their stakeholders falls under the social bracket, while governance assesses a company's decision-making.
The popularity of ESG-compliant investing has been rising for years, particularly in Europe, and China, although late to the party, is now starting to see its importance. "One key reason is that the financial community basically started to realize the material impact on investments by environmental, social and governance factors," says Luo. "And from the return perspective, the ESG investing approach can help them create long-term ROI."
The majority of ESG investment is undertaken using Responsible Investment (RI) strategies, which balance ESG concerns with achieving better risk-adjusted returns from the market compared to standard investments. The term RI dates back to the 18th century when Quakers and Methodists laid out clear guidelines for followers over the types of companies in which they should invest.
RI can be formed through the exclusion from portfolios of certain industries—such as tobacco or weapons manufacturers—typically based on ethical or moral criteria, and the inclusion of industries or companies based on ESG factors—new energy companies are often chosen via this method.
The term ESG, coined in 2005, has increased in prominence dramatically in the past few years and even though China can't match global ESG-related AUM, such investments in the country are rising, and fast. Domestic ESG fund assets more than tripled in 2020 to reach $26.4 billion, and by the end of October 2021 they had already reached $58.6 billion and look unlikely to stop growing.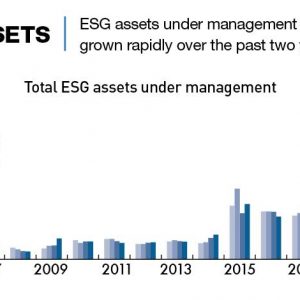 "Responsible investing is not only positive to society and the environment, it also enhances returns," says Xiaoyu Liu, portfolio manager in emerging markets and Asia-Pacific equities at Aviva Investors. "ESG considerations can help to reduce risk. If a company doesn't have good corporate governance or has environmental issues, that will affect return on investment and negatively impact share prices. So from that sense, everybody should incorporate ESG: there are only benefits, there's no downside."
Green guidance
Since the early 1980s, the Chinese government's main focus has been facilitating unparalleled levels of economic growth—China's GDP per capita has increased tenfold since 2000, hitting $10,500 in 2020—but there has been an increasing awareness that this level of growth is unsustainable and that a shift in priorities is required.
Since Xi Jinping's 2020 announcement that China would peak carbon emissions by 2030 and become carbon neutral by 2060, there has been a swathe of new environmental investment-related initiatives—infrastructure REITs that focus on environmentally friendly public utility projects, including sewage disposal plants and waste-to-energy electricity facilities; a pledge to end funding to all non-domestic coal-fired power stations; and in late October, the People's Bank of China issued dozens of new standards seeking to guide the country's rapidly-developing financial industry onto an orderly growth track, including the first set of standards for the growing green finance sector.
"Environmentally, it's happening," says Michael Sung, professor and founding co-director of the Fudan Fanhai Fintech Research Center at the Fanhai International School of Finance. "You have Xi Jinping stating at the UN that China will be carbon neutral by 2060 and since then they haven't just been maintaining that message, they've been pushing it. It's written into the next five-year plans and China as a whole is really setting the bar for the future."
Beyond the environment, the China system, especially with Xi's recent calls for an increase in common prosperity, is pushing the country's businesses toward a more socially responsible approach. Common prosperity requires companies to not only have a responsibility to their shareholders, but also to society as a whole.
And in terms of governance, the system is slowly shifting towards being more supportive of ESG investments. However, this is complicated by the number of very powerful organizations involved with typically not enough co-ordination between them. The People's Bank of China, the China Banking and Insurance Regulatory Commission and the China Securities Regulatory Commission (CSRC), among others, all play ill-defined roles in promoting good governance practice.
"[For better ESG governance] better coordination among different authorities is needed, and there is still a lot of room for improvement in China," says Nana Li, Research and Project Director for China at the Asian Corporate Governance Association. "At least one authority at the top needs to take the responsibility for pushing this. China is such a top-down market and to be able to move anything forward, you have to have somebody stand out and take a leadership role."
Company commitment
Government policies and listing requirements can guide investment decisions, but the final decision-making of how to spend money still lies with businesses. And because China's sustainable investment surge is a relatively recent phenomenon, many firms are yet to absorb ESG into their core business strategies.
"Only a few of the large asset managers have begun to develop their ESG investment strategy and set up ESG dedicated teams," says Wang Yao, professor and Director General of the International Institute of Green Finance at the Central University of Finance and Economics in Beijing. "But many other institutional investors only have basic knowledge of ESG and aren't transforming it into real decisions yet."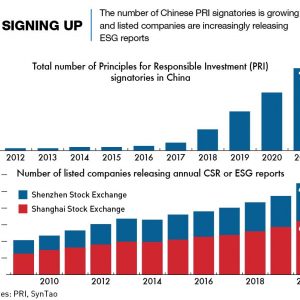 Interest in ESG compliance is growing among businesses and especially investors. Ping An Insurance, China's largest insurer, is integrating ESG concepts and standards into its corporate governance and management. It has also developed an AI-compiled database that allows it to evaluate other companies' ESG performance in order to better inform its investment decisions.
The world's largest electric vehicle-battery maker, Fujian-based Contemporary Amperex Technology (CATL), has also pledged itself to an ESG philosophy, announcing in its 2020 Social Responsibility Report that the company already has a plan to meet China's 2060 carbon neutrality goals and that "sustainable development is a long-term and enduring project. It requires all employees, customers, suppliers and other stakeholders to promote the concept of sustainable development throughout [the company's] ecosystem and work together for the new energy cause of mankind."
E-commerce giant JD.com also made a public commitment to improve its ESG practices, stating in its corporate blog that "JD's efforts cover not only environmental sustainability and a commitment to responsible consumption of resources, but also the unrelenting pursuit of and management of top talent and its commitment to improving society through poverty relief and more."
Such public commitments from companies are important, but the fact remains that most Chinese businesses rate poorly compared to their international counterparts on ESG indices, which are issued by agencies such as Moody's and Reuters. According to Wang, however, these ratings actually betray a limited understanding of the Chinese business environment. "These international frameworks do not reflect Chinese enterprises," says Wang. "There are special features here in China that lead to underrated scores for businesses."
But international organizations promoting internationally accepted standards have started to get a foothold in the country. One such organization is the asset manager-focused UN Principles for Responsible Investment (PRI) which has 75 different investor signatories, including Ping An. "We encourage institutional investors, including asset owners and asset managers, to implement our six principles," says the PRI's Head of China, Nan Luo. "They help with integrating ESG practices into the investment process, decision making and encouraging active asset ownership—making sure that ESG is not just taken into account at the start of a relationship."
And it seems to be working. A growing number of ESG investment indices are appearing in China and the issuance of fund products—such as bonds that enable financing of projects with specific ESG goals—reached a new height. In late 2020, Bank of China also issued $942.5 million of Asia's first blue bonds which facilitate fundraising for marine and ocean-based projects that have ESG benefits.
The demand for ESG bonds is growing but there are some compliance problems slowing companies down. "There is literally trillions of dollars of pent-up demand for all kinds of bonds but that money is often locked away," says Michael Sung. "Companies can't invest in green bonds if the bonds can't be proven to be green, so the money just sits there."
But Sung sees a solution to this problem in blockchain technology, adding, "its big data applications will result in an explosion of ESG investment from companies."
Stumbling blocks
ESG-related pressures from regulators, markets and investors are increasing and many Chinese businesses are realizing that ESG is integral to their future, but for many, implementation is difficult. Not least because many business owners don't understand exactly what that entails.
"Although they may not know very much about ESG, they know that it is going to happen," says Wang Yao. "Especially off the back of the carbon neutrality goals, they know that ESG will be in their future and they need to start integrating ESG into their investment decisions."
China's stock exchanges and the CSRC have set out some ESG-related reporting requirements for listed companies in China, but collecting data and producing reports—and by extension, developing a greater understanding of ESG—remains largely voluntary. 
"The stock exchanges in mainland China and Hong Kong have issued ESG reporting guidance for over 10 years," says Xiaoyu Liu. "Only Hong Kong has made ESG reporting mandatory, doing so in July 2020, and for companies there it's still a work in progress due to a lack of awareness and resources. But for the exchanges without mandatory requirements, many companies, especially those that don't understand the benefits of ESG, will see a voluntary requirement and just not bother."
The lack of mandatory ESG reporting and limited understanding of the financial incentives of improved ESG performance means that motivation for business owners to develop a deeper understanding of the concept remains low. Better data and accurate reporting is fundamental to improving the quality of business' ESG performance worldwide, and China is not unique in having to tackle its related issues.
"The lack of high quality and consistent ESG information is a key barrier," says Nan Luo. "One particular policy recommendation that we [the PRI] raised is that we really encourage the Chinese financial regulator to develop and publish an ESG disclosure framework to all listed companies on a mandatory basis."
Without more stringent reporting requirements there is also a risk of "greenwashing," a term that refers to companies misrepresenting themselves or their products as being more sustainable than they are. It is a common phenomenon in countries seeking better ESG performance and China is no exception. For some it is an intentional strategy to increase financial returns, but for others, especially given the difficulty of accurate data generation and reporting, it is just a natural consequence of lax regulations.
One such product is the highest-rated ESG Index in China, the MSCI China ESG Leaders Index. The three biggest holdings in the index, which is tracked by a number of funds, are tech giant Tencent, on-demand delivery company Meituan and e-commerce company Alibaba, each of which have dubious ESG records.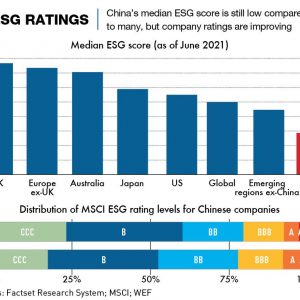 "I want to ask some of the companies that produce what they call ESG funds: how do you measure it, how does it qualify as ESG?" says Nana Li. "There's no criteria, there's no certificate, so they can just call it ESG at the moment. But you can't blame these people, either. If there is no real consequence to stop you from doing that, there's no reason you shouldn't. Especially if you have competitors already benefiting from it, why would you disadvantage yourself?"
Up, up and away
The lack of a conceptual understanding of ESG in China has led to little governance pressure for mandatory ESG reporting and in turn, a dearth of good data upon which ESG practices can be improved. Each issue is interlinked, and pushes for better practices, such as meeting carbon neutrality goals, are starting to raise awareness of both the importance and financial benefits of sustainable development.
"I'm personally positive about the development of ESG investing in China in the coming years," says Nan Luo. "There's a growing consensus about the importance of low carbon and sustainable development. Chinese investors have started incorporating ESG and calling for sustainable investing policy and regulation. Policymakers and regulators will have to take action to develop and publish policies which can really support meeting China's carbon reduction targets and other sustainable development goals. This new regulatory environment will, in turn, require investors to do ESG investing. So there will be a chain reaction."
Although still in its infancy in China, investment that is ESG compliant is clearly on the rise and it is unlikely to stop until it becomes the norm.
"With the increasing awareness of ESG investment concepts and guidance from national policies, domestic investors will increase their willingness to invest in ESG and the number of institutions carrying out ESG investment will grow," says Wang Yao. "ESG is well on the way to becoming mainstream in Chinese investments."
Michael Sung agrees. "We are seeing an exponential growth of ESG investing in China and it is only going to accelerate from here."
You may also like
China's ultra-low fertility rates will severely hamper the country's growth in the coming years. What must be done to.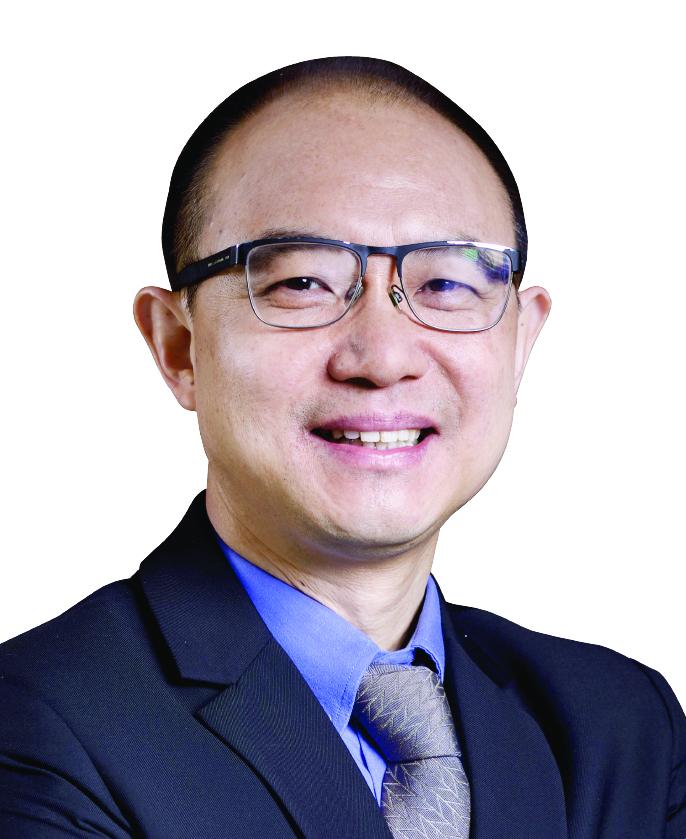 | Apr. 18 2022