Share

Striking a Balance
Over the past year, several big private companies that play a crucial role in the Chinese economy have been brought to heel by the government in ways that can superficially seem counterintuitive. But for China, growth and development are being de-linked from the wealthy getting wealthier.
A massive share listing by Alibaba's Ant Financial was suddenly canceled in November 2020, and an IPO by China's biggest ride-hailing company Didi Global in New York turned ugly when the Chinese government announced investigations which slammed the company's share price. These and other moves were widely viewed as being aimed at pulling back the entrepreneurial and wealthy side of Chinese society, but the opposite is the case—there is a rebalancing of China's economy in progress to create broader-based prosperity that could keep the growth model on track.
But the new measures have impacted significantly on a slew of companies in sectors including tech, gaming, education and courier services, and have raised the question of how the Chinese government sees the role of the private sector, in this new phase of more controlled growth. "A growth too fast will not be a steady one," said Chinese Premier Li Keqiang at the National People's Congress (NPC) in March. "We need a steady pace to sustain China's development. What we hope for such a big economy as China's is sustained and sound growth for the long term."
Chinese leader Xi Jinping also stressed the importance of stability at a politburo meeting at the end of July. "We should… maintain the continuity, stability and sustainability of macro policies and make overall plans to effectively link up this year's policies with those for next year," he said.
Beijing's turn toward economic certainty and social stability amid mounting challenges at home and overseas speaks to the Chinese fear of chaos that is deeply ingrained in the national psyche—China's history is suffused with turmoil, and there is a clear consensus that the precondition for prosperity is overall stability. And as the country's development plans come under pressure, the leadership is reacting by remaking the basic principles of the economic model to an extent not seen for thirty years.
"China, with its long history, has always had a sense of balance," says Philippe Le Corre, a senior research fellow in China with Harvard University's Kennedy School and the Carnegie Endowment. "If the stability is not there, then China will become somewhat unbalanced and tensions will grow."
Chugging along
The regulatory activism—which may not be over yet—symbolizes a seismic shift in China's development pattern, from the all-out growth pursued for four decades under the reforms instituted by former leader Deng Xiaoping from the early 1980s, to an emphasis by the current administration on stability, security and managing risk.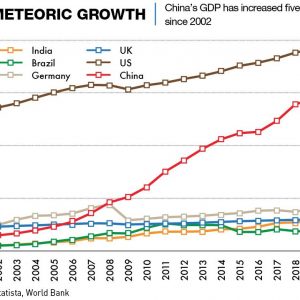 In a major statement in August, Xi announced that the new priority is "common prosperity," including creating a more equitable society in terms of wealth, resources and opportunities, as well as a more balanced and sustainable economy. Underlining its centrality to China's development going forward, Xi has said common prosperity would be "a major feature of Chinese-style modernization."
"Xi has tapped into a basic and popular idea that growth has to benefit everybody," says Orville Schell, Arthur Ross Director of the Center on US-China Relations at the Asia Society in New York. "He has identified something that actually also bedevils the US, which is the inequities between the rich and the poor."
At the same time, solving these inequities through common prosperity does not have to come at the cost of growth. "The aim of rebalancing Chinese society in favor of a modest improvement in the prosperity of a much wider swathe of people is not in itself anti-growth," says Xavier Naville, a Partner at Vision Management Consultants and author of The Lettuce Diaries. "It could, in fact, lead to a new wave of growth and a greater level of prosperity for a much broader section of society."
China's pursuit of common prosperity appears to represent a massive social undertaking but the generally rosy state of the Chinese economy post-pandemic provides a solid foundation for the first steps. The Chinese economy was again one of the fastest-growing in the world in 2021, expanding by 12.7% year-on-year in the first half of 2021 compared with H1 growth of 3.1% in the US economy.
But the new stress on common prosperity comes at a time of growing problems for the world's second-largest economy, including a rapidly aging population, problems with the property sector, the looming threat of the middle-income trap, worsening urban-rural inequality, continued reliance on dirty coal as a primary energy source, and an uncertain geopolitical environment.
Doubling Down
The concept of common prosperity is not new, it dates back to at least the 1980s when Deng put forward the vision of "modest prosperity" (xiao kang). Now, however, Xi has fleshed out the concept and given it new meaning. While the perception is that the ability to become very wealthy is being restricted, people generally sharing in the opportunity to be relatively well-off is the objective for the next stage of development.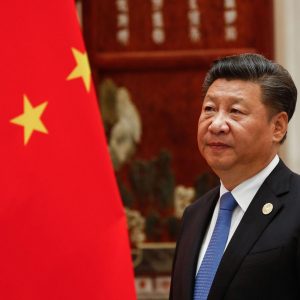 This year has seen several top-down directives that seek to move towards the new goal. Examples include a ban on for-profit private tutoring, persistent calls on the wealthy to make large philanthropic donations, pressures on high-flying tech entrepreneurs and the cancellation of many private company IPOs.
This was precipitated by the contentious US listing of Didi Global this summer and official guidelines issued in late July pledged to crack down on illegal activities in the securities market and demanded greater oversight on data security and cross-border data flows. The national internet regulator meanwhile, has proposed new rules that would require companies with more than one million users to undergo a cybersecurity review if they are looking to list overseas.
Many of China's recent anti-trust actions have actually been aimed at making it easier for new entrepreneurs to share in the country's growth. Regulatory squeezes are encouraging interconnections between China's monolithic tech platforms which have started to resemble the single-service access of the early credit card market in the West. The previously loosely-regulated monopolies had curated a rise in access prices to the digital platforms which smaller entrepreneurs have no choice but to use, impeding the development of a new wave of businesses.
The new common prosperity system also encourages "Third Distribution," which manifests as corporate philanthropy. And companies already affected by the government's crackdowns have been chomping at the bit to give, with both Alibaba and Tencent promising RMB 100 billion to common prosperity projects, while e-commerce giant Pinduoduo has launched a RMB 10 billion agriculture initiative.
Growth or Prosperity?
Tight central control has historically been a feature of the Chinese system for more than 1,000 years. The strong party control from the center instituted after 1949 was in many ways a continuation of the traditions.
Key market reforms reshaped China's economy beginning in the late 1970s and early 1980s, but throughout it all the country has remained one of the most politically centralized states in the world.
"Over all the years that I've been looking at China, there has always been an oscillation between the impulses of control and opening up," says Schell. "When I first went to China in 1975, it was a period of intense control, economically speaking. There was no hint of what was to come with Deng Xiaoping's tectonic reform program and the economic changes that ensued."
China's meteoric rise over the past half century is one of the most striking examples of the impact of opening an economy up to global markets but, seemingly counter-intuitively, it happened with China's political system remaining almost unchanged, with the Party remaining in full control and state-owned enterprises continuing to be the core of the economy.
The reforms introduced by Deng in 1978-1979—namely opening up to foreign trade and investment, and implementing free-market reforms—supercharged growth and were critical, according to David Dollar, a senior fellow in the John L. Thornton China Center at the Brookings Institution. "You can't really catch up if you don't integrate into the global economy," he says.
This process of market liberalization led to the establishment of China as a major global exporter and paved the way for its landmark accession to the World Trade Organization (WTO) in 2001.
The different factors that helped China become an economic power, ranging from rural-to-urban migration, the establishment of private businesses and a property market and a high savings rate, have waxed and waned in importance over the years, according to Dollar.
"Most of these factors tend to run out over time, and as you catch up there are fewer further opportunities," he says. "The sources tend to run out and that's why China's growth rate has slowed from 10% not long ago to more like 6%, and probably down to 5% in the coming period."
The period between accession to the WTO in 2001 and the global financial crisis (GFC) in 2008-2009 was the golden age of China's growth, according to Dollar. China's response to the GFC changed the calculus, as Beijing launched a massive investment-led stimulus effort—funded by banking system credit—to maintain demand in the wake of the shock.
Although China was not alone in turning on the credit spigots after the GFC, the sheer scale of accumulated Chinese debt that resulted is unmatched. Total credit to China's non-financial sector as a share of GDP ballooned from 143% in 2007 to 254% in 2018—by contrast, the same ratio in the US increased from 229% to 249%. Much of China's debt was disbursed to local governments that plowed it into infrastructure projects, and upstream sectors such as steel that are dominated by state-owned enterprises, but the rapidly rising leverage ratio was a sign that poor investments were being financed.
Still, Beijing has managed to thread a path through the various debt crises—from the GFC credit build-up to shadow banking and the peer-to-peer (P2P) lending bubble. Much of this can be credited to the highly-centralized control system that has allowed China to develop into an economic superpower, characterized by many economists as the "China model."
"Two of the key words I would use to describe the Chinese model are gradualism and experimentation. There is a kind of trial-and-error process at hand, and then I would say also a certain level of state intervention compared with other countries," says Linda Glawe, a professor at the University of Hagen in Germany and author of an upcoming book about the economic rise of East Asia.
Finding the balance
Some people, especially in the West, question the effectiveness of China's new economic strategy, especially at a time of an apparent decoupling between China and the US, as well as the West in general. This, along with other problems such as a rapid ageing of society and a slowdown in economcic growth, are creating challenges for the government, but other observers see the shift from the helter-skelter growth model of the past 40 years as being timely and appropriate.
"I worry the most about the mixed trends in terms of openness of trade and investment. Of all the different factors, a key one is certainly keeping your economy open to foreign trade and investment. Any trend in China toward protectionism is seriously going to undercut the growth potential," adds Dollar.
How the new policy direction will effect growth will affect the overall economy and society is hard to tell but it appears that China's leaders are confident that they will be able to handle the change in direction effectively.
At a Communist Party study session in 2019, China's leader Xi Jinping made this clear. "[We are] confronted with unpredictable international developments and a complicated and sensitive external environment," he said. "Our task at hand is to maintain stability as we continue our reform and development."       
Moving away from prioritizing growth?
Vaclav Smil, a prominent Czech-Canadian scientist and policy analyst, and author of the book Growth, is credited with having established the idea that modern economies must move away from prioritizing growth while looking to level economic wealth across society.
A recent talk from Chinese Premier Li Keqiang that emphasizes the country's need for steady and stable growth, alongside the ambitious environmental targets that the country has put in place, imply a recognition, by China, of the finite nature of economic and environmental resources. But whether China's actions and progress align with their spoken promises, and are indeed aimed at reaching something close to degrowth, remains to be seen.
Smil coined the term degrowth refers to an economic situation during which the levels of economic wealth produced by a country neither increase nor decrease, this lack of a negative growth rate distinguishing it from a recession. The concept has been guided by three principles since its development by in the early 1970s:
1. A large part of the resources humans use and rely on are dependent on ecosystem services and are limited;
2. Each withdrawal of non-renewable resources has the potential to jeopardize the long-term survival chances of humanity;
3. Infinite growth, whether demographic, economic or other, in a finite world is impossible.
You may also like
A greater proportion of Chinese students studying abroad are returning home, but how will they fare in a saturated job market.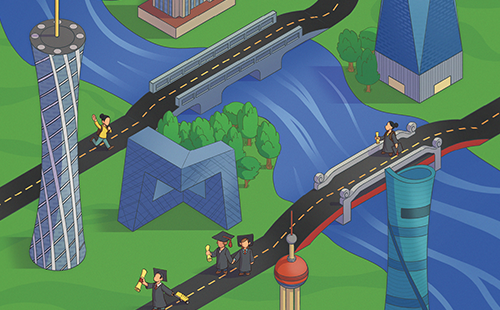 | Nov. 7 2022