Share

Leap of Wealth
China has more billionaires than anywhere else in the world, but the wealth list is volatile, with names often rising or falling sharply each year. Why is that so?
Sun Piaoyang, a pharmaceutical executive and former chairman of Jiangsu Hengrui Medicine Company, typifies the ever-changing nature of China's rich list, with a 57-place slide from number 35 in 2020, down to 92nd place in 2021. Sun had not suffered a catastrophic loss of fortune, his net worth had only fallen by $2 billion. His change in ranking was the result of simply being outstripped by the wealth of others, including many new entrants.
The China rich list, published by the Hurun Report, comprised 1,058 billionaires at the end of 2020, compared to 696 billionaires in the United States, and 259 more than one year previously. China's super-rich club is not only growing fast, but it is also very volatile, with many names shooting both up and down the list each year, reflecting both the dynamic nature of China's economy and business environment, and the constraints on the entrepreneurial ecosystem. Sometimes being a billionaire in China can be stressful.
Top of the China billionaire list for most of the past decade has been the former CEO of Alibaba, Jack Ma, with an estimated net worth of $47.5 billion in early 2021. Last November, for a brief moment, he had the chance to beat even global heavyweights like Amazon founder Jeff Bezos and Tesla's Elon Musk due to his fintech firm, Ant Financial, which was planning an IPO at a valuation of around $320 billion. The prospectus indicated Ma controlled just over 50% of the shares, but the Chinese government suddenly canceled the IPO, and Bloomberg reported in April that Ant Financial's valuation could now be as low as $29 billion. So, Ma now sits 24 places below Elon Musk on the global billionaire list on $55 billion, and fourth place on China's Hurun Rich List.
The current Numero Uno on China's billionaire list is Zhong Shanshan, whose bottled water company Nongfu Spring was listed in 2020, giving him a reported net worth of $85 billion. There is no sign of his company's income streams running dry any time soon, but based on the volatility of the list, Zhong cannot rest on his laurels if he wants to stay at the top.
"The fast economic growth and dynamic business environment in the past couple of decades has resulted in this huge wave of wealth," says Rupert Hoogewerf, Chairman of the Hurun Report and a Professor in Practice at Durham University. "Many opportunities have and will continue to come out of the warp speed changes in China's economy and society. And the entrepreneurial spirit and hardworking determination of Chinese people have created a sea change in the balance of wealth around the world."
Deng Xiaoping's reforms helped China open up in the 1980s when there was an urgent need to develop the private sector by encouraging entrepreneurially-minded individuals to give up the "iron bowls" of state-related jobs and venture out to establish their own businesses, says David Thomas, CEO of Think Global Consulting. "This required a total cultural shift in the mindset of new university graduates and some of the younger middle managers in large state-owned enterprises."
Those people—most of them associated with or supported by the state-dominated system—were the first of the corps of super-rich who now play such an important role in China's economy, and also the world's. "This is how China stimulated its economy—by encouraging a group of motivated entrepreneurs to develop and grow the private sector into what it is today," adds Thomas.
New money
According to the Hurun Global Rich List 2021, there were 3,228 billionaires in the world at end-2020, a number that rose by an average of eight billionaires per week during that eventful year, despite the pandemic. Although US billionaires Elon Musk and Jeff Bezos sit atop the list with $197 billion and $189 billion fortunes respectively, Chinese billionaires have started to dominate the list in terms of sheer volume.
China now occupies about one-third of the places on the global billionaires list, largely due to a boom in China's stock markets over the past year, and China's fast economic recovery from the pandemic. "Chinese entrepreneurs have done much better than expected thanks to the surge in Chinese equity markets, the wave of initial public offerings and the technology sector's strong growth," says Alberto Antinucci, China business strategy specialist and CEO of Antinucci Consulting Services.
Almost all of China's rich people are "nouveau riche," meaning they did not inherit their wealth, but became wealthy through their own connections, determination and hard work. In many other parts of the world, lists of the super-rich are dominated largely by legacy money, exemplified by names such as Koch and Mars. In China, however, it is just the opposite—basically all wealth in China dates from the 1980s and mostly from the last two decades. And much of it is based on debt acquired to accelerate business growth.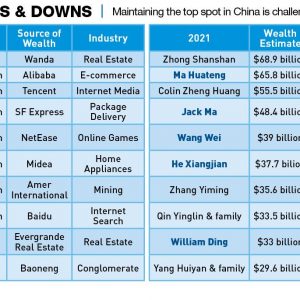 "Generally speaking, the rich list is based on total assets, including liabilities that often rely on bank credit and corporate bonds, which are also the main financing channels of the traditional economy—many 'rich heroes' are also 'debt gurus'," says Ming-Jer Chen, Professor of Business Administration at the University of Virginia Darden School of Business. "However, with China's very active capital markets, the new economy increasingly relies on equity financing, and more importantly, fully reflects the value of personal total assets realized through IPOs."
"They [China's entrants on the rich list] predominantly consist of self-made entrepreneurs who have leveraged their business intelligence and dedication to excel across many dimensions," says Marcel Tschanz, Head of Banking Advisory at PwC Switzerland.
It is hard to ignore the astonishing growth of the total number of wealthy people in China. "Beijing is now home to more billionaires than anywhere in the world, overtaking New York City," says Chen. But the range of sectors from which most of these billionaires have emerged is very narrow.
The first wave of modern wealth in China came from light manufacturing for export in the 1980s and early 1990s, but that wealth was later overshadowed by property, and most wealth in China today stems from property ownership and development. In terms of the general population, more than 70% of wealth is tied up in apartments.
But even property has now been overtaken by the high-speed growth of technology and e-commerce. "The property sector has created many billionaires in the last 20 years during China's major nation-building and urbanization program," says Thomas, "but it's shifting towards the technology sector which is creating new opportunities for entrepreneurism, wealth creation and innovation." In that sense, Nongfu Spring's Zhong Shanshan is an outlier.
"With the booming information and communications technology industry, most of the Chinese billionaires are from the tech sector, while the American billionaires are from more diverse industries," adds Ashley Dudarenok, founder of Chinese digital transformation academy ChoZan.
All-in-all, changes in the composition of the China rich list reflect the fundamental socio-economic transformation that has been taking place since the 1980s.
"It's akin to the industrial revolution in the United Kingdom," says Andrew Shirley, Editor of the Wealth Report, Knight Frank's global thought-leadership publication which offers a unique perspective on global wealth, prime property and investment. "A new class of consumers is being created rapidly, and they are hungry for new products and technologies."
Wealth in China usually involves some sort of a relationship with the government, and even the top tech companies, now the most valuable in China's private sector, attained their dominance at least partially thanks to centralized support, which includes blocking some international competitors from operating in the country.
"The government has discretion about which companies get listed and how they are regulated, so entrepreneurs have to maintain good ties with the leadership," says David Dollar, a senior fellow at the China Center at Brookings. "But the leadership is also dependent on these companies which provide jobs, innovation and national pride—so it's mutual dependence."
The technology sector, given its incredible dynamism, has been quickly expanding its dominance of the rich list. Two recent examples of the ability of the tech sector to throw up "rocket" billionaires in record time are Zhang Yiming, the founder of ByteDance (the owner of TikTok), and Huang Zheng of Pinduoduo (an e-commerce company).
Zhang zoomed from 115th place in 2020 to 26th on the 2021 list with a net worth estimated at $43.1 billion. Pinduoduo's Huang, meanwhile, created e-commerce company Pinduoduo from nothing in 2015, and ranked 73rd on the Hurun Global list in 2019 with $15 billion, 60th in 2020 with $18 billion and 19th on the 2021 list with $69 billion. In March 2021, Huang stepped down as Chairman of Pinduoduo, having given up the role of CEO the previous year.
Consistent inconsistency
The entrepreneurs who make it to the top of the list have had to fight their way through the jungle of the ultra-competitive Chinese economy. But they also need to keep an eye on government policies and the requirements of officials that they support to maintain the stability of the system and society. "The government gives clear direction and guidance for development priorities in different periods," says Dudarenok. "Government authorities also provide different incentives and subsidies."
Sometimes the rich fall down the list because of bad business sense, expanding too fast and taking risks that turn out to be unwise. But only a very small number burn out because of problems with the law and the system. "Over the last 22 years we've been putting out the China rich list, we've seen about 1% who have been in trouble with the law, which is surprisingly low," says Hoogewerf.
"There is an unwritten contract between the government and private sector entrepreneurs to 'stay out of politics, leave us to run the country and we'll leave you alone to prosper and get rich'," says Thomas, "Any individual billionaire who breaks this rule and starts criticizing the government in public or using his/her public brand and persona to cause trouble, can expect their privileged position to be under threat."
"Some innovative businesses in China's new economy 'prosper rapidly but die suddenly,'" Chen adds. "Reasons for such failures may include the too-zealous pursuit of scale, size and speed, as well as a macro culture of 'get rich quick'."
The government is concerned, as in other countries, about the efficiency and stability of major private companies in light of the potential consequences of massive corporate failures. But it sometimes seems, in China, as if there is no major company that is not covered by the "too big to fail" rule.
An example is the privately owned Dalian Wanda Group, a company dealing in property development and amusement parks, which hit serious financial trouble in 2018. The government effectively bailed it out, and while Wanda's Chairman Wang Jianlin fell sharply in the rich list rankings, his company has survived.
The wider impact
But while China's super rich are getting richer, this wealth isn't necessarily being reflected in the rest of the population. Bloomberg has reported that 1% of China's top earners now hold a greater share of wealth than the bottom 50%. In addition, China is in the lower half of the world's countries in terms of the GINI coefficient, which measures the size of the wealth-poverty gap within a population.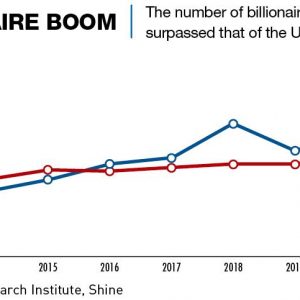 China's billionaire boom looks set to continue, with one factor helping in the minting of new billionaires being the recent Dual Circulation policy, which will mean greater opportunities being given to local companies for expansion.
"The scale and growth of the Chinese domestic market—the result of developmental state policies similar to those followed in Japan, South Korea and Taiwan—is bound to produce a lot more billionaires," says Joe Studwell, author of How Asia Works, an explication of economic development across the East Asia region.
One thing that is beyond doubt is that the desire to make money is deeply embedded in Chinese culture, and that there are many more wannabe entrepreneurs out there who want to make it on to the rich list.
"Everybody wants to be rich in China," says Olivier Verot, founder of Gentlemen Marketing Agency, experts in helping foreign companies establish or strengthen their position in China. "They are not afraid of taking risks, and everybody knows that to become your own boss is the only chance to be rich."
You may also like
Tourism both in China and internationally has struggled due to the pandemic, but strong demand for travel remains.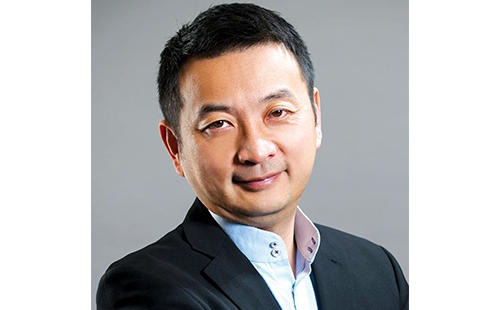 | Nov. 9 2022