Share

CKGSB Business Conditions Index: Time for the Chinese Economy to Buckle Up!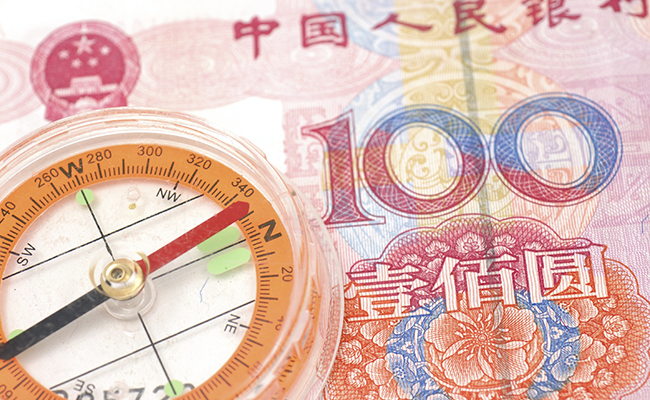 For the first time since November 2012, CKGSB's Business Conditions Index has dropped below 50 showing that China's entrepreneurs are settling into their negative outlook.
Business sentiments in July continue to weaken, breaching the threshold between confidence and a lack thereof. Each month CKGSB's Case Center and Center for Sustainable and Inclusive Growth conducts a survey of leading entrepreneurs in China to gauge and track changes in their business sentiment. The result is the CKGSB Business Conditions Index (CKGSB BCI), directed by Li Wei, Professor of Economics and Emerging Markets Finance, and provides a barometer on the state of the economy as viewed by China's entrepreneurs.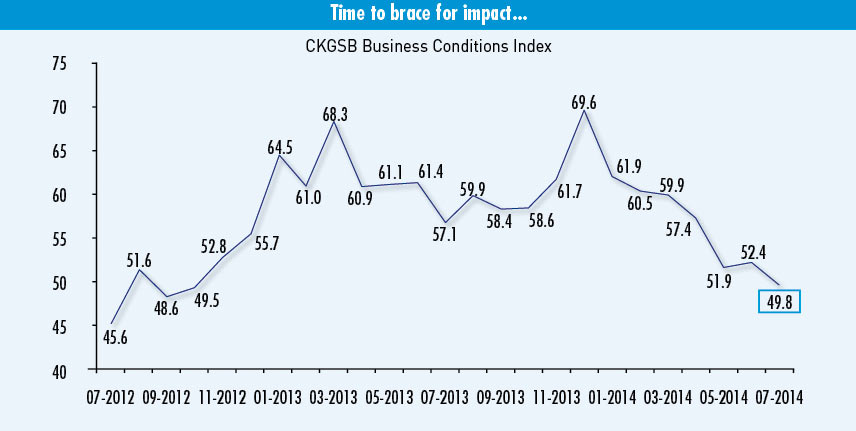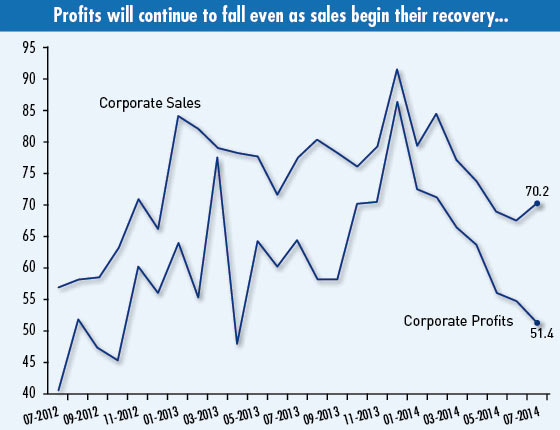 For the first time since November 2012, the CKGSB Business Conditions Index, or BCI, has dropped below 50. At 49.8, July's BCI falls just on the downside of the threshold, indicating falling confidence in China's business conditions over the next six months. In the past few months, the BCI has shown a clear downward trend, consistent with China's economic slowdown. The government's "ministimulus" policies, including further investment in railroads, will have impact, but to what degree? Will the government's efforts have a positive effect on financing for private industry? In the questionnaire respondents indicate whether their firm is more, the same, or less, competitive than the industry average (50), and from this a sample competitiveness index is derived (see Industry Competitiveness Index). Consequently, as sample firms are in a relatively strong competitive position in their respective industries, so CKGSB BCI indices are higher than government and industry PMI indices. Users of the CKGSB BCI index may thus focus on data changes over time to forecast trends in China's economy.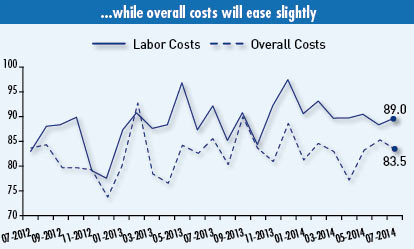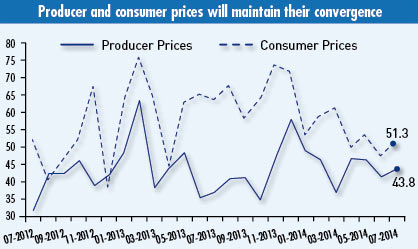 Of the BCI's four sub-indices, only the sales index has risen since last month, from 67.6 to 70.2, showing that firms believe sales growth will recover in the next six months. July has seen the profit index fall from 55 to 51.4 (see Corporate Sales and Corporate Profits), illustrating this quarter's downward trend. The labor costs index rose from 87.9 to 89.0 and the overall costs index fell from 85.3 to 83.5. The costs indices have been consistently over 80 for a long time, painting a picture of soaring costs (see Labor Costs and Overall Costs). The consumer price index has risen somewhat, from 47.4 to 51.3, showing firms expect consumer prices to rise, perhaps slightly, in the next six months. Producer prices have also risen, from 41.6 to 43.8, but have remained below the confidence threshold for some time, indicating that China's overcapacity issue has yet to be resolved.
You may also like
China is adding new solar capacity at a globally unparalleled rate, but it needs to ramp up even further to meet its.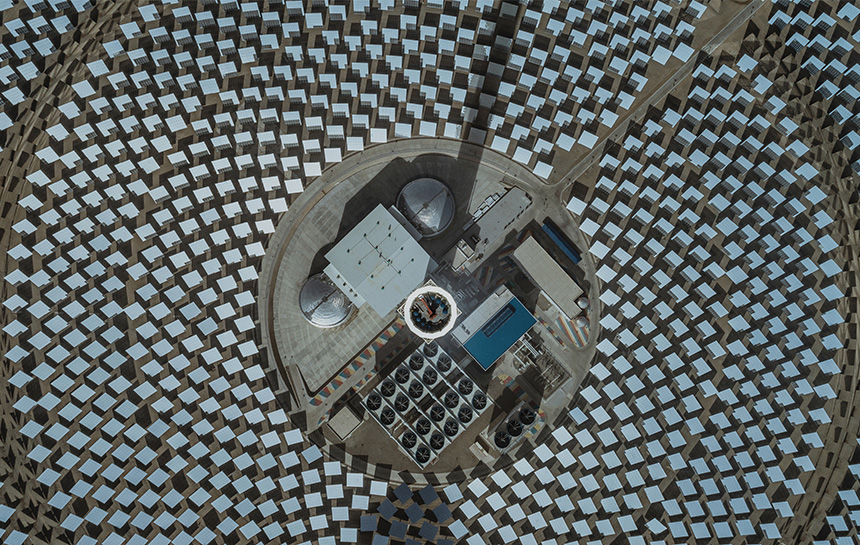 | May. 29 2023