Share

After Ofo: How the Bike-sharing Firm's Collapse Changed China's Tech Sector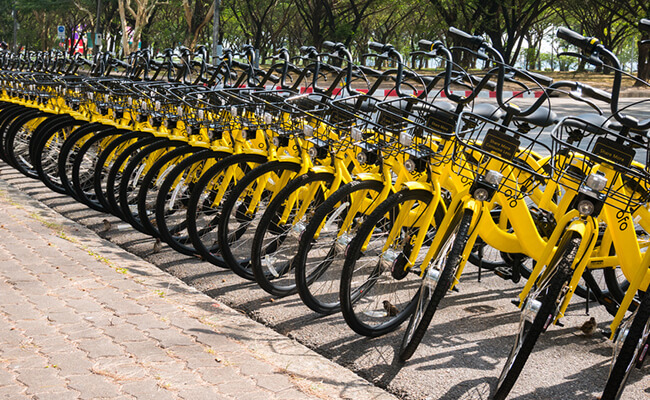 For many in China, the implosion of bike-sharing startup Ofo is a sign that the country's bubbly startup ecosystem needs to find a new growth model.
Right up until the moment his company imploded, Ofo founder Dai Wei insisted he was building a corporate empire to rival Google.
But the young entrepreneur has now come to resemble a modern-day Ozymandias: all that remains of Ofo's bike-sharing dream are the battered, unusable yellow cycles still littering China's streets.
The collapse of the Beijing-based startup, which just two years ago was valued at $3 billion, has captivated China over recent months.
Ofo and its main rival Mobike were hailed as the future of mobility when they burst onto the scene in 2017. The companies' "dockless" shared bikes, which users can unlock and drop off anywhere by scanning a QR code, offered a green and convenient solution to the so-called "last mile" problem.
By mid-2017, Ofo was handling 25 million rides a day in more than 20 countries. Forbes named the 28-year-old Dai in its annual "30 under 30" list of global influencers, and Chinese state media even called bike-sharing one of China's "four great modern inventions."
But rumors began to swirl last year that, despite having raised more than $2 billion from a string of high-profile backers, Ofo had a serious cash-flow problem and was missing payments to suppliers.
Things came to a head in dramatic fashion in December, when millions of users applied for refunds on their $15 deposits through the Ofo app, fearing the firm was about to fold.
When it became clear that the company did not have the money to pay users back, hundreds of people gathered outside the startup's Beijing headquarters to protest.
The Chinese government responded by placing Ofo and Dai on its credit blacklist—effectively banning them from making large purchases without official permission.
For now, Ofo continues to fight on. Last month, the company once again insisted that rumors of its impending bankruptcy were "totally false."
But it is hard to see how the firm can recover. Ofo has abandoned its entire international business—in Singapore, it even left behind the bikes—and slashed most of its domestic workforce.
Dai Wei has removed himself as Ofo's legal representative, admitting that the company was under "immense pressure and torment."
"Most people [inside Ofo] are really just waiting for the final days," one former executive told Reuters.
The bike-sharing debacle has generated a lot of public anger in China. Up to 12 million people are still waiting for their refunds, while huge "bicycle graveyards" still stand in many cities as monuments to the industry's wasteful business model.
But the reaction among the country's tech community has been even greater. The events of December have triggered a bout of soul-searching in a startup scene that was previously the most bullish in the world.
"It now appears bike-sharing is the stupidest business, but the smartest brains in China all tried to get in," Wu Shenghua, who founded one of Ofo's competitors, 3Vbike, told Reuters.
Blame Game
Many commentators have sought to pin the blame on Dai, the former Peking University student who built a billion-dollar company and lost it before his 30th birthday.
Dai is an easy target. The young founder reportedly presided over a culture of lax management and reckless spending—including a now-notorious RMB 10 million ($1.49 million) advertising campaign featuring Chinese pop star Lu Han.
"Fun, but not particularly good for business" was how one former employee described life at Ofo to local media.
Investors have also complained bitterly about Dai's overconfidence and obsession with maintaining control of his company.
Just months before Ofo's collapse, Dai was still boasting in internal meetings that even a $10 billion offer would not convince him to cede control of Ofo.
"There will be no future for the company if it is sold, except for a short-term cash reward," said Dai, sources told the South China Morning Post. Now, any reward at all looks highly unlikely.
But others argue that there is much more to Ofo's failure than the hubris of its founder.
In many ways, the firm was playing a game dictated by China's venture capital market. And its failure is an early sign that this $84 billion market is undergoing fundamental changes.
Making Pigs Fly
For Ying-Ying Lu, an expert on China's technology sector and co-host of the TechBuzz China podcast, the true reason for Ofo's demise was its obsessive focus on fundraising.
"If the success of Ofo represented the illusion of the invincible power of capital in the Chinese market during the past few years, then the defeat of Ofo annihilated that image," says Lu.
Ofo believed that the key to its success was in outspending its rivals, and it continued believing this even once it was clear that this strategy had reached its limit.
In late 2017, when there were already 23 million shared bikes choking China's sidewalks and local governments were introducing caps on cycle numbers, Ofo announced plans to roll out another 20 million.
At that point, bicycle manufacturer Flying Pigeon was supplying Ofo with 600,000 bikes per month. Ofo had wanted 1 million, but Flying Pigeon refused. "I thought they were out of their mind," a former executive at the manufacturer told The Economist.
But this money-burning strategy was far from unique to Ofo. In fact, the company was following a long-established growth model favored by many of China's most famous unicorns.
This model had become so common among startups that insiders had even given it a name: the "2VC" model.
Rather than focusing on making money from selling to consumers (2C) or to businesses (2B), founders concentrate above all on selling their businesses to venture capitalists (2VC).
The 2VC model emerged during the first half of the decade due to the unique conditions in China's tech sector at the time.
"Chinese digital and technology firms rode three dividends—an explosion of new internet users, increases in time on mobile devices and an abundance of capital," says Michael Norris, a consultant at AgencyChina focusing on China's tech sector.
Attracted by the sector's enormous growth potential, capital flooded into China's new economy at an astonishing rate. Last year, nearly one-third of global venture capital investment flowed into Chinese tech startups, up from just 4% in 2013, according to consulting firm Bain.
During these boom years, promising startups like Ofo found raising capital at an early stage to be relatively easy, as a huge number of investors were scanning the market for the next big thing.
"Before, you could get $3 million with two people knocking [on doors] and a smile," said William Bao Bean, head of Shanghai-based startup accelerator Chinaccelerator, in a recent interview with Technode.
But this trend also meant that startups would soon find their market flooded with dozens of copycat ventures, as investors scrambled to grab a slice of the new space.
China has seen many such investor frenzies, or fengkou. The most famous of these was the so-called "Thousand Groupon War" around 2011, when more than a hundred group-buying platforms similar to the US startup Groupon battled for market share.
Surviving this kind of corporate melee requires not only smart strategy and rapid product innovation, but also massive amounts of capital.
In a market with dozens of almost identical competitors, the winner was usually the one able to flood the market with its product and attract customers with steep discounts and blanket advertising.
For this reason, many entrepreneurs began to consider fundraising as the most important factor in a startup's success.
"If they know how to ride the winds of capital, even pigs can fly," Lei Jun, founder of tech giant Xiaomi, once famously quipped.
Investors not only played along with the fengkou model, but also actively encouraged it. Though the frenzies inevitably produced a lot of losers, the winners would be left in a dominant position in a potentially enormous new market.
"Previous investment frenzies reshaped markets, delivered exponential growth and even minted some of China's internet success stories," says Norris.
"[Life services super-app] Meituan-Dianping, [ride-hailing giant] Didi Chuxing and [edutech leader] VIPKID were all built off the back of investment frenzies."
So, when bike-sharing began to take off in 2016, investors saw another opportunity to ride a fengkou and began piling eye-watering sums into the new industry.
Ofo raised over $2 billion. Mobike raised $900 million. Even the relatively minor bike-sharing player Bluegogo was able to attract $66 million.
Within a year, Ofo was competing with more than 50 rivals, with many offering rides for as little as RMB 0.1 (less than one cent) per 30 minutes to attract users.
Though Ofo's behavior was the most reckless of all, it is hard to see how it could have avoided running up huge losses. During the initial stages of the war, Dai had been taught a lesson about the perils of being too cautious.
One of his key early backers, Tencent, abandoned Ofo for Mobike because of Dai's reluctance to make Ofo's bikes available across whole cities rather than only inside university campuses, according to local media.
Fatal Flaws
But it quickly became obvious to investors that the bike-sharing war was fundamentally different to previous fengkou: startups were running up far larger losses than most expected.
"Everyone jumped into bike-sharing without realizing that there was nothing worthwhile that they were getting into," says Elliott Zaagman, a columnist for TechNode who focuses on investment trends in China's tech sector.
"It was driven by hype and easy money, with little thought about the business model behind it."
Unlike most online-to-offline industries, such as group-buying or food delivery, bike-sharing is an asset-heavy business that requires massive investment.
Millions of bikes have to be manufactured, and then thousands of staff hired to maintain them and move them to where they are needed.
The bike-sharing firms had little hope of ever making money from this core business.
Mobike initially calculated that its bikes would need to continue functioning for four years, with users paying RMB 2 per half-hour ride, for the firm to make a profit, according to TechBuzz China.
In reality, the attrition rate for all the startups' bikes was far, far higher than this, and firms have only recently started raising prices above RMB 1 per ride.
The founders and investors also badly miscalculated how much extra income the bike-sharing firms would be able to generate from other sources, according to Norris of AgencyChina.
"They were convinced that user data, rather than the service, was the actual product," says Norris. "It turns out, however, that advertisers are mostly uninterested in where folks cycle to.
Other speculative revenue streams, such as covering bikes with physical advertisements and investing users' deposit money in high-return financial products, were closed off thanks to swift action by Chinese government regulators.
By mid-2017, it was clear to most in the industry that investors' only hope of recouping their investment was to force a merger of Ofo and Mobike, which had a combined market share of 90%, to bring the fengkou to an end.
Ofo's main backer, Didi Chuxing, repeatedly pushed Dai to accept just such an offer, according to local media. But Dai still believed he could find fresh investment from elsewhere and beat Mobike outright, and refused.
Dai has rightly been lambasted for this decision, but Yu doubts that an Ofo-Mobike merger would have been the game-changer some hoped it would be at the time.
"I don't think a clear route to profitability could have been easily reached even if Ofo had merged with Mobike," says Lu.
Events in recent months support this view. Mobike was eventually acquired by Meituan-Dianping for $2.7 billion in April 2018, earning investors a healthy return.
But Meituan quickly regretted the deal. Mobike has haemorrhaged so much money that it dragged down its new parent company's entire bottom line. The group's annual operating losses ballooned 190% in 2018.
In its earnings report, Meituan was forced to promise investors that it would take a "more disciplined approach" to "new initiatives" in the future, and announced a raft of measures designed to stem Mobike's losses.
Winter Is Coming
Time will tell whether bike-sharing can be made into a viable business. But Ofo's most lasting legacy could prove to be the new, more cautious mood that has spread among China's VCs.
For many investors, the spectacle of Ofo's demise was a wake-up call, a sign that they could not go on supporting companies that simply burn money without thought of how to build a sustainable business.
After severing ties with Ofo, Allen Zhu, head of GSR Ventures, said: "A business that cannot survive without burning money only creates pseudo-demand, and I will not invest in such a project in the future."
Investor bearishness on Chinese tech has spread rapidly in recent months. In a recent survey by Bain, two-thirds of China-based private equity investors said they saw China's tech sector as a bubble, and that there was a "high to very high" risk of this bubble bursting soon.
Investors are increasingly turning to newer markets with less frenzied competition, such as Southeast Asia.
Total private equity invested in Chinese tech in the first quarter fell to $6.3 billion, down from $16.3 billion last year, according to data firm Refinitiv.
Investment in Southeast Asia, by contrast, rose tenfold year-on-year to $5.9 billion.
For Norris, this downturn in sentiment reflects the fact that the days of breakneck growth in China's digital economy are ending.
Total internet users grew to 829 million in 2018, up 7.3% year-on-year, and this figure is likely to decline further in coming years.
With the time users spend online also plateauing, investors are increasingly looking for returns today, not promises of riches tomorrow.
"Before, new user growth offset digital businesses' strategic and commercial missteps," says Norris. "Now, it is harder to avoid scrutiny. Shareholders and investors want to know what comes next for these platforms after achieving scale."
Even some of China's best-known tech companies are struggling to attract new investment amid this harsher environment.
VIPKID is struggling to raise fresh funds at its desired valuation, the Financial Times reported in late April. "[They're] burning all that cash to do high-cost customer acquisition but they are never going to pay it off," one investor commented.
According to Zaagman, the surge in tech companies announcing plans to go public is another symptom of the change in mood.
"An initial public offering is an exit—we're seeing a bunch of VCs trying to exit," says Zaagman.
The rush to market is effectively a race against time, since valuations for Chinese tech companies are falling fast. According to Lu, target valuations are down 20-40% on average compared to just three months ago.
As investors try to judge how deep the market correction will be, an interesting bellwether will be the fate of Luckin Coffee.
The Beijing-based startup enjoyed a meteoric rise in 2018, raising $200 million from investors and opening more than 2,000 outlets. The firm has quickly been labelled "China's Starbucks."
But in China, the firm's cash-burning business model has also led many analysts to give Luckin a second, less welcome nickname: the "new Ofo."
The comparisons with the bike-sharing firm have become so ubiquitous that Luckin's chief marketing officer, Yang Fei, was forced to confront the issue publicly. "We will not become the next Ofo," he told reporters.
For Zaagman, the "new Ofo" tag is slightly unfair; although it is true that Luckin is eating up capital at an alarming rate. The firm estimates it lost at least $118 million last year.
"Luckin has some similar failures to Ofo, but it will not be the same," says Zaagman. "The fundamentals are there for Luckin. A cheaper, more efficient, more accessible version of Starbucks probably would work."
Luckin will be praying that investors agree. In May, the firm announced it aims to raise at least $500 million in its upcoming IPO in the US. And the company needs the cash.
You may also like
The ambiguity of China's carbon reduction goals has resulted in short-term emissions increases, and the targets may not be realistic.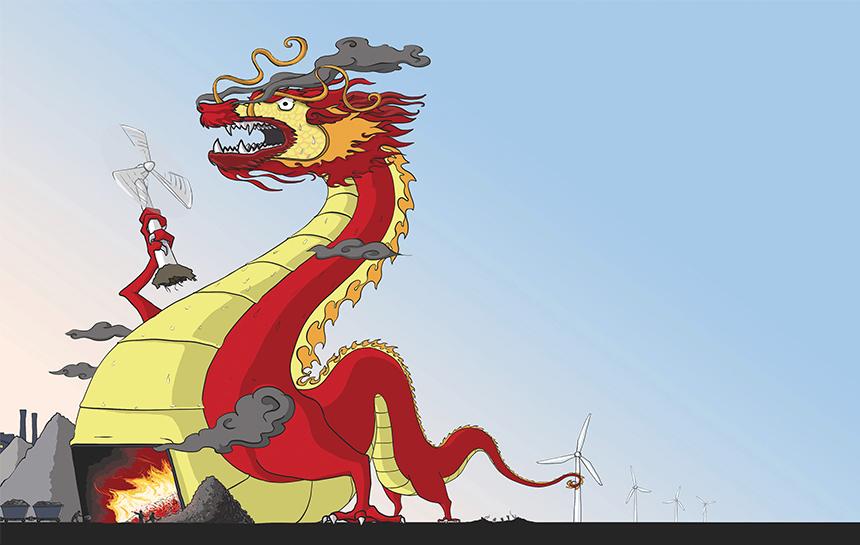 | Mar. 7 2023