Share

Africa Calling: How Transsion Rose to Dominate the African Phone Market
Shenzhen-based smartphone maker Transsion Holdings has followed an unlikely path to success by largely ignoring its home market and instead focusing on Africa
In the streets surrounding bustling Kariakoo Market in downtown Dar es Salaam, shoppers are ambushed by vast banners stretched across the slab concrete buildings. In red, white and blue, the advertising promotes the biggest-selling smartphones in town. These are not handsets from Apple, Samsung or even Huawei, but Tecno Mobile and Itel—two Chinese brands that are barely known outside of Africa but have risen to dominate the continent's fast-growing market.
Tecno and Itel's parent company, Transsion Holdings, is the dark horse of China's tech sector. Though the company has a low profile in its home city of Shenzhen, the southern startup hub that is also home to Huawei, Transsion sold 130 million phones globally last year, just 23 million fewer than Huawei and nearly 40 million more than Xiaomi.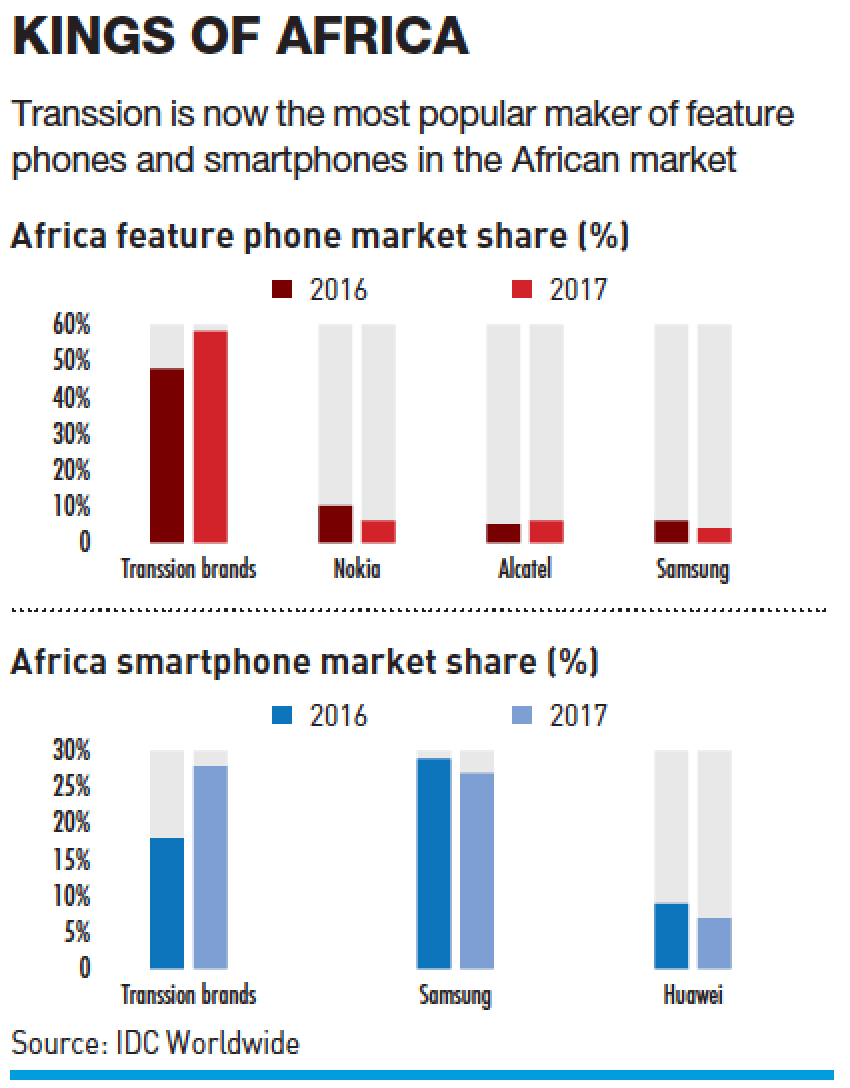 Transsion enjoys a market share of over 50% in Africa and is the top vendor for both feature phones—cheaper handsets with basic functions—and smartphones, overtaking Samsung in 2017.
The company's success has been built on a decision, made two years after it developed its first feature phone, the Tecno T201, in 2006, to focus exclusively on Africa. Transsion believed there was a unique growth opportunity there.
"When our company was founded, each of the emerging markets including Africa, China and India boasted 1 billion potential customers," Arif Chowdhury, Vice President at Transsion, told Chinese news website Jiemian in a recent interview. "But comparatively speaking, competition in the African market is less fierce."
Moving to Africa allowed Transsion to avoid Chinese rivals, but the company still faced a daunting competitor in Nokia, which was the leading player in the continent at the time. The Chinese firm was very much the underdog—the company's first African production facility, in Ethiopia, consisted of six Chinese workers assembling phones on the ground floor of a three-story villa—but cheaper prices and superior localization have seen it win out.
"Transsion has succeeded because they addressed the problems of the market directly. They make phones with features that are attractive to Africans," says Aniekan Etetim, a Nigeria-based tech expert and founder of the TechLifeCode blog.
Tecno was the first brand to produce phones with slots for multiple SIM cards, allowing users to switch between networks seamlessly. The feature proved hugely popular in Africa, where coverage is notoriously patchy and consumers are highly price-conscious. The company's phones also offer extremely long battery life to cope with unreliable electricity supply. Some Transsion feature phones can run for a month on a single charge.
This "glocal" approach has helped Transsion build an enormous lead in Africa's feature phones market, where the company has a market share of 58%, according to figures by International Data Corporation (IDC). Its tiny Ethiopian production line has expanded to 1,600 employees and can produce 1 million handsets a month. In total, Transsion has 5,000 workers based in Africa, of which 90% are local hires, according to the company.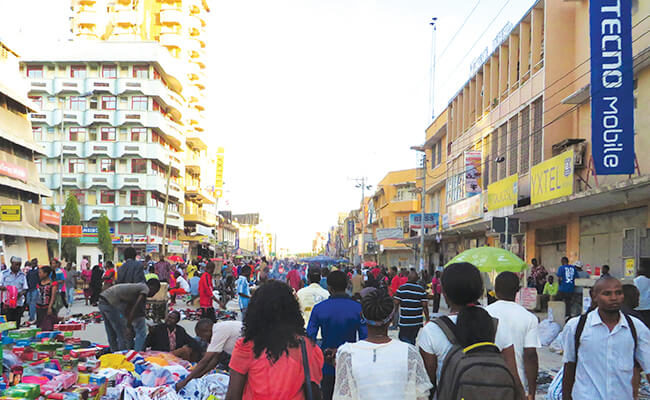 Moving Up
Low-cost feature phones still remain the company's most popular products. But Transsion has also tapped into rising income levels in Africa to become the region's leading smartphone maker.
When Transsion launched its first Android-based smartphone, the Tecno T1, in 2012, smartphones were rare in Africa, with only the highest earners able to buy an Apple or Samsung. But the Chinese company's low prices made owning a smart handset a realistic prospect for millions of people.
"Tecno is changing the narrative that Africans can't afford smartphones," Mbwana Alliy, founder of the Africa-based venture capital firm Savannah Fund, told Bloomberg. "Facebook, Instagram, WhatsApp—all those apps owe a lot of their success to Tecno."
Transsion's low prices have allowed it to undercut its main rival, Samsung, and achieve a market share of 34% in the African smartphone market, which now has nearly 300 million users.
"Africa continues to be a price-sensitive market with almost three-fifths of total handset sales below $100," says Tarun Pathak, an associate director at Counterpoint Research. "There are still users who are now experiencing their first ever smartphone and Transsion is wooing these customers by providing aggressive specs at an affordable price."
Transsion's cheap phones were once perceived as unfashionable by African consumers, and Etetim says several of his friends used to cover the Tecno logo on their handsets with tape. However, the company has moved up the value chain and is increasingly competing directly against other global brands, launching a higher-end, smartphone-only brand named Infinix in 2013.
Highly localized "micro-innovations," such as cameras optimized for taking flattering selfies of users with darker skin tones, have helped Transsion's brands develop a reputation for quality as well as price. The company has set up R&D units in Kenya and Nigeria to further localize its products.
With Africa's smartphone market predicted to triple in size to 930 million users by 2021, according to analysts Ovum, Transsion's prospects appear bright. The company expects its worldwide sales to grow nearly 50% this year to reach 180 million units.
But the huge growth potential in Africa is attracting the attention of the world's largest brands, including companies Transsion previously tried to avoid. Huawei is investing heavily in South Africa and Oppo is building a presence in Kenya.
"Africa is likely to be the next battleground in the global smartphone market," says Pathak.
The arrival of the Chinese brands means that Transsion will have to adapt to a more intense level of competition in Africa, according to Ramazan Yavuz, a research manager at IDC. "Transsion is entering a phase of competition with the bigger players where winning is largely dependent on spending and continuous product launches," says Yavuz.
Huawei has a larger marketing budget than Transsion and is expanding aggressively. But Transsion has higher brand recognition and is better attuned to the needs of its users. Tecno rose to seventh on Brand Africa's list of the top 100 most admired brands in Africa last year, just five places behind Samsung and 19 ahead of Huawei. Itel and Infinix also made the list, in 16th and 28th positions respectively.
Transsion's long-term investment in relationship-building and training local staff have helped promote brand loyalty, believes Elliott Zaagman, a consultant at Goldenspan Consulting who specializes in China's technology sector.
"Transsion has done a better job at building goodwill with the local people," says Zaagman. "They have been there longer, they've learned how to do it and they clearly work better with African governments, African consumers and African workers."
Another advantage is the company's extensive after-sales service arm, Carlcare, which was set up in 2009 as a separate brand. It now operates more than 1,000 touchpoints worldwide.
Yet, localization also brings its risks in Africa, as political instability remains a serious issue. Transsion closed its facility in Addis Ababa temporarily following the surprise resignation of Ethiopian Prime Minister Hailemariam Desalegn in February. The company also views unstable government policies and foreign exchange fluctuations as potential obstacles to rolling out its next factory in Nigeria. But Transsion's manufacturing facilities in Shenzhen, Huizhou and India offer the company a degree of protection.
"Their Ethiopian manufacturing has had challenges—that's the risk that they have to take," says Zaagman. "But by doing that they can have the cheapest phones because they make them locally."
These low prices and high brand reputation will help Transsion remain popular among first-time smartphone buyers. Other brands are likely to target users buying second or third handsets, according to Pathak of Counterpoint Research.
Out of Africa
Rather than focusing on defending its "home" market in Africa, Transsion is advancing into new territory and opening up multiple new fronts in the battle with its rivals. The company's top priority has been India, where it is expanding its sales network, scaling up its factory outside New Delhi and launching new R&D centers. Transsion acquired Indian tech firm Spice Mobility last year and revived the Spice brand with fresh product launches.
"The competition in India has turned white-hot," Chowdhury told Jiemian. "If we do not enter the market now, the door will be closed to us permanently as smaller brands will have little chance of surviving in two or three years' time."
In April, Transsion also kick-started a push into the Gulf region by launching the shiny Camon CM smartphone in Dubai. Chowdhury says the company also has plans to expand into Indonesia, Vietnam, Colombia and Mexico.
These new markets will prove more challenging and Transsion will require additional funding to succeed against well-capitalized competitors. A ploy to list on the Shenzhen Stock Exchange through a reverse takeover of Chinese pumping equipment maker Shimge Pump Industry Group fell through in June, after the two companies failed to agree on terms.
Still, Transsion hopes that its tried-and-tested recipe—offering high-spec, highly-localized products at highly-affordable prices—will win over consumers outside of Africa too. The company's Indian phones already boast fingerprint scanners optimized for greasier fingers, designed to appeal to users in a country where people prefer to eat with their hands.
Transsion is currently in fourth place in India's feature phone market with a 7.6% share, according to IDC. However, in smartphones it languishes in fifth place with a share of 5%, below Oppo, Vivo, Samsung and Xiaomi, which leads the way on 29.7%.
Upsana Joshi, an associate research manager at IDC India, believes that Transsion will find it tough to move up the rankings. "Huawei, Xiaomi, Oppo and Vivo have a decided edge in terms of product placement, quality and promotional spending," she says.
But Transsion's lower-end products could be highly competitive in India, given that 85% of sales are for handsets costing less than $200. The company's strong offline channels with above-average margins for retailers and distributors will also be an asset.
And as Samsung and Nokia have discovered in Africa, it might be wise to not write off the underdog.
You may also like
Yili Group is using internationalization in its quest to become the world's largest dairy company within the next decade.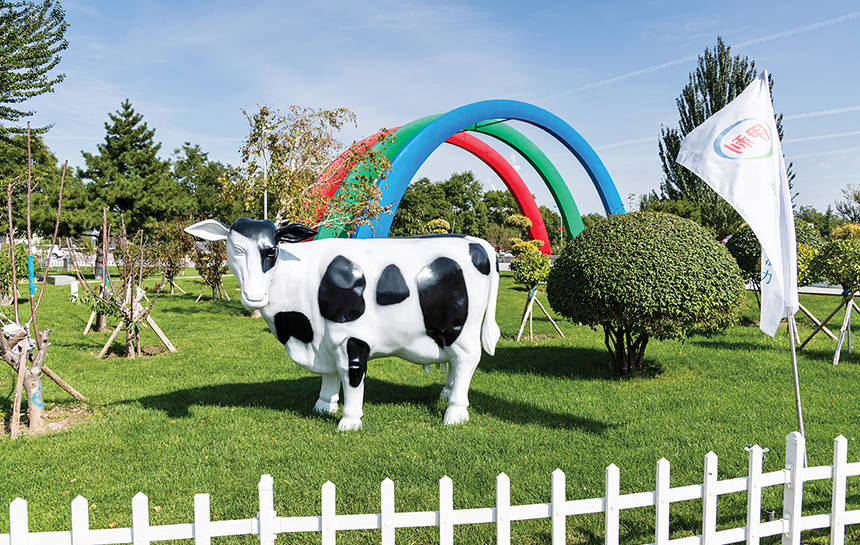 | Jun. 7 2023