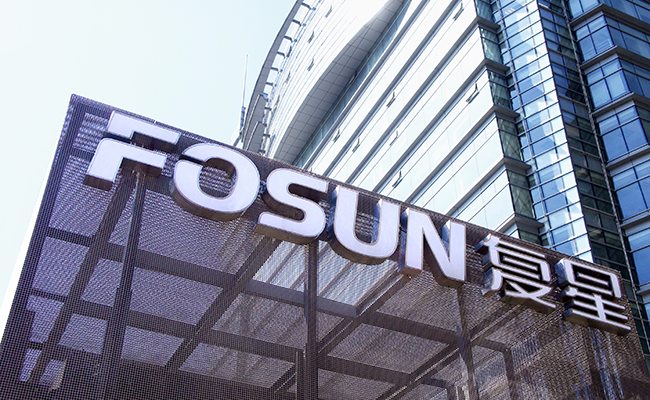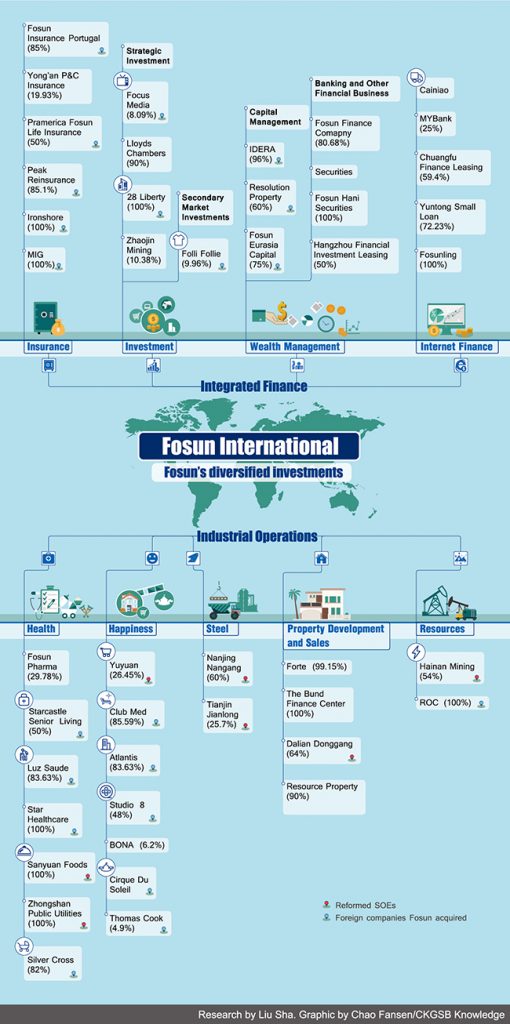 Fosun's sprawling business empire

Fosun International's latest acquisition is British football club Wolverhampton Wanderers. Acquired at the cost of $59 million, Wolverhampton Wanderers is at best a second-tier football club but Jeff Shi, the Fosun executive leading the deal, says they will take it back to the premier league, which houses UK's 20 best clubs.

Some investors say Fosun's investments are unrelated to its domestic business and with zero experience of running the fashion or film business, it won't be able to make the most of these valuable assets.

But Liang Xinjun, CEO of Fosun, said in an interview in 2012 with CKGSB's case study center that Fosun only invests in companies with clear China strategies and with mature management teams that can stay so that Fosun does not have to create a new team.

According to Liang, Fosun would only ask for one to two seats on the board of company and mainly focus on the company's China strategy, assisting them to explore the consumption market in China, adding that "even if Fosun becomes the largest shareholder, we don't seek to control the whole company."
Money and Politics
In the domestic market, Fosun allegedly maintains a good relationship with local governments that the company has been working with on SOE reform and restructuring. However, in December 2015, CEO Guo suddenly disappeared from public sight.

Although it turned out that Guo was just assisting an investigation of a corruption case allegedly unrelated to Fosun, it still set tongues wagging about Fosun's "political risk".

Guo's short-term disappearance was followed by Fosun terminating a deal, which had been announced one year before, to buy a controlling stake in Phoenix Holdings, an insurance and financial group in Israel.

Local media reported that Guo tried to persuade regulators that the transaction should continue despite his absence when he was "assisting the official investigation".

This detention has also led Moody's to lower Fosun's short-term bond from positive to negative. But in April, after Fosun released its financial summary of 2015, it switched back to a stable outlook.

"The stable outlook reflects Fosun's demonstrated ability to maintain its access to the funding markets and improve its debt maturity profile," says Lina Choi, a Moody's Vice President and Senior Credit Officer, according to a press release.

The company's debt has increased rapidly since it started buying overseas. The debt increased to a worryingly high ratio of 74% in 2014. It managed to lower the liability to 69.3% in 2015. But it is still a concern for investors.

In May 2016, when Standard and Poor's (S&P) Global Ratings revised its ratings outlook on Fosun from "stable" to "negative", it mainly cited the concern of Fosun's high-level debt as the cause of the downgrade.

In response, Guo told media that Fosun's goal is to have reasonable level of debt and "for the company, lower debt level doesn't mean it's running well." He also revealed Fosun has set an internal goal of lowering 0.5% absolute cost of debt.

However S&P also recognizes Fosun's business diversity, saying it would help reduce Fosun's debt level. "Despite the many sectors like healthcare, leisure and oil are yet to make meaningful contributions to revenue."

Apart from the debt risk, people also question if the insurance assets and investments of Fosun could generate profits for the company.

Even though Fosun has been emphasizing to the media that insurance assets account for one-third of its total assets, in its 2015 financial summary, its industrial operations accounted for 45% of the total assets and generated 80% of the company's revenue.

The S&P report also says that it still views Fosun Group as an industrial conglomerate rather than a professional investment institution.

Fosun Group seized the right timing in China's Reform and Opening Up period, and reaped rich rewards. But now those traditional industries that helped Fosun grow are becoming a burden. So it's looking for new ways to sustain its investments.

But as Shen says, Fosun's experience is inked with Chinese characteristics and that may not help it to become another Berkshire Hathaway.
Enjoying what you're reading?
Sign up to our monthly newsletter to get more China insights delivered to your inbox.