China's national broadcaster CCTV shames errant companies on World Consumer Rights Day. A look at some of those who have been in the firing line in the past.
March 15th, World Consumer Rights Day also known as 3.15 in China, has many companies quaking in their boots. This day has the power to make or mar their fortunes in this country. CCTV or China Central Television, the country's national broadcaster, has been holding the 315 Evening Gala annually since 1991, a show which shames companies for misconduct and acting against the interests of consumers.
No one is safe. CCTV's Hall of Shame features, among others, names like McDonald's, Starbucks, Apple, Volkswagen, OZDairy and Hewlett-Packard. The allegations range from issues regarding counterfeiting, negligence and food safety to pricing and warranties. Jewelry maker Chow Tai Seng, for instance, was accused of mixing iridium in 24 carat gold jewelry. Government-owned companies are also not immune. China Telecom came in the line of fire for sending out spam messages to users.
This year's 315 Evening Gala took aim at Jaguar Land Rover for selling cars with faulty gearboxes, and dealers for Mercedes-Benz, Volkswagen and Dongfeng Nissan for overcharging consumers. Some foreign clothing brands like American Apparel, H&M, Zara, Mango, Gap, Old Navy, Armani and Forever 21 got a rap on their knuckles for failing quality inspections. China Mobile and China Tietong Telecommunications Corp were shamed for allowing scammers access to phone numbers.
Even as you read this, communications teams in companies across the length and breadth of China are probably huddled together in meeting rooms creating strategies for damage control.
Read on to find out about some of the cases that have been called out in the past few years and how the companies have reacted to CCTV's allegations.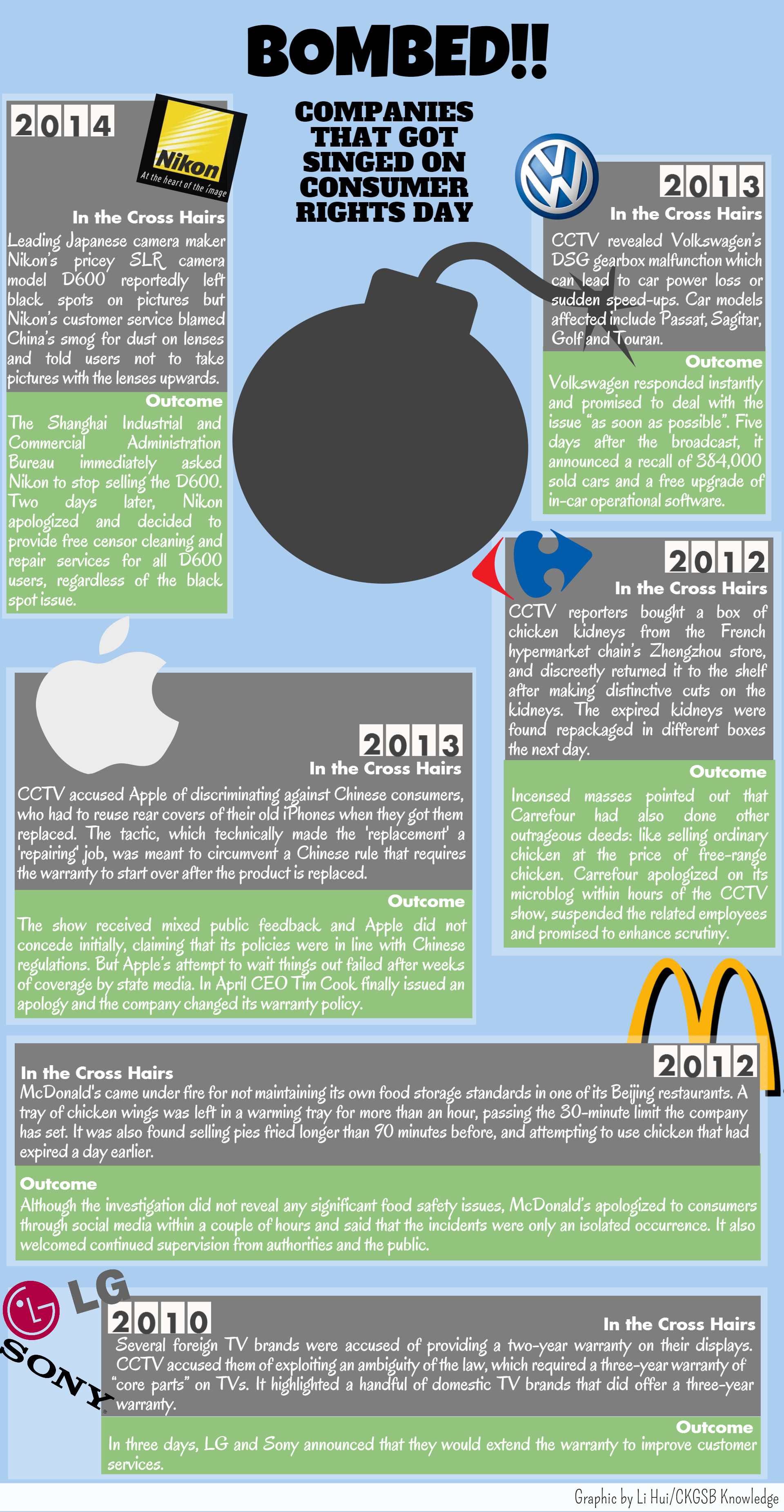 You might also like to read:
First Response: A Crisis Management Strategy for China
Smeared! Why Reputation Management Matters Even to China's Instant Noodle King
Enjoying what you're reading?
Sign up to our monthly newsletter to get more China insights delivered to your inbox.