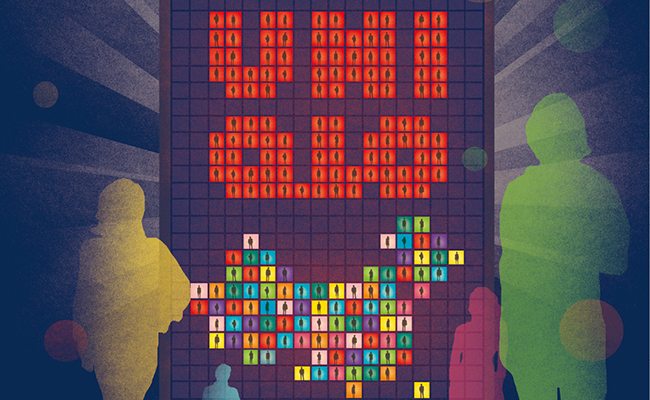 The Japanese clothing company has ambitions to be the world's largest retailer, and it is betting on China to get it there. What does the future hold for Uniqlo in China?
On a Saturday afternoon in late September, Uniqlo's central Shanghai store is packed with excited shoppers. But this is not just normal weekend sales; this particular Saturday is the launch of a new partnership for Uniqlo—its tie-up with one of the biggest names in entertainment, Walt Disney. Introducing a range of branded goods to China, the 'Magic For All' launch brought an enthusiastic crowd of shoppers, with a queue of more than 1,000 waiting before the store even opened.
The fifth floor of the giant Uniqlo shop on central Huaihai Road was turned over to the new Uniqlo-Disney range and included a life-sized Mickey Mouse model, five areas featuring different selections of clothes emblazoned with Disney characters and an area that allowed shoppers to create their own Disney character shirts. And it seemed to be going down well with the shop's fans.
"I love Uniqlo's stuff," said Wang Yining, who was leaving the store with two friends, all clutching shopping bags. "Uniqlo always offers something different and it's fun to come here. Also, it's not too expensive for me to buy things."
"It's easy to find things in colors I like," agrees Gabriel Fu, a student from Hong Kong, also holding bags of Disney-Uniqlo goods. "And they're very comfortable. I always buy clothes here."
Built around an ethos of high quality at affordable prices, Uniqlo quickly found huge popularity in China for accessible basics and mix-and-match designs. As a result, the Japanese retailer has been steadily building its presence in China over the last decade, and now has ambitious plans to accelerate its growth, most notably through a bold expansion in its number of shops.
That might seem sensible given its growing popularity—revenue soared by 21% between August 2014 and 2015 across Uniqlo globally, largely driven by an increase in Greater China revenues of 46% and operating profit of 66%. But is it now at risk of over-reaching itself, particularly given the slowing Chinese economy?
Fast Forward
Uniqlo, the primary subsidiary of Japanese retail holding company Fast Retailing, first appeared as a brand in Hiroshima in 1984—reportedly, the name came about due to an error in registering the spelling of 'unique clothing'. The Uniqlo brand spread across Japan, and by 1994 there were 100 Uniqlo stores in its home country. However, it wasn't until almost a decade later that the company decided to venture into overseas markets. In 2002, the brand opened four overseas stores in London, and one in Shanghai. It opened two more in its first year in China, but expanded far more rapidly in the UK. But there the brand initially struggled, closing 16 of its 21 stores in the UK only a year later having failed to connect with its target consumers.
But Uniqlo quickly learned from its mistakes, enlisting a host of popular celebrities, high-profile photographers and popular DJs to feature in a high-profile advertising campaign, and re-launched the brand in the UK three years later. Launch day sales reportedly exceeding any other store launch figures at the time in just three hours.
"Uniqlo are consistent in who they appeal to around the globe—the 'young-ish' fun-loving consumer who enjoys the range of colors and the materials and fabric used," says retail consultant Chris Igwe. "The store itself is fun, colorful, but tastefully done. The merchandising is incredibly well-managed on the shop floor—you always have this image of a calm structure in a Uniqlo store."
"What it has achieved is being truly global in their offer, style and customer approach," he adds. "They are appealing to the young person as well as the young professional."
But burned by its experience in the UK, Uniqlo grew fairly slowly after its initial launch in China, reaching 189 stores in 2010. However in May of that year, Uniqlo opened its largest-ever store at the time on West Nanjing Road in Shanghai, its China flagship.
Digital Runway
But sales really began to rocket once Uniqlo embraced the power of digital in China. The company was among the first international brands to heavily invest in Chinese social media, building accounts and followers on Weibo, RenRen, WeChat, Douban and Youku. The brand quickly appreciated the power of digital campaigns on social media, with one of its early successes a RenRen campaign in 2010 called 'Lucky Line', where users could stand in a virtual line to win iPhones, iPads and coupons. Their place in the 'queue' was then posted on the user's page.
But they've moved with the times as WeChat has ascended to the top of China's social media pile. The brand's successful 'Style Your Life' campaign, for example, allowed customers to try clothes on in front of backdrops to various cities, which they then shared on the app. This campaign helped Uniqlo more than double its number of followers. Numbers rocketed from 400,000 when the campaign launched last year to 1 million when it finished six months later, according to an Advertising Age interview with Jalin Wu, Uniqlo's Chief Marketing Officer for Greater China. Since then, numbers have doubled again and Uniqlo now has over two million followers on WeChat.
And since 2009, Uniqlo has also been selling successfully through Alibaba's Tmall platform. During Alibaba's Singles Day sales event in November 2014, the biggest shopping day in the Chinese calendar, Uniqlo was the top apparel brand in terms of sales, and fifth overall.
Despite Tmall success, in July the retailer closed its online store on China's popular JD.com site, just three months after it launched, saying, "based on the results of the trial run", the retailer had decided to "take a step back" as it was "not in line with the company's China e-commerce strategy". In an interview with Reuters, a JD.com spokesperson said that the decision was not due to the store's performance as it had exceed sales targets in its first month.
Nonetheless, strong sales in China as a whole prompted Fast Retailing to raise its full-year earnings forecasts for the year, and the management remain confident despite a slowing economy.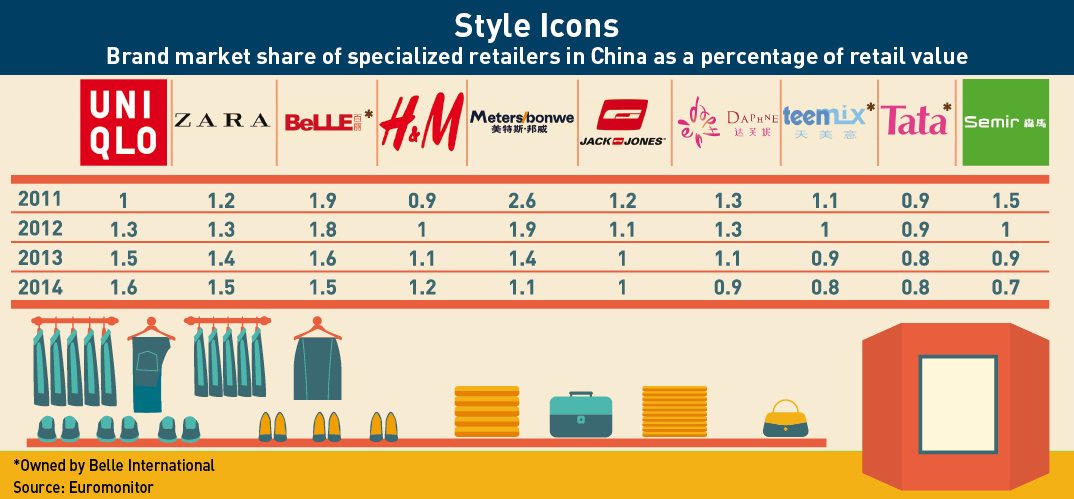 "Uniqlo have done well in China, because they spotted early on the yawning gap between cheap and cheerless clothing and the high-end just as the Chinese middle class of white collar office workers was really beginning to emerge and find they had money to spend," says Matthew Crabbe, Director of Research, Asia-Pacific at Mintel. "Their clothes were affordable, but of good enough quality. This was an innovation in China at the time, and it is innovation that has kept Uniqlo in the minds of consumers."
And Crabbe points out that their success was also down to how they presented their products to consumers. "They were one of the first retailers to train staff to help customers by suggesting item matching, and were one of the first clothing brands to embrace Tmall, rather than try to compete with it," he says.
Fragmented Fashion
Overseas growth—in China in particular—is key to Uniqlo's goal of becoming the world's top apparel retailer by 2020. In April Chief Executive Tadashi Yanai said Fast Retailing planned to have more Uniqlo outlets overseas than in Japan by the end of autumn, and that in five years there would be 1,000 in China (at the end of September there were 396). Eventually, Yanai wants 3,000 stores in China, with most of that growth in second and third-tier cities.
"Having established a firm framework for personnel training and store development, Uniqlo China is now embarking on a period of dramatic development and mass store openings with 91 new stores opening for business in fiscal 2015 alone," the company said in a statement, adding, "The success of our Shanghai global flagship store has boosted Uniqlo's brand appeal dramatically in China."
"Retailers like Uniqlo tend to do their flagships extremely well; they go big, they are the face of the brand but they are also very commercially successful," says Joel Stephen, Head of Retailer Representation at CBRE. "As they tend to open smaller stores in secondary locations, they avoid cannibalizing their other stores and thrive just on local catchments with those stores. With that price point and store strategy in this market, these retailers could open a thousand stores without becoming saturated."
Uniqlo currently holds 1.6% of the market for specialist apparel and footwear retailers according to Euromonitor, a share that has been steadily increasing up from 0.8% in 2010. That might not sound like a great deal, but China's apparel and footwear market is still highly fragmented and its consumer market is huge. One of the market leaders is Danish company Bestseller Fashion Group China, holding a 2.3% market share. Bestseller, which operates brands like Only, Jack & Jones and Vero Moda, has benefited from being one of the early retail chains in the Chinese market, opening the first Only store in 1996.
Zara's parent company Inditex ranks third with 2.2%, but the brand has reportedly said they will slow their store openings in China, having built a network of 500 stores. And rival fast fashion brand H&M holds 1.3% of the market, although it is also on an expansion path in China, aiming to open 70 stores this fiscal year.
For Uniqlo, innovation and market awareness have been central to the company's attempts to grow its market share and insulate itself from its competitors. The company maintains that their products cannot be copied or replicated, due to its research and development and fabric innovation, such as heat-generating clothing HeatTech. And the tie-up with Disney is another way in which Uniqlo has shown themselves as savvy marketers. Disney is shortly going to open its first Disneyland in China; a $5.5 billion theme park near Shanghai, and the company's biggest ever foreign investment.
Fashion Faux Pas
It remains to be seen whether the ambitious growth plans in China will pay off—particularly at a time when China's growth has slowed to the weakest level in 24 years, and many other retailers are more cautious, slowing store openings or closing shops.
But competitive pricing and offerings that sit well with the needs of consumers can help retailers prosper in spite of this. "The best-in-class retailers maintain a fairly aligned and competitive price structure in their stores globally; they don't put up prices to cover higher taxes in China. It helps access tens of millions more consumers who are growing into the lower entry price point," says Stephen. "And one thing the best of these retailers do well is basics. As the China market matures, people are keen to mix designer brands with stylish good quality basics. Successful retailers in this sector like Uniqlo do this very well."
Nonetheless, others warn of the risks of opening too many large stores too quickly.
"I think times have changed," says Crabbe. "The growth in online retail and [mobile]-commerce have increasingly meant that retailers no longer need to have so many stores to reach more consumers, just a better offering and visibility online. Uniqlo would do better to—as well as opening big flagship stores in key new cities—open dressing rooms in some places, rather than full stores, where people can try on the clothes and buy online."
And it hasn't all been smooth sailing in China. In July, a video of a couple having sex in a Uniqlo changing room went viral, leading to the arrest of at least five people. Uniqlo declared it was not a marketing stunt, but media reports said the government was investigating if there was a publicity angle to the scandal. The China Daily reported that Uniqlo could face a fine of between RMB 200,000 and 1 million, and even see its licence revoked if the government decided it was complicit.
Involvement, or lack thereof, aside, implications for the brand's image aren't clear cut. According to a consumer survey by YouGov, a quarter of men surveyed said the incident increased their purchase intent, while for a third of women, intent levels dropped. About 11% of men and 8% of women said the steamy video "enhanced their perception of the brand as a young and energetic brand," while nearly a quarter of men said it made them want to visit the shop. In any case, the incident has been clearly and indelibly linked with the store.
Adding to the negative publicity was an attack on a woman and a man with a samurai sword outside a central Beijing Uniqlo store in August in which the woman later died. While there was no Uniqlo connection with the event, it was another front-page controversy with the brand's logo squarely featured in many photos.
However, most experts believe Uniqlo has built a strong enough brand not to be damaged by such incidents. "The recent negative press for Uniqlo in China demonstrates the fragility of any organization's ability to manage all aspects of the brand positioning," says Toby Hemming, Director at media relations specialist Bold Media. "Whilst these incidents are of course highly regrettable, ultimately the public's perception of Uniqlo as a brand will be based on a far wider set of factors including brand equity, customer service and quality of product."
"Sensitive and timely handling of any negative press is crucial to the long-term commercial prospects of any organization," he continues. "Judging against this criteria, I don't think Uniqlo will suffer any long-term damage from two isolated incidents."
A Solid Footing
However popular Uniqlo is with shoppers, the store will still have to navigate the fallout from various controversies as it continues its China growth. It could be a tough year ahead if the government concludes it had any part in the infamous 'sex video', and implements serious reprimands.
But even as growth slows, in the main Uniqlo sees itself as nicely positioned to weather the storm—adaptable, affordable clothing is always popular in tougher economic times, and it has based itself at the forefront of China's social media marketing.
"Value fashion retail is the strongest sector to be in," concludes CBRE's Stephen. "In China, there is a demographic growing into this sector, but there's also an existing demographic, some of whom are very wealthy [yet] who buy the product. There are also consumers trading down from the mid-range sector as the market slows, so there are three different consumer groups driving performance."
With so many consumers driving demand in China, Uniqlo's bid to be the largest clothes retailer in the world might not be impossible after all.
Enjoying what you're reading?
Sign up to our monthly newsletter to get more China insights delivered to your inbox.