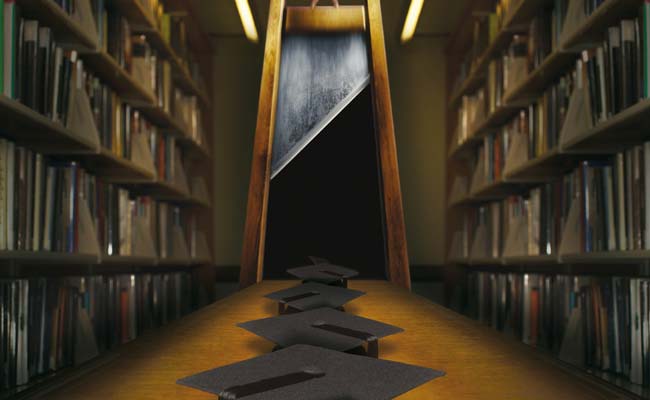 Official figures of unemployment in China may not be showing us the reality of joblessness for recent graduates and migrant workers.
Recent graduate James Du has been searching for a job for four months in Beijing to no avail. The holder of a master's degree in finance from Moscow University of Industry and Finance rationalizes: "I've only applied to large companies and I prefer jobs which are intellectually stimulating. As my parents have already spent so much money on my education, I'd prefer a job with a certain salary as well, [and] the job should have a certain status."
James is amongst an estimated 7 million Chinese university graduates who have quickly become the most work-strapped demographic in the country. The situation presumably worried Chinese leader Xi Jinping enough for him to drop by a Tianjin jobs fair to reassure local graduates on his commitment to employment just days after his inauguration.
Explaining the Disconnect
High unemployment in China has long been a preoccupation of the country's leaders, with former president Hu Jintao famously telling his counterpart George W Bush that 'employment' was the issue which kept him awake at night. Xi proclaimed at the jobs fair that employment remained his paramount concern, perhaps surmising the dangers of a disenfranchised middle class who'd just been sold the idea of the 'China Dream'.
Despite policymakers' proclamations, China's recent 2013 jobs data seemingly present little cause for concern. China's Ministry of Human Resources and Social Security (MOHRSS) reported that the unemployment rate was an average of 4.1% in 2013, well within the government's target of 4.6%.
However, most experts do not consider the statistics credible for a multitude of reasons. Firstly, the statistic has remained between 4% and 4.3% for most of the past decade even during major layoffs, such as during the global financial crisis in 2009 when tens of millions of workers in China's factories for export lost their jobs.
In comparison, the unemployment rate in the US reached a peak of 10% in October 2008, but has dropped to 6.3% in April this year, its lowest rate in six years.
Secondly, unemployment rates released by different research groups do not match up. In 2012, researchers from Texas A&M University worked with China's Southwestern University of Finance and Economics to survey 8,000 Chinese households. It discovered that China's urban unemployment rate was 8.05%, almost twice the official estimate. In 2008, the Chinese Academy of Social Sciences published an unemployment rate of 9.4% while the official rate was 4.2%.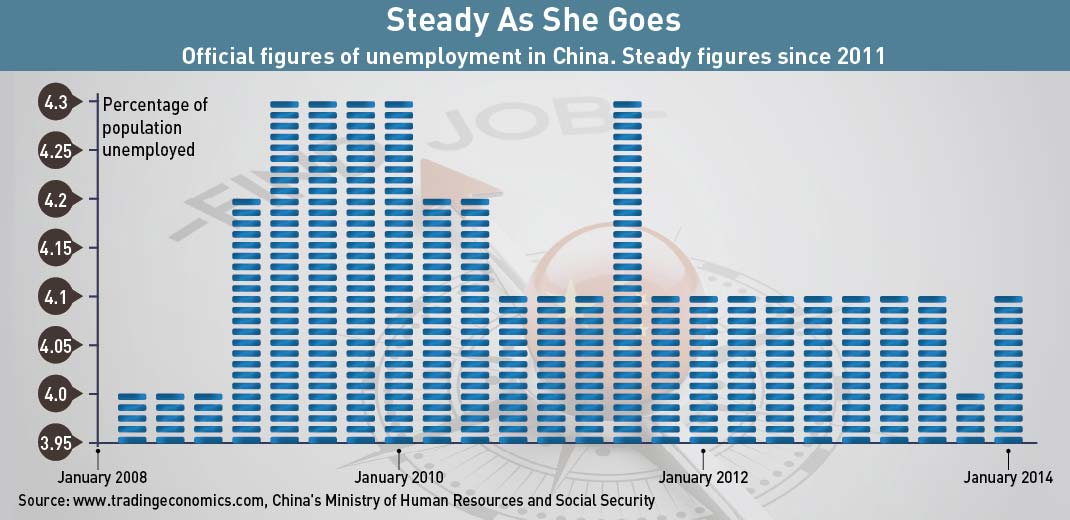 Thirdly, China's authorities count only those urban workers that register for unemployment benefits. For the estimated 260 million, or 20% of the working population, that are migrant workers lacking the all-important housing registration, or hukou, in their destination cities, this methodology is quite problematic. Without registration they cannot apply for unemployment benefits, casting even more doubt on the statistic.
Bewilderingly, the government also stopped announcing the number of jobless workers in cities, which they had previously announced until 2012. The numbers had stood at 9.18 million at the end of June 2012 and 9.17 million at the end of 2012. The sudden drop in transparency is yet another ill omen for employment figures.
Tim Pingle, a lecturer at the School of Oriental and African Studies who does research on China's labor relations, further pointed out the statistics hid large regional variations in labor markets and workers in the informal economy.
"Large numbers of people working in the informal economy are hidden from the statistics. Although the numbers are not as large as those in countries like India, some recent estimates have said that China's informal economy is much larger than thought," says Pingle.
The most recent survey conducted in 2008 by the Institute of Population and Labor Economics estimated that between 19.9% and 37.2% of households were in informal unemployment, according to different definitions. Informal unemployment is defined in several ways, but mainly as 'not having a formal labor contract' and 'not having social insurance.'
Finally, activists and academics highlight that the low unemployment rate hides the phenomenon of using agency labor. In the reform of state-owned enterprises (SOEs) in the early 2000s, many workers were cajoled into becoming 'agency labor', which meant that they were not directly employed by the enterprise but by an employment agency created by the enterprise as a cost-cutting measure. Typically, agency workers receive lower pay and fewer benefits than regular staff in the same position. In 2011, the All-China Federation of Trade Unions reported that there were more than 60 million agency workers, also known as dispatched employees, mostly in SOEs and government entities. Last year, the MOHRSS proposed revising labor contract laws to protect agency workers, which were supposed to take effect in July last year, with a grace period of two years. These measures include providing clearer definitions of employee positions, and capping the number of agency workers in a company to 10% of the company's total employees.
"It affects a majority of companies, because many companies and multinationals have been using dispatched employees in a wide range of positions for a long time," says James Hu, a partner at Chinese law firm Fangda Partners.
But Communications Director of China Labor Bulletin Geoffrey Crothall is skeptical of the law's enforcement capacity.
"It is unlikely that the local labor departments will investigate every single agency worker placement to ensure that their terms of employment are in line with the regulation. It would also be a very complicated and time consuming task to calculate that a company has exceeded the 10% cap on agency workers," he adds. "It will be up to the workers themselves to implement the law through lawsuits, but we have seen that courts are reluctant to take these cases because of their lack of clear guidelines." Crothall concludes.
Divining the Jobs Market
A key piece of information used by researchers is the employment component of two manufacturing purchasing managers' indices, one of which is compiled by HSBC Markit and the other by the official China Federation of Logistics and Planning. The latest figures, which are published monthly, showed that although the manufacturing sector, which is China's largest industry, declined at a slower pace in April compared to March, companies cut staff for the sixth consecutive month.
But we may not need to panic yet.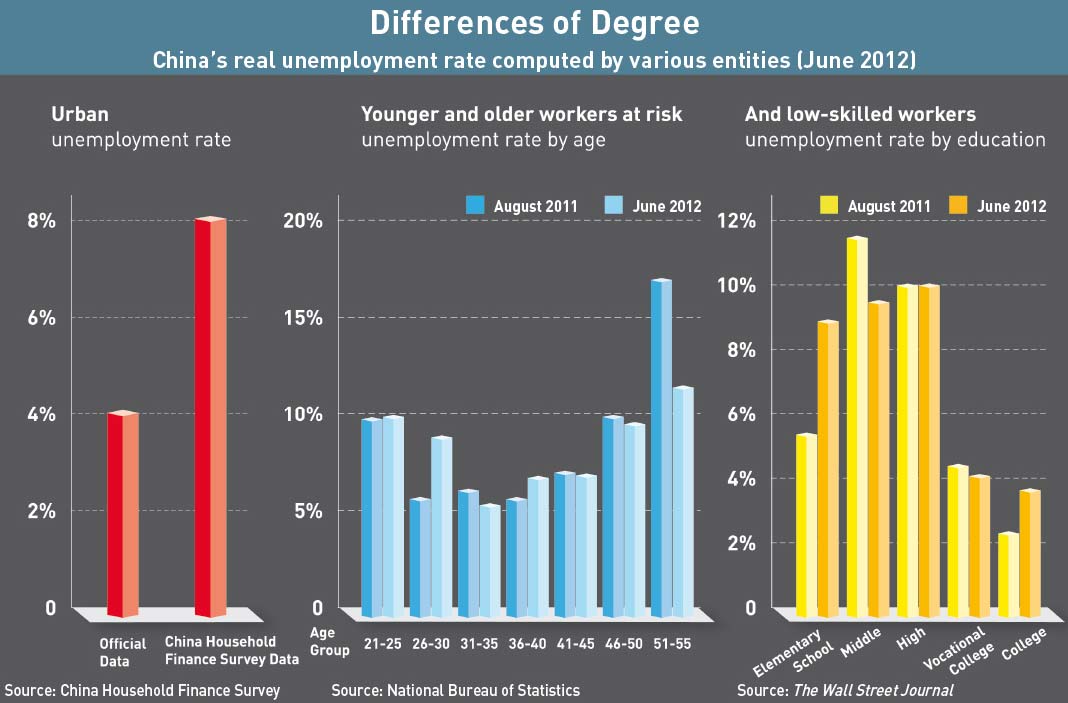 Mark Williams, Chief Asia Economist of Capital Economics, says that GDP growth has now been below 8% for nine successive quarters with little evidence of difficulty appearing in the labor market.
"China's GDP growth has slowed but parts of the economy which are labor-intensive, such as in construction, have experienced strong growth, so the job market has remained tight," Williams says. "The government can boost spending on infrastructure, but it will be drawing gainfully employed workers from elsewhere." Williams also highlights that China's labor market was resilient last year, creating a record high of 13.1 million new urban jobs despite the stagnating GDP.
Shen Minggao, head of China Research at Citigroup, also shares similarly optimistic sentiments. "There is little slack in the job market. Together with the peaking of working age population and expansion of the service industry, large-scale unemployment is unlikely," he says.
What then, underpinned Xi's visit to the graduate fair in Tianjin? China's first domestic research study, 'China Household Finance Survey', conducted by Texas A&M University and China's Southwestern University of Finance and Economics found that while 16.4% of university graduates between the ages of 21 and 25 were unemployed, only 4.2% of those in the same age bracket who had dropped out before middle school were unemployed.
Last year, Xinhua reported that university graduates faced the toughest labor market in years, with an estimated 7 million graduates looking for jobs.
"The education system and universities are run in a way similar to that of SOEs. In SOEs, the workers produce based on plans instead of market demand. In state-owned universities, students are trained in disciplines which the labor market has no interest in, and are merely there as 'jobs' for university professors," says Di Dongsheng, a professor at Renmin University. "I can see that university students these days are all spoiled to a certain extent by not just their families, but also the entire society. It is seemingly better for them to be unemployed than to take a job below 'their stations'," he says.
Gan Li, a professor at Texas A&M University who spearheaded the research on Chinese unemployment, says that a unique aspect of China's labor mismatch is the lack of mobility for the younger generation. "Rising housing and rental prices make it difficult for young people to go to where the jobs are."
No Quick Fix
Premier Li Keqiang called for more employment channels during an executive meeting of the state council in May last year. He also encouraged college graduates to start their own businesses.
Taking his cue, China's Ministry of Human Resources and Social Security published a report in February this year on the impact of e-commerce on employment, highlighting that young graduates made up the majority of internet entrepreneurs.
Meanwhile, Beijing has encouraged entrepreneurship amongst the young by offering subsidized apartments and research money, while top universities in the capital such as Tsinghua University have created incubator programs to help graduate entrepreneurs get funding. Last year, the Guangdong provincial government also announced that college graduates who set up their own businesses in the province will be exempt from administration fees and given low-interest loans.
But small and medium enterprises remain the main source of jobs. The National Bureau of Statistics (NBS) estimates that they provide more than 80% of jobs in China. Ding Shuang, an economist at Citigroup, is skeptical. "I don't think government measures will have much of an impact on employment anytime soon," he says. Small and medium-sized enterprises (SMEs) are still facing difficulty in getting access to credit, discouraging the hiring of new staff.
The Ministry of Finance responded by announcing in April this year that RMB 3 million per project would be given to technological SMEs to subsidize their research and development expenses. The ministry has said that it would improve the efficiency in how funds are allocated to such enterprises.
In contrast to 2008, when thanks to the financial crisis 20 million Chinese lost their jobs and compelled the government to introduce a massive RMB 4 trillion stimulus package, it appears that this administration will not take similar measures. In April this year, Li Keqiang definitively ruled out short-term stimulus measures despite reports of China's slowest growth rate last quarter since 2012.
The country's GDP grew 7.4%, narrowly missing the official target of 7.5%. Renmin University's Di says abstaining from short-term fixes is best—resolving labor mismatch will be slow and painful. "We need to reform universities and reduce intakes of universities with the highest unemployment rates of students. Secondly, we have to upgrade the Chinese economy at the cost of GDP growth, which means we will have [to] sacrifice some manufacturing jobs," he says.
But future estimates suggest a tapering off of high unemployment rates in two demographic groups—those in their 50s approaching retirement, and college graduates between the ages of 21 and 25.
"These elderly workers in their 50s are now close to their retirement age. Rather than job hunting, they will collect their retirement benefits and alleviate the unemployment rate further," he says. "[And] laborious jobs are actually becoming better-paying. [So] over time, [graduate] expectations will become better adjusted to reality, so I don't foresee a jobs crisis."
But if James Du's job wish list is any indication of recent-graduate expectations—" intellectually stimulating", "certain job salary", "certain status"—reality is a way off yet.
Enjoying what you're reading?
Sign up to our monthly newsletter to get more China insights delivered to your inbox.