One of the secrets behind China as the "Factory of the World" is the mass specialization of towns on the production of single items. Many Chinese towns are dedicated to producing a single type of product. What are the prospects for the specialty town approach?
It is July, it's a hot and humid 35°C outside the Yiwu International Trade Market in east China, but inside it is Christmas. Red, white and green stretch for as far as the eye can see in what has been called the "largest small commodity wholesale market in the world." If you want to buy bulk Christmas decorations—gaudy tinsel, glowing fiber optic trees or a sax-playing Santa—then this is far and away your top choice.
Yiwu, a city of 1.2 million people in China's eastern province of Zhejiang, is reported to produce nearly 60% of the world's Christmas decorations, exporting goods worth RMB 1.92 billion ($275 million) between January to October last year. That is up more than 10% from the same period in 2018. While Yiwu also produces other cheap plastic commodities, its domination of Christmas goods makes it a leading "specialty towns," that is, a place that focuses on the production of just one or a few core types of products.
The rise of specialty towns
The specialty town approach stems from the 1980s, soon after Deng Xiaoping implemented the market reforms that launched China on its trajectory to becoming the "factory of the world." While now facing headwinds, this remains a fundamental part of the manufacturing mass-production setup. The goal was to maximize production efficiency, cut costs and monopolize the market for individual products. Some examples include shoes made in the port city of Wenzhou, socks in Zhejiang province's Zhuji, bamboo goods in the eastern city of Anji, and car parts in the southern city of Guangzhou.
The poster children of the "Made in China" phenomenon for decades, specialty towns largely emerged from local collective enterprises that were later privatized, or small privately-owned companies that blossomed during the 1980s and 1990s.
"Many towns started organically," says Heather Kaye, co-founder of Loop Swim, which produces its specialized swimwear in cities in Fujian province. "Often, it started off with someone having the idea, getting the equipment and then people coming out of agriculture and switching into manu-facturing."
"The leaders were setting up one giant state-owned factory to supply the whole country," explains Christian Faubert, managing director of Silk Ventures, which has been trading from specialty towns for almost 20 years. "Inside those companies there would be a few renegades who would take the technology and start making the exact same thing two doors down."
The modern incarnation of specialty towns is more top-down. Recognized as a way to achieve the central government's ambition to limit the size of China's biggest cities, a program was rolled out where local officials of smaller cities were charged with identifying and specializing in something that makes them unique.
There were set to be 1,000 such towns by 2020, but officials forged ahead, far exceeding the official targets. Some 6,000 were estimated to have been in development by 2017 alone. That same year, the average investment into each specialty town was estimated by brokerage firm Shenwan Hongyuan at RMB 5 billion ($755 million), which would equate to 7% of China's gross domestic product at the time if that amount of money was pumped into just the 1,000 towns initially approved by Beijing. There are no official figures, but government investment into such areas to date is clearly astronomical.
A swimming success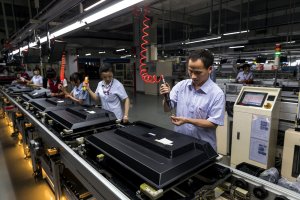 Huludao, a remote northern coastal city in Liaoning province, is one of the most successful specialty towns. It is estimated to produce a quarter of the world's swimwear. The 1,200 companies employ 100,000 people, one in five of the city's residents.
A testament to organic growth, Huludao's story begins in the 1980s, when poor residents sewed swimsuits to sell on the beaches. In time, factories were established and merchants began shipping the stretchy garments across the country. Orders fell as labor costs rose, so the city partnered with the e-commerce platform Taobao in 2014 to launch China's first cross-border online retail platform.
Taobao opened the factories up to a bigger customer base, both across China and around the world. This brought new and more customers to the factories. Rather than just dealing with manufacturers, Huludao merchants could sell their own wares directly to international customers for whom labor costs are not an important factor.
Today, Huludao is home to more than 35,000 swimsuit enterprises that use e-commerce to export to 140 countries and regions. In 2018, Huludao delivered more than 200 million pieces to global customers, generating revenue of RMB 15 billion ($2.24 billion). "Swimwear is still a very human and complicated process," says Kaye. "It makes sense to concentrate it into one area."
Another specialty city is Danyang, set alongside the southern bank of the Yangtze River in eastern Jiangsu province, which has become known as "Spectacles City." Built in 1986, it is one of the largest eyewear merchandise centers in China. The industry first took root when factory techni-cians moved from Shanghai and Suzhou to set up their own businesses. The Danyang factories have seen ups and downs over the decades, but the ones that survived are those that have learned from foreign brands and work hard on innovation.
For example, Situ Lens joined forces with French ophthalmic optics company Essilor Group in 2012. In 2018, Danyang Tianlu Eyewear E-commerce Company rolled out Bluetooth glasses with bone conduction technology. Today, Danyang produces around 70% of China's optical lenses, a market that generated $68 billion in 2018.
Bright Vision Optical is a relatively small Danyang factory of 150 workers, churning out just 200,000 frames a year. Having started in 1995, the factory was working on a 100% export model until orders ground to a halt as COVID-19 took hold. They also lost American clients who saw the price of lenses increase due to tariffs. The company is now preparing to pivot to the domestic market, leveraging the power of China's e-commerce ecosystem for the first time.
"We're setting up a Tmall shop but it's more expensive these days, as you need to hire a photographer, models and do lots of marketing," says sales manager Monica Wu.
Another example of domestic-led growth is Taizhou—a city of 5.9 million also in Zhejiang province—which has survived and thrived through innovation in bathroom products. Starting out as a cluster of factories making traditional sanitary ware such as porcelain toilet bowls and basins, Taizhou is now home to more than 300 companies that specialize in the production of smart toilets, supplying more than 50% of the domestic market demand.
The city produced $1.1 billion-worth of intelligent toilets in 2018, tripling the output recorded in 2015 and reaching an annual capacity of 2.5 million units. According to state media, such impressive results can be attributed to huge investment in R&D, which accounted for 4.7% of the total revenue of Taizhou's business sector in 2018.
One success story is Zhejiang Wanjie Intelligent Bathroom, which teamed up with Korea's VOGO in 2011 to develop a line of smart toilets, patented as the first in China to work without a water tank. With advanced production and testing equipment and automated production lines, the 28,000 square-meter factory has an annual production capacity of 10 million units. While 80% of the company's market is domestic, they have been aggressively employing agents to market and sell their products through foreign e-commerce platforms.
"In future, the foreign market will be more important," says sales executive Andy Zhou. "In China there are so many factories doing smart toilets, but in foreign countries the competition is much less."
Products and comparisons
There are many cities across the world known for manufacturing, but few have quite the same laser-focus, scale and market dominance as those in China. In Osaka, Japan, iron and steel engineering naturally progressed into high-tech; in Randstad, Netherlands, a holistic ecosystem of head-quarters, logistics and R&D centers supports myriad manufacturing sectors; in Houston, Texas, losses felt after the oil price collapse of 1982 saw the city branch into professional services, health care and medical research.
In contrast, China's specialty towns traditionally drill down into one small segment. Sialkot in Pakistan offers a comparative example, with the city of 655,000 producing 99% of the domestic surgi-cal instruments and supplying 80-90% of those used by Britain's National Health Service.
Just as Sialkot dominates surgical equipment, many of China's specialty towns supply nearly all of the local market and fulfill a massive portion of global demand, too. For a number of years until last year, for example, China was the world's largest supplier of car parts, exporting $34.8 billion-worth in 2018. It has since fallen to third behind Germany and the US, largely due to tariffs imposed on imports to America. What is clear is that despite historic successes, towns that specialize too narrowly can quickly lose out to market changes.
E-commerce game changer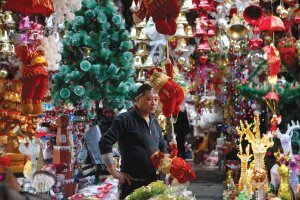 The explosive growth of e-commerce after 2010 has changed specialty towns. Small, medium and even micro enterprises can now compete on the same level as established brands, reaching far-flung buyers with the click of a mouse.
China has more than 904 million internet users and is the largest e-commerce market in the world, with consumer spending online estimated at $1.94 trillion in 2019, more than three times that of the US. Last year, e-commerce within China represented 36% of total retail sales, a figure expected to jump to 64% by 2023.
Hayes says that she has seen huge changes in specialty towns since domestic and foreign e-commerce platforms came into play. "They now have a lot more direct access to customers, so they're getting a pulse on what people want and marketing and diversifying accordingly. They're not just factories anymore. They're brands."
This is great news for agile and tech-savvy companies, but potentially disastrous for those who fail to innovate. Amanda International Group has been exporting goods from specialty towns for more than 10 years, but these days they are losing out to e-commerce. "Many of the factories have started their own online businesses and are selling directly to customers around the world. Our business has got less and less," admits a representative of the group.
The way forward
Many specialty towns are seeing leaner sales, not only due to a slump in orders caused by corona, but also because of growing pressure from competitors in other Asian countries. Cambodia and Vietnam, for example, both have rock-bottom labor costs compared to China's rising wages.
Foreign manufactures are increasingly moving their production out of China (see Uprooting Factories on page 15), and while the Chinese tend to patriotically buy big ticket purchase from lo-cal manufacturers, even some established domestic companies are following suit in order to quell China's thirst for cheap consumer goods. Add a faltering domestic economy, the trade war with the US, the growing impact of automated production and the global diversification of supply chains, and one big question begs to be asked: Will specialty towns survive?
The advantages and disadvantages of specialty towns are easy to deduce. The advantage: clusters of similar manufacturers form near-vertical supply chains and economies of scale, helping centralize expertise, cut costs, increase productivity and ultimately win a bigger market share. The disadvantage: total reliance on one product leaves towns extremely vulnerable to drops in demand, increasing labor costs and tech advancements, such as automation.
The consequences are varied. Some factories will close, switch industries or relocate to other countries, while others will innovate, consolidate and automate. But as globalization slows, specialty towns may find themselves focusing more on the domestic market and Asian neighbors.
"Production that is more labor intensive will move away," predicts Kaye. "There will be less manufacturing for the global brands but more focus on building brands locally."
While Yiwu and its sparkly market may suffer, those that forge their own paths and cement them-selves as world industry leaders—such as the southern tech city of Shenzhen—are better placed to weather the storm.
"The more innovative places linked to developed countries will find their way, whereas places like Yiwu that are still just copying cheap products may not," says Faubert. "They'll need to reposition themselves higher up the food chain if they want to survive."
Enjoying what you're reading?
Sign up to our monthly newsletter to get more China insights delivered to your inbox.