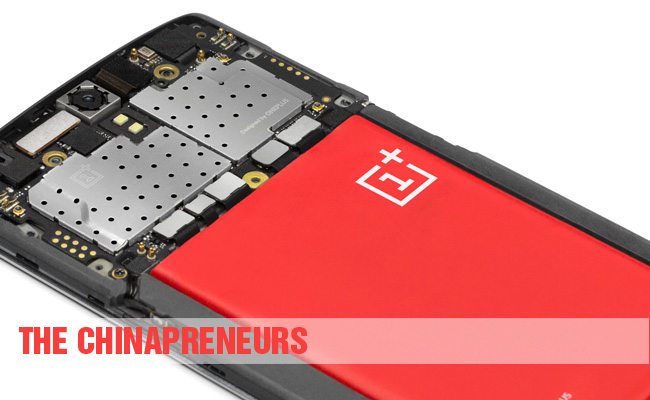 In this series on The Chinapreneurs, we talk to Chinese smartphone company OnePlus' co-founder Carl Pei. While OnePlus has received many accolades in the global market, we look at whether it can recreate the same magic in China.
Few Chinese companies are more popular overseas than in China, and OnePlus is one of them.
Last year, the Shenzhen-based smartphone maker sold more than 60% of its OnePlus One models to international users in North America, Europe and Asia, garnering desirable customer reviews on platforms like Engadget, TechRadar and PC Magazine. Tech blogs loved it as well—Gizmodo said the phone is "damn near unbelievable"; TechCrunch called it "a rare beast" that redefined the value of smartphones; The Verge came up a similar but more picturesque epithet—a "denim-clad $299 Cyanogen monster".
In contrast, OnePlus's initial reception in China has been much more moderate. Before it had earned recognition overseas, few in the Middle Kingdom were even aware of its existence. The situation is changing now, as the company has ramped up its marketing efforts in the Mainland, opening its first brick-and-mortar store in Beijing and hiring well-known blogger and internet personality Han Han as its spokesperson.
But OnePlus' main focus is still overseas expansion. Last December, OnePlus officially entered India, which has quickly become the company's third-largest market after the US and China, said Carl Pei, the start-up's co-founder and global head. Pei told CKGSB Knowledge that international sales went up even more in the first quarter of 2015, as 92% of shipments were sent outside of China.
The company's founder and CEO, Pete Lau, is known for successfully taking Oppo, then a Blu-ray player maker in China, to international markets between 2006 and 2011. In late 2013, Lau left Oppo to start OnePlus, and the founding team's goal was to crack the Chinese market, said Pei, a former Oppo employee who followed Lau to the new venture.
"For the global markets team, we are a bunch of young people without a lot of experience. It was just like an experiment," Pei said during a recent interview. "We have a lot of ideas and we try those and move on the next idea."
Apparently, the 'experiments' worked out quite well for Pei, a 26-year-old Chinese-Swede obsessed with China's booming tech scene. Pei said he first returned to China during a gap year before college to explore business opportunities. He ended up branding and exporting small Chinese OEM (original equipment manufacturer) products to Europe and the US.
During college (which he didn't finish), Pei started an online forum for international users of China's Meizu MP4 players. He said that the website grew so big that it caught Meizu's attention, which eventually led to his marketing job at the company's Hong Kong branch in 2011. The second job he took in China was as an international markets manager at Oppo under Pete Lau, whom Pei got to know via Weibo, China's popular micro-blogging site. And when Lau decided to start OnePlus, Pei volunteered to join.
In this interview, Pei talks about OnePlus' accidental breakthrough in overseas markets and his observations of the Chinese smartphone industry.
Edited interview excerpts:
Q. As a Chinese company with a bigger following outside of China, how did you form your global strategy early on?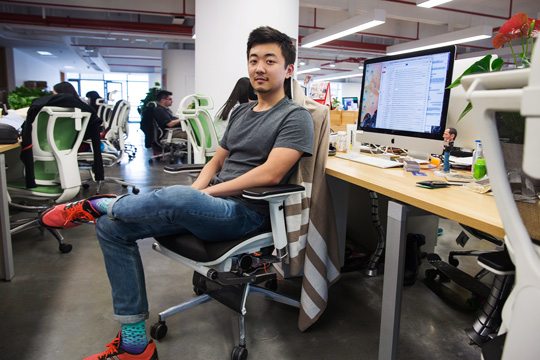 A. I think like a lot of companies, you stumble upon what actually works for you. OnePlus wasn't meant to become a global company at the beginning. The main focus was taking on the China market.
When we started the company, we built a management team with a lot of experience in the China market. But for the global markets team, we are a bunch of young people without a lot of experience. It was just like an experiment, "Hey, do the global markets and see what happens. Do whatever you want." We call our group "a Shenzhen within our company", or a start-up within a bigger company.
We didn't really have a lot of expectations. We initially forecasted that 10% of our business would be global. But in 2014, our first year, around 65% of our business was global. In Q1 this year, around 92% was global.
We had no money. We still have very little money. And when you don't have money, you are forced to become a lot more creative in how you reach out to people. Most of our marketing has been very focused on word-of-mouth online, like campaigns on social media and forums. We also earned a lot of attention through PR.
The funny thing is that a lot of people are now analyzing what OnePlus is doing, but internally we're still very very experimental. We have a lot of ideas and we try those and move on the next idea.
Q. Traditionally, Chinese tech products didn't have a good reputation abroad. Have you encountered any backlash because OnePlus is based in China?
A. There's some racism against Chinese companies. When we analyze our support tickets, for instance, some people are not very nice when they speak to our support staff. But overall I think the image for Chinese products is improving, and I hope companies like OnePlus can help change the notion.
Something that I noticed recently is that after the Alibaba IPO, the [behavior] toward Chinese companies has actually improved and people are not just applying Western philosophy of business to companies here, but they are also learning from [how] Chinese companies do certain things.
Q. What's next for OnePlus, as it has become much bigger than a year ago? Will you change the way you do things?
A. The challenge is to try to figure out what the things that we did actually worked, so we can focus more on these things and what are the other things we need to change. If you change everything, you become like everyone else. We need to find out what the secret sauce is behind OnePlus—we don't know it ourselves, we are still experimenting.
Right now we are preparing to launch our OnePlus 2, and we are kind of taking a lot of the ideas we had last year and scaling them up a little bit to see what happens. Definitely we are changing—especially now we have over 800 people, the entire communication and management costs have grown a lot, but we are trying to find out what makes OnePlus special and continue with it.
Q. From your experience, what are the differences between the Chinese and the Western markets for OnePlus?
A. I think in the end, if you have a great product, if you have a great brand, that's going to resonate globally. Today the reason why we haven't taken off as fast in China as in other markets is due to the sheer amount of competition we have.
If you look at the e-commerce-based smartphone brands in China—Xiaomi started the trend five years ago, and Huawei followed that model very quickly with the Honor series. Last year, Xiaomi did 60 million of sales while Huawei did 20 million. That didn't leave a lot of space for other players, so you can see that every other player has a really hard time to pick up traction.
Q. So how do you plan to differentiate yourself in China?
A. One of the main reasons why we thought we had a chance in the smartphone market was we didn't think that companies in the Android space paid a lot of attention to the product. People were more worried about "which features I can add in my phone so that I can market it to consumers", and what kind of marketing stunts can be pulled rather than focusing on the product itself.
With the proliferation of the internet and social media, I think things are becoming more and more transparent. So if you have a great product, more and more so it will become that you don't have to spend a lot of money on marketing. The users will know what's good for them, and they will help you spread the word organically.
Another differentiation will be the attention we put into the design and details, and how it feels in your hand, above only the specs.
Q. So design is a major strength for OnePlus. How does the design process work? Do you involve users in the process?
A. We look at the feedback of our users a lot, but we don't think in the end, our users are a good product manager. We take the input and our product managers will analyze the reasoning behind why our users have certain requests, so there might be a better solution. Overall our CEO will spend a huge chunk of his time managing the product—you can say he is a designer in a way—so that's who ultimately call the shots on our designs.
Q. Do you also envision yourself as a software company in the end?
A. Everyone is telling the same story of making money on software, but so far no one has managed to make more money on software than hardware.
Being a one-and-half year old company, we haven't started executing on this piece right now. Today our main focus is how do we keep scaling our company to get more and more users. We are using hardware, priced at close to the bill of material prices, as a means of accelerating our user base growth. Once we have a big user base, let's say 10 million users, then we'll become a very compelling platform for partnerships and monetization.
So today all our money comes from the hardware, that's not the long-term vision for this company.
Q. What do you think are the hardest things for a smartphone start-up?
A. I think there are two things that people might not immediately think of that are extremely difficult. One is the operational management of hardware itself—from supplier relationships to placing orders for spare parts and components way in advance, to managing the entire cash flow, and in the end, the inventory. Some other smartphone companies in China are having huge inventory problems, and they are forced to lower their prices a lot and lose money on every unit sold.
The second is people. This doesn't just apply to smartphone companies, but building a company in general. How do you build a really high quality team while still growing really fast? That ultimately is one of our main challenges.
Q. Every Chinese smartphone company is going to India. How important is this market? How do you value it against more developed markets?
A. If you can earn the respect of more developed markets, which have very high standards, I think you will have a much easier time in other markets. If you can make an impact in the US and in Western Europe, I think this impact will translate very well globally, including in China, where a lot of people are a bit hesitant to support local brands.
We entered India because in our backend, we saw many of our users are actually in India, despite the fact that we didn't sell any phones in India. We had 5,000 to 7,000 activations in India when we decided, "Hey, let's go check it out." After we launched, it quickly grew to become one of our biggest markets. I just spent a month in India and came back a few weeks ago, and it's super dynamic over there—a lot of Western venture capitalists flowing into India, a lot of American Indians are moving back to India to help local tech companies grow and scale.
What's different in India is that the smartphone is going to be the centerpiece of a new tech revolution because in India, people are skipping buying a computer or a laptop or a tablet to just buy a smartphone. So the smartphone has super high importance for consumers in India, and it's going to drive a lot of innovation in the future. So India is definitely going to be one of our high priority markets.
Q. Xiaomi had a patents problem in India earlier this year. Are patents a problem for OnePlus?
A. Being a young company, you don't have a lot of patents. Recently we have been granted our first patent in a special feature that we are going to announce for our hardware. Over time we will amass our own patent portfolio, or maybe cross license or even purchase other people's patents. But when you are still small, the patent issues are not very prevalent for you. If you look at governments in China and the West—they have become more supportive of those who actually make products versus those who just sit on patent portfolios. Going forward, I think this problem will decrease. It's not something we worry about.
(Photo courtesy: oneplus.net)