Chinese tourists are increasingly looking inwards for travel due to border restrictions, and the options available to them have flourished because of the demand
Domestic tourism has received a boost from border restrictions, but recurring lockdowns offer a challenge for many businesses
It was not so long ago, before COVID appeared, that Chinese tourists seemed to be on the verge of taking over the world and had already become the dominant source of visitors and travel-related revenues for many destinations. But China's borders have now been closed for more than two years and in that time everything has changed.
"Before the pandemic I would spend three months a year traveling outside of China," says Alice Yi, a 27-year-old filmmaker from China's eastern Jiangsu province. "Now, due to the borders closing, I spend those three months traveling inside China." Like Yi, many in China are discovering new destinations in their own backyard.
Although hindered at times by recurring lockdowns, China's domestic tourism market has expanded at a rapid pace in the last two years, due in part to restrictions on international travel, but also the explosion in popularity of winter sports thanks to the recent Beijing Olympics and a renewed interest in Chinese cultural hot spots. Those who would previously have headed to foreign countries in search of fresh experiences are now looking at rural China, outdoor activities and all-encompassing trips with a uniquely Chinese character.
"A lot of my travel plans used to be focused on languages," says Isabelle Cheng, a 35-year-old marketing executive from Beijing. "I went to France and practiced my French with the locals and went to Mexico for Spanish in university. This kind of experience is absent now when I have to travel within China, so I spend more time in nature, away from people."
While the world's tourist destinations are struggling to fill the gap left by no-show Chinese visitors, the situation has created a plethora of domestic opportunities.
"Over the last two years, China's domestic tourism market received a boost," says Jane Sun, CEO of Trip.com Group, one of China's biggest online travel companies. "Far-flung and remote provinces with much to offer in terms of natural beauty and outdoor activities have become increasingly popular."
From China with love
Chinese prosperity levels reached a tipping point in the early 2000s and growing numbers of people, with enough disposable income to consider travel, immediately reached for the top destinations in Southeast Asia, Europe and the US. Over the past two decades, Chinese travelers and their spending have completely remade the tourist industry across the globe, and the country was consistently ranked as the top contributor to global tourism revenues since 2008. According to the UN's World Tourism Organization (WTO), Chinese tourists spent $254.6 billion overseas in 2019, accounting for almost one-fifth of global tourism spending. Then came the pandemic.
Over the last two years, with border closures, the shutdown of the international travel network and economic problems of all kinds, travel spending by Chinese people with itchy feet has almost entirely been redirected inwards, and the country's tourist offerings have remade themselves to accommodate the new and unexpected flood of visitors. China's domestic travel industry and related sectors employ around 80 million people, with annual revenues at close to a trillion dollars, around two-thirds of which is tourism related, with the other third consisting of business travel and personal trips.
Historically, the country's domestic travel was focused on the Golden Week National Day holiday in October and the two-week Chinese Lunar New Year break that falls in the first couple of months of the year. Prior to the pandemic, these breaks were used by many of the country's workers to return home and spend time with family, but due to continued COVID-19 flareups and resulting lockdowns, many now choose to holiday somewhere close by.
The result is that while travel numbers in 2022 are likely to still be down on the six billion domestic trips seen in 2019, China's domestic tourism industry has over the last two years dealt remarkably well overall with the challenges it has faced.
There is still an unquestionable thirst for travel among China's 1.4 billion people, and within the sector's recent shifts, the traditional idea of a hotel including a room in a resort on the beach is increasingly being challenged by travelers looking for something more interesting or unique.
"We will continue to see a robust domestic travel market and this has given rise to some interesting travel trends," says Chloe Reuter, Founding Partner of Gusto Luxe, an integrated luxury agency that provides consultancy, creative solutions and digital innovation for luxury brands. "A new appreciation of the breadth of what China has to offer for domestic travel has spurred exciting travel brands and new experiences."
Back to their roots
Some Chinese tourists, especially those in the upper-middle classes, are increasingly seeking out rural getaways, allowing them to reconnect to a heritage and way of life that have been lost in the sprawling metropolises of modern China. In March 2021 alone, rural tourism-related bookings on Trip.com Group's Ctrip app—which is called Trip.com outside of China—increased by over 300% compared to pre-pandemic levels in 2019.
One such place is the Linden Centre, which offers an immersive experience in a typical farming community in China's countryside—their flagship hotel is situated south of Dali in China's southwestern Yunnan province. Founded in 2008 by Brian Linden, a former American journalist who first came to China in 1985, the Linden Centre aims to provide a more "genuine" form of experiential and cultural tourism, and ensure that the locals situated around the hotel are able to benefit, socially and financially, from the visiting guests.
"I see the Chinese now embracing this model a lot more," says Brian Linden, founding partner and president of the Linden Centre. "And we find that many of our guests are coming knowing that we don't have large bathtubs or infinity pools, but because of how we interact with the community, as well as our content, our free programming, lectures and education programs."
Despite an increase in tourists to destinations akin to the Linden Centre, and a clear interest from local governments in many parts of the country in expanding such tourism, the definition of what is an acceptable "rural" and "sustainable" tourist experience differs from person to person. Previously, for many visitors, luxury and location took precedence over community involvement.
"In terms of rural tourism in China, it sometimes means little more than providing a luxurious or comfortable hotel in a remote area," says Linden. "Some rural destinations that have used such a model to develop are often less than successful because they lack convenient transportation links and more traditional tourist attractions."
But there is no doubt that this sector is growing. "In 2022, the future of travel will be niche, sustainable travel," says Carol Chen, founder of Diadema International Travel, one of China's first high-end customized travel agencies. "It will be ecological travel, paying attention to quality and to details, and giving back to the community or local residents."
"Our guests often tell me that they no longer want to visit the more commercial old towns where you walk from store to store and bar to bar," says Linden. "It's a good sign, something I didn't hear 10 years ago from my Chinese guests."
Red tourism
The government has also been promoting new types of cultural tourism, encouraging Chinese citizens to get more in touch with their country's history. With the centenary of the ruling Communist Party in 2021, the government boosted promotion of "Red Tourism" routes which include historical sites with a modern revolutionary legacy. In 2020, "Red Tourism" sites recorded over 100 million visitors, and this year travel apps have recorded a huge increase in searches for the term. In 2019 "Red Tourism" accounted for over 1.4 billion visits and revenue of $62.2 billion. Some areas such as north China's Beijing-Tianjin-Hebei region noted a 240% increase in tourism in 2021, which was attributed to "Red Tourism."
"Travel restrictions disabling outbound travel have strongly pushed Chinese people to explore sites with historical significance for communism," says Denise Cheng, market analyst at Daxue Consulting. "More Chinese tourists now prefer short-distance but high-quality trips, and these seem to fit the bill."
Adventure awaits
For China's younger travelers, many of the destinations growing in popularity are also nature-based, but more on the adventurous end of the spectrum. Outdoor sports-related activities that would have traditionally been enjoyed in other countries, such as camping, hiking and skiing have become increasingly common within China's borders.
"Before COVID-19, every year I would usually travel overseas to three to four countries for outdoor trips, but luckily, China is massive and has a lot to offer with diverse landscape and cultures," says Xiaowei Zhang, a 28-year-old marketing manager for an international sports brand. "If I can't travel overseas in 2022, I will continue to explore more domestically—particularly Xinjiang and Inner Mongolia, high-altitude mountain adventures, plus mixing in some surfing in Hainan."
The Beijing 2022 Winter Olympics played a huge role in the boom in sports-related holidays, with many new Winter sports-related facilities being constructed around the country with the aim to get China's citizens excited for the games. Sports-related travel bookings were up 97.6% during the summer of 2021, in comparison to the same period in 2019.
Mountain resorts such as Changbaishan and Beidahu, both in China's northern Jilin province, have seen a big jump in visitor numbers, and there is a new indoor skiing center being built in Shanghai to encourage more participants. This includes Wintastar Shanghai which, when opened this year, will become the world's largest indoor ski resort, boasting a 90,000 square meter alpine-themed indoor ski park, a Nordic-themed water park and a hotel.
"In 2021, under the influence of the Olympic Games, we saw people eager to enjoy healthier sports- and activity-based trips," says Jane Sun of Trip.com Group, which owns online travel brands such as Trip.com, Skyscanner and Ctrip. "More recently, 'Winter Olympic Games' searches on Ctrip doubled in December 2021 compared to the previous month, and 'skiing' tagged user-generated content on Ctrip Community, a travel content platform on Ctrip, soared 224% in Q4 last year compared to the same period in 2020."
Some of China's younger travelers have also become increasingly adventurous in their choice of destination, in that they're not picking one at all. An emerging trend is the "blind box" holiday where buyers pay a fixed price for a holiday where they choose a departure city, but the destination is unknown. If they do not like the "content" after opening the "box," they can request a full refund from the company organizing the trip.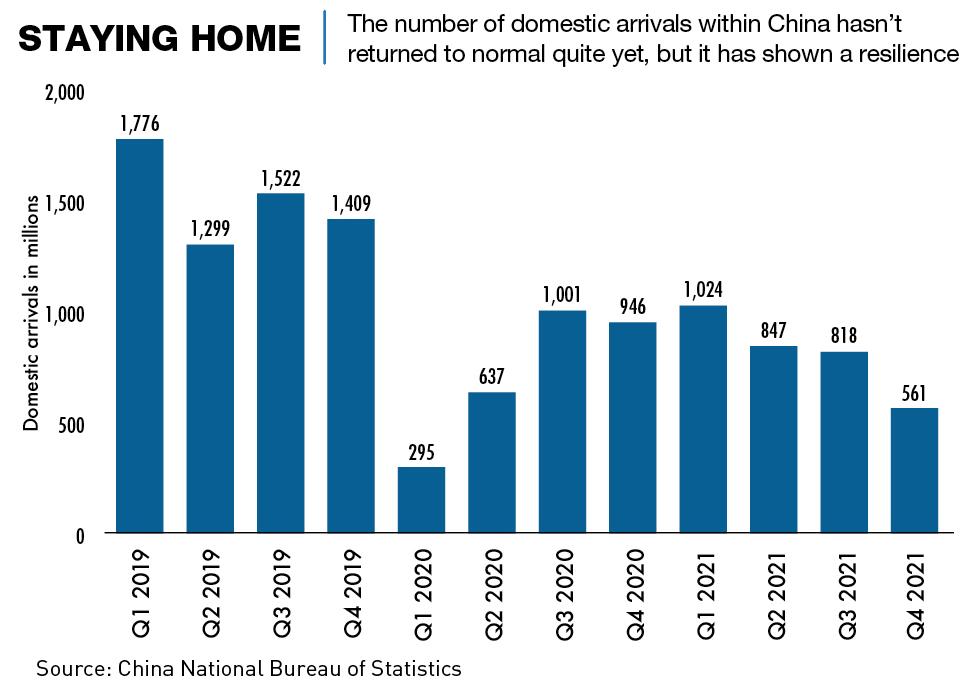 Holidaying at home
There has also been big growth in "staycations," with people choosing to "get away from it all" by not going very far at all. Fears of quarantines and travel restrictions have been a boon for local tourism in urban areas around China, and this is especially true for those who have younger or elderly relatives that might struggle to travel under more stressful circumstances.
"Families are paying a lot of attention to safety measures," says Jane Sun. "That's why cities like Shanghai, Beijing, Guangzhou and Shenzhen remain popular due to the ease of transportation and broad appeal for families."
One "staycation" success and a constant family favorite has been theme parks, especially those run by the international giants Disney and Universal Studios. Shanghai Disneyland has done remarkably well through the pandemic, although the recent Shanghai lockdown forced it to close temporarily, and the Universal Studios Theme Park in Beijing sold out tickets for its opening day in September 2021 within one minute, and had completely sold out for the next three months within three minutes. China today has over 3,000 theme parks, but in most cases the local parks lack the licensed IP to create unique experiences of interest to today's Chinese families, which sets them behind the international behemoths.  
Many of China's more wealthy families are spending time at the growing number of boutique and luxury hotels that surround the major cities, in order to differentiate their vacation time from their everyday lives. This has led to a sudden jump in the number of luxury hotels opening across the country, aimed wholly and solely at local wealthy people.
In December 2021, Hilton Worldwide Holdings opened Hilton Lanzhou City Center in Gansu Province, marking its 400th hotel in China. During the same month, it also launched its first Home2 suites brand hotel in Shenzhen providing a more flexible option for longer stays. Another example is the Ritz-Carlton which has recently opened an "ice hotel" in the northern city of Harbin, and announced plans for a new outlet in Ningbo, in the coastal province of Zhejiang.
Digitalization has also offered the opportunity of virtual travel to those staying at home. "Digital tour products such as virtual travel, performances and exhibitions have also become a rising trend among Chinese travelers," says Denise Cheng. "Although not everyone is able to physically travel, technology has enabled everyone to travel virtually."
Accessible via Chinese online travel agencies such as Mafengwo, Fliggy and Tuniu, as well as e-commerce apps like Taobao, scenic spots, museums and galleries are offering virtual video tours, some of them can even be accessed for free. The 360-degree views of the destinations are accompanied by audio guides, AI tour guides and lectures that can add detail and provide the learning experience that so often accompanies a trip to places of interest. There are also some individual tour guides continuing to make a living by offering personalized "walking" tours that they broadcast from their phone, answering questions as they go.
It's good news, then?
Despite the diversification and robustness of China's domestic tourism market over the last two years, the pandemic has hit some sectors of the country's travel industry hard, particularly the business hotel end of the market. "The number of hotels in China has dropped from over 680,000 just two years ago to around 450,000 today," says Yereth Jansen, UN World Tourism Organization member and founder of CloudBridge, a tourism consulting firm. "During festivals we see a splurge in tourism spending but in reality, many hotels have had to close due to a lack of visitors."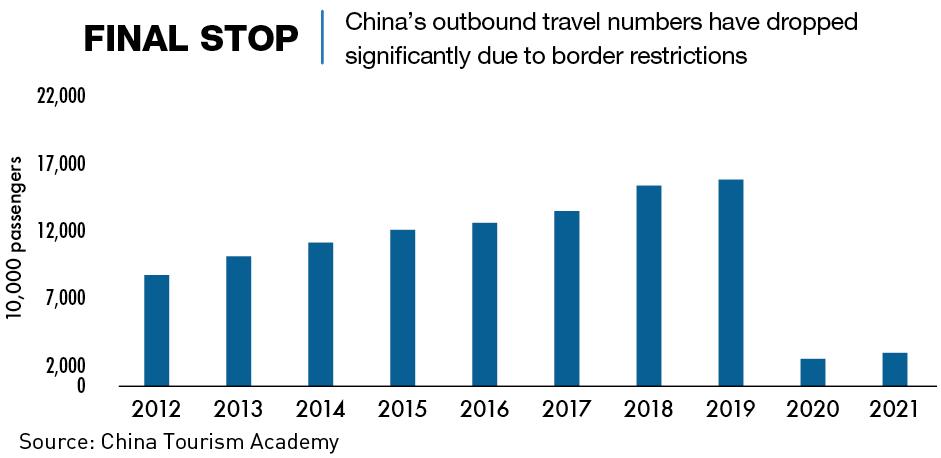 There is currently still a level of unpredictability brought on by pandemic outbreaks in various parts of the country and the travel restrictions put in place as a result. "The uncertainty in trips being canceled due to lockdowns and Big Data-driven health codes discourages people from booking trips in fear of cancellations and possible further travel restrictions," adds Jansen.  
Brian Linden has faced the same problems in Yunnan Province. "It has been a difficult business climate for the last few years because of the constant questions regarding inter-provincial restrictions," he says. "During Chinese New Year, we had many cancellations because of the confusion about potential lockdowns and quarantines. We had no idea how to address these concerns beyond stating clearly our own provincial conditions and requirements."
The future
While the last two years have seen local people traveling widely, searching out new experiences and creating traffic jams at tourist resorts throughout the country, it could turn out to be temporary. "Domestic tourism in China will, without a doubt, continue to thrive," says Denise Cheng. "However, a proportion of Chinese people still prefer traveling abroad, for a variety of different reasons."
And it seems simply a matter of time, perhaps a long time, before Chinese tourists return en masse to Paris, Lisbon and Phuket. For travelers like Alice Yi, it is just a waiting game until the borders reopen. "Like everyone else, once the border is open, I will travel outside of China," she says. "A lot."