A megalopolis six times the size of New York, JingJinJi will ease the pressures being faced by China's capital Beijing.
If you thought that China's cities are massive, think again. China's urban planners are hard at work creating new megalopolises that will redefine our understanding of cities as we know them. One of them—nicknamed JingJinJi—will transform Beijing and its surrounding areas into a city six times the size of New York.
So what is JingJinJi? It stands for Beijing ('Jing'), Tianjin ('Jin') and Heibei Province (Hebei is known by the one character abbreviation 'Ji', which was its name during the Han dynasty). JingJinJi will bring together Beijing, Tianjin and Hebei to form a sprawling megalopolis and ease the pressures on capital Beijing.
China's Politburo officially approved the JingJinJi Common Development Guideline on April 30th, 2015. The combined city will aim to dilute Beijing's "non-capital" functions, thereby controlling unbridled population growth in the capital, and easing the pressure on resources and the environment.
Beijing, Tianjin and Hebei together account for up to 2.3% of China's territory and 8% of China's 1.37 billion population. In 2014, they contributed over 10% to China's GDP. But if you look beyond what's apparent, you'll see unbalanced understructures. If nothing is done to change things, Beijing, which is already bursting at the seams, will not able to develop sustainably.
The signs are already there. The capital is already facing water shortages, for instance. In 2011, Beijing's per capita water supply was 119 m3 which stands in sharp contrast to the international water scarcity threshold of 1,000 m3. Housing, on the other hand, is another story. The average residential housing price in Beijing has gone beyond RMB 40,000/m2 (approximately $6,410/m2. In contrast, an apartment in central Manhattan costs around $9,792/m2) The astronomical housing prices leave people not originally from Beijing with no choice but to buy a house in either the outskirts or satellite cities. Yanjiao, a satellite city 50 kilometers away from Beijing, is a classic example. Typically, commuters living in Yanjiao spend 4-5 hours commuting each day. There are no train or subway connections between the two cities.
Poor quality of life due to such inconveniences have forced many to leave the capital. In order to maintain its growth momentum, Beijing can't afford any more brain drain.
So how will the "JingJinJi" plan sort things out for Beijing and catalyze Tianjing and Hebei's growth?
At this point, Beijing has a population of 21.5 million. JingJinJi, on the other hand, has set a goal of curbing Beijing's population to under 23 million by 2020. While it is slightly higher than the current level, it is much better than the current uncontrolled growth (it grew by 6 million in the past 10 years). The government has also begun to urge large-scale enterprises, wholesale markets as well as government administrative bodies to move out of Beijing. It's now confirmed that automobile manufacturer BAIC will move its subsidiary BAW to Hebei. In the internet sector Alibaba's Data Processing Department, 58.com, Dangdang, VIPshop, etc. will relocate at Tianjin.
To guarantee a smooth transition, the government also unveiled a plan to build 27 new intercity railways, new subway lines, more electric vehicle charging facilities, and launch a unified transport card.
So how will the JingJinJi plan pan out? Click on the infographic below to find out.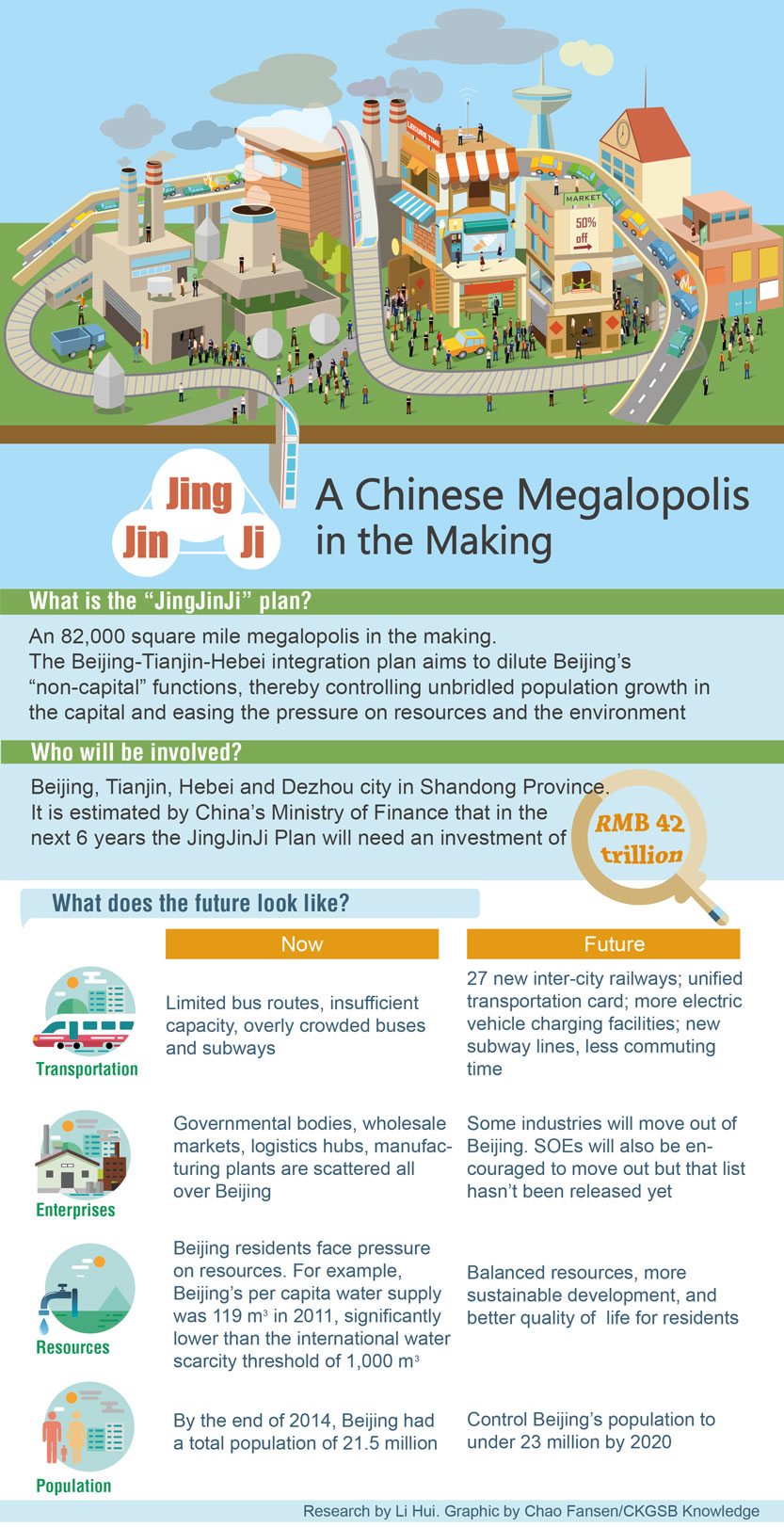 Enjoying what you're reading?
Sign up to our monthly newsletter to get more China insights delivered to your inbox.