As awareness increases, Chinese consumers are taking to electric vehicles. But just how evolved is the Chinese electric car industry?
The electric vehicles (EV) industry is getting a fillip as more and more people across the world are getting conscious about their carbon footprint. Countries, regardless of their energy reserves or pollution levels, have either taken or are planning to take measures to increase the number of electric cars running on their roads.
Different countries are at different stages in terms of EV adoption. Norway, for one, has made rapid progress: one out of every 100 cars running on Norwegian roads is an EV. One region that is miles ahead of entire countries is Silicon Valley. Thanks to environmental consciousness, higher incomes and availability of EVs, the number of charging points in Silicon Valley is probably higher than that of an entire country like China.
In spite of the fact that the EV market is still at a preliminary stage in most countries, it has been growing pretty rapidly. In 2014 China ranked as the world's largest automobile market by the number of new car registrations (all cars, not just EVs) and No. 3 in terms of EV stocks. The number of xin neng yuan qi che or new energy vehicles (NEVs), which include both plug-in electric vehicles and pure electric vehicles, sold between 2011 and 2014 has jumped from 8,159 to a whopping 74,763.
But EVs still take up only a miniscule proportion of China's total auto sales and EV manufacturers from across the globe are taking a crack at this market. Tesla is one of the early movers in the China market. While Tesla CEO Elon Musk sees huge potential in the Chinese market, so far the company hasn't had it easy in China. Throughout 2014, it struggled with sales, pricing and personnel issues. Tesla's gloomy performance in the Chinese automobile market could be attributed to several reasons, but the one that concerns the Chinese consumers the most is its pricing. Tesla's Model S, for instance, can cost you between RMB 640,000 and RMB 1,200,000 according to the Tesla China official website, a far cry from rival Chinese models that are priced at around RMB 200,000. So while Tesla hit a roadblock, domestic brands such as BYD and Chery took center stage. The Warren Buffett-backed BYD won the best EV seller trophy in 2014 by selling 18,648 units and Chery, with 9,847 units sold, was the runners-up. Following BYD and Chery are Zotye, Geely, BAIC and SAIC, with 9,119; 8,564; 7,396 and 2,896 units sold respectively.
In order to give the EV market a stronger push, regional governments in China have also introduced subsidies for NEV buyers. Across the country, with some exceptions like Beijing and Shanghai, the government's subsidy to pure electric vehicles ranged between RMB 31,500 and RMB 54,000, while the subsidy amount given to hybrids stands at RMB 31,500. But that is not all. Local governments in Tianjin and Hangzhou agreed to issue "free license" to certain models of NEVs, so the consumer does not have to go through China's tough car lottery system for allocation. Wuhan, on the other hand, will grant NEVs free expressway passes.
Sounds alluring? Yes, but ironically, the subsidies have been shrinking each year since 2013, and it is said that the subsidies might disappear altogether by 2020. Wang Binggang, Chairman of China's New Electric Vehicle Project Consulting Committee, expressed that the subsidy level to EVs in China is too high rather than too low. According to him, the initial idea behind offering subsidies was to encourage manufacturers to beef up their research and development of EV cells so as to bring the costs down, but automobile companies "misinterpreted" the idea and used it purely as a means to give customers discounts and boost sales. While doing that, they ignored the initial intent of technology development.
Want to know more about the Chinese EV market and how it is changing? Click on the infographic below.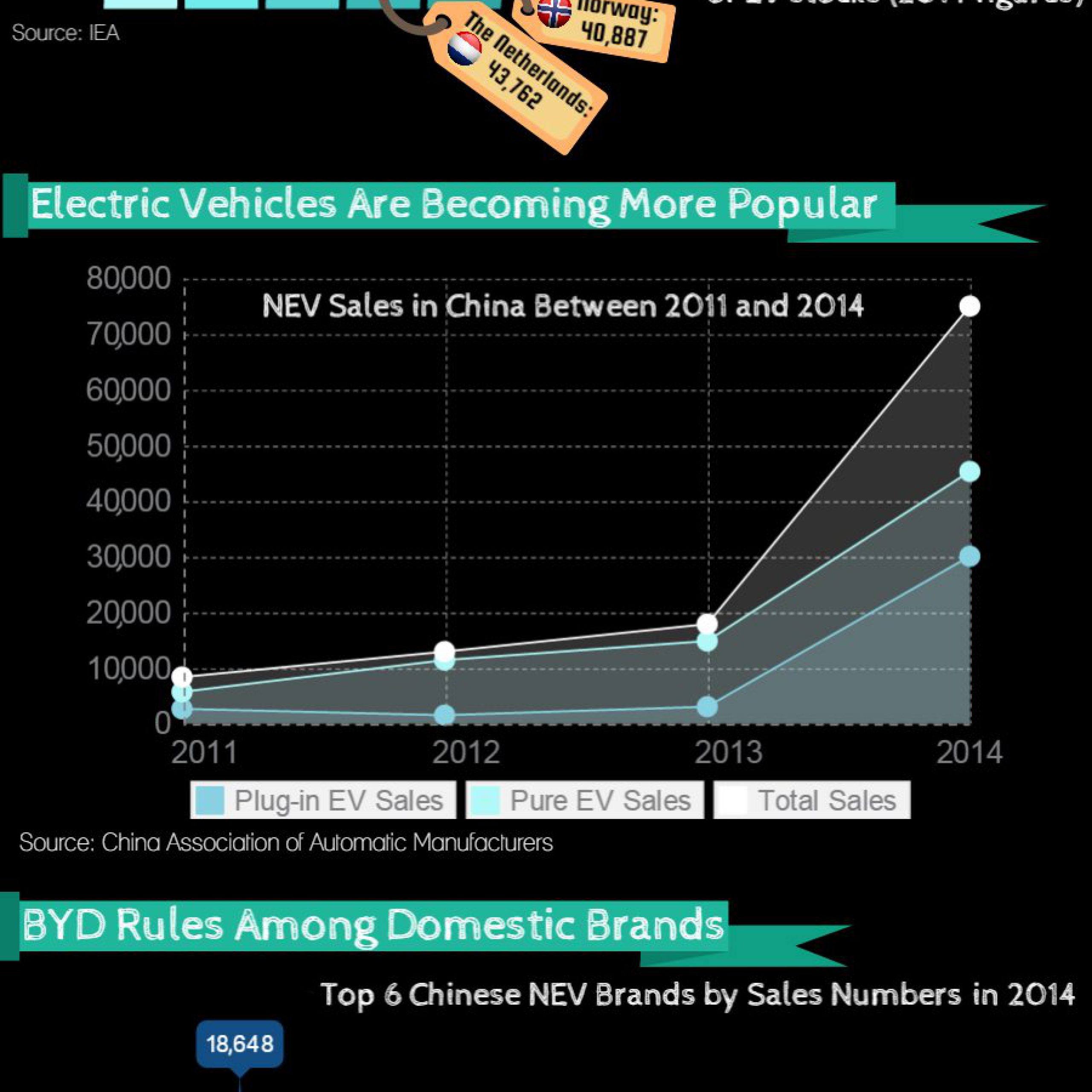 Enjoying what you're reading?
Sign up to our monthly newsletter to get more China insights delivered to your inbox.