Genki Forest is China's fastest growing beverage brand. The low-calorie, low-sugar products they manufacture have captured the market of Chinese Generation Z and Millennials, who are looking for healthier consumer products. Genki Forest has now released its products in 40 countries around the world, including the United States, Japan, Australia, and the United Kingdom. In its most recent round of funding in early 2021 the company raised USD $6 billion.
Genki Forest was founded in 2016 by the serial investor and tech entrepreneur Binsen Tang, who previously founded China's third largest gaming company ELEX Technology, before selling the company publicly for USD $400 million in 2014. Frustrated at the monopoly of Tencent and NetEase in the gaming sector, Tang believed the future would be in consumer goods, particularly the beverage sector which had yet to be transformed by technology.
Tang and his team of tech entrepreneurs, none of whom had experience in the drinks industry, initially struggled to launch a product which resonated with consumers. Through crowdfunding on the Chinese platform Weibo, they finally launched their first product – the "Burning Tea", a low-calorie, low-sugar oolong tea. Its price of 6 yuan (USD $0.94) was one of the highest on the beverage market at the time. This high cost is due to the use of the sugar substitute, erythritol, which although has advantages in terms of taste and health benefits, is 70 times more expensive than other substitutes commonly used, such as xylitol, maltol and aspartame (used by Cola-Cola).
After the success of "Burning Tea", Tang and his team launched the company into the carbonated beverage market in 2018, with its zero-calorie, zero-sugar sparkling water. It was immediately popular with the Chinese market, and now has over ten different flavors, such as white peach, cranberry soup, and cucumber. Genki Forest continued to release new products on the market: its milk tea, a low-sugar milk-powdered drink with jasmine and assam tea extracts, and its "Xiancha" tea, based on traditional Chinese medicine using corn silk, brown rice and barley extract, were both launched in 2019. Genki Forest recently brought out new products under subsidiary brands, such as its sugar-free yoghurt under Hokkari Pastures, and its zero-calorie herbal energy drink under the brand name Alenergy.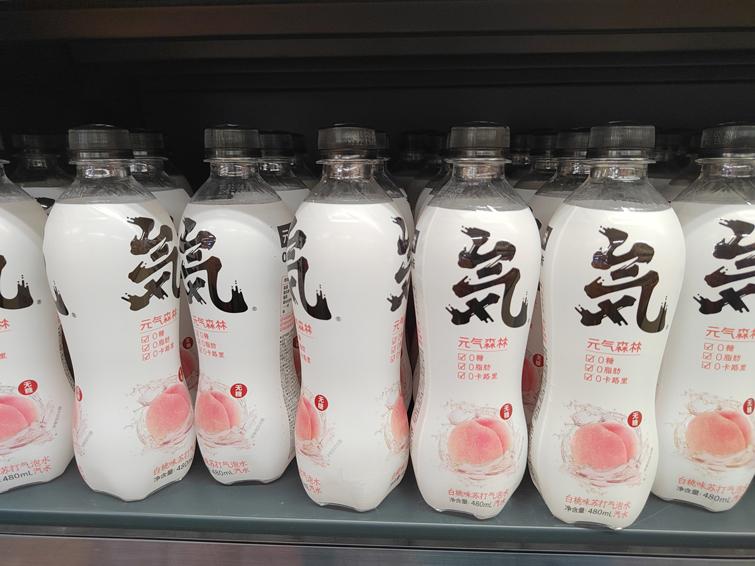 Marketing Strategy
In the past, entering a beverage market dominated by established brands such as Coca-Cola, meant that then newcomers like Nongfu Spring and Wahaha initially had little brand recognition.  So, how did Genki Forest become China's fastest growing beverage company? Previously, beverage companies have entered the sugar-free market through subsidiary brands, as exemplified by Coca-Cola with Diet Coke. However, Genki Forest found a niche market by centering its entire strategy on the sugar-free, calorie-free market, catering to a market which is becoming increasingly health conscious.
Furthermore, Genki Forest has built up a large presence online and offline. It often tops the beverage category on e-commerce platforms such as Tmall, and has used key opinion leaders (KOLs), such as the influencers Li Jiqi and Weiya, and the famous actress Kitty Zhang, to promote its brand on streaming platforms, for example on both Xiaohongshu and Douyin (TikTok in China). Its drinks can also be found offline in shops and convenience stores all over China. Moreover, Genki Forest also has marketed its products using Japanese style packaging: even its brand name Genki Forest (元気森林) uses Japanese characters, which makes its brand more unique in China and appealing to consumers.
Manufacturing
As a self-described technology company, Genki Forest sees its data-driven and high-tech manufacturing as paramount to its model. Whilst it once relied on Original Equipment Manufacturers (OEMs), since 2020 it has taken control of its production lines by building five of its own factories. This has significantly reduced production costs and increased capacity, as well as permitting the company to manufacture its sparkling water without preservatives.
Although it was initially a challenge for a group of technology entrepreneurs to enter the consumer goods industry, the technology of Tang and his team is likely to help Genki Forest continue to release innovative products. In 2020, Tang said that 95% of Genki Forest's products are yet to be launched. With an expanding health industry in China and globally, Genki Forest will likely continue to have success.