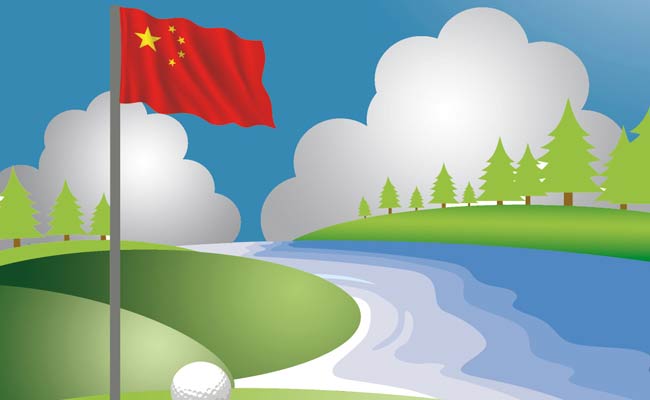 China's golfing prodigies have burst on to the world golfing scene, showing just how far the sport has come.
In 2013, while most Chinese teenagers would have been busy studying for the country's seemingly endless conveyor belt of exams, the then 14-year-old Guan Tianlang was working towards something a bit different—his debut appearance at the golf master tournament. While that might suggest an isolated and freakish level of ability, Guan isn't alone in making serious headway into the sport, and the presence of such prodigies shows just how far golf has come in China and the impact they're beginning to have on the highest levels of the sport.
Unsurprisingly, these developments have caught the eye of the sport's establishment, with the legendary professional golfer Gary Player describing the progress of Guan on his blog for Golf Magazine as the "most historic moment golf has experienced in [a] lifetime".
All this from a player of sport that was banned as a capitalist pastime until as recently as 1984, and which saw a ban on the construction of golf courses in 2004. (The policy was an abject failure—between 2004 and 2011, the number more than tripled from 170 to over 600, according to HSBC's Golf 2020 Vision report.)
"If you look at the results from the big junior tournaments around the world, that's where you are seeing the impact of China because you will see a lot of Chinese names and some of them are doing quite well," claims Dan Washburn, Chief Content Officer at the Asia Society and author of The Forbidden Game: Golf and the Chinese Dream. "What you are seeing is that this is really the first generation of golfers in China that could play from a very young age and can afford to play and can afford high quality coaching and can afford to travel to international tournaments."
First came the Chinese golfer Andy Zhang, who qualified for the US Open in 2012, at the age of 14, after the player Paul Casey withdrew with a shoulder injury. He began playing at the age of six, moved to the US at the age of 10 and is a graduate of HSBC's Junior Golf Program in China.
And at just 12 years of age, Ye Wocheng became the youngest golfer to play in a European Tour event after he qualified for the Volvo China Open in 2013. "I've dreamed of this since I was a boy," he said at the time to some amusement. Neither Guan nor Ye had been born when golf superstar Tiger Woods won his first major title at the 1997 Masters.
The success of these wunderkids has not gone unnoticed by the Chinese public either. Fifteen-year-old Guan's star has risen quickly and he drew unprecedented crowds of spectators at the China Open in early 2014.
China's Golf Factory
As with many sports, there is now an incubator approach to golf in China to ensure a steady supply of talent into the future. Young kids with promise are being molded into golf prodigies under the watchful eye of their ʻtiger moms and dads'. China's sudden explosion of wealth and its one child policy have intensified the anxiety of parents willing to go to almost any extreme to make their child stand out.
Chinese children can be seen at driving ranges around the country spending hours practicing their swing, sometimes under the guidance of foreign coaches. And although this investment may not yield a professional golf career, Chinese parents are aware that sporting talent can get their child into an Ivy League school and perhaps help in terms of a business career later in life. According to Washburn, "developing good manners and etiquette… as well as providing advantages for the child if he or she chooses to enter into the business world" are other reasons why Chinese parents are so eager to encourage their offspring to play golf.
"Getting a scholarship to a top American college is my expectation for her," says hopeful mother Xi Junling as she peruses golfing outfits for her 10-year-old daughter Xiaohong in Shanghai. "She really wants to get into Harvard."
Academies for talented children from as young as five years old are growing in popularity, and a report by Xinhua in May 2012 identified a school in Zhuhai, a city in the south of China, that offers free golf training to kindergarteners. At the other end of China's income spectrum, some parents are now prepared to spend up to RMB 300,000 ($43,940) on lessons for their children. Meanwhile, the China Junior Golf Open Tournament held in Chengdu, capital of China's southwestern Sichuan province, and sponsored by HSBC, continues to grow in popularity, along with other junior golf events.
A huge investment is being made into these children and the pressure is mounting, with the country eager to find a figure who can be a Chinese version of Tiger Woods, or raise the profile of golf as sports star Yao Ming did with basketball.
Moreover, golf's inclusion in the 2016 Rio de Janeiro Olympic Games will only boost the game's appeal further for this medal-hungry country. "Representing China in the Olympics would be the greatest honor," chuckles 20-year-old Wang Bin from the Shanghai Jiao Tong University Golf club. "It is a dream. If only I was good enough, everyone would be so proud."
The Chinese government has now invested in a national golf team as a way for China to jump start the process of getting more Chinese players to compete at international events, with the hope that one day China will be able to become a force in Olympic golf games and compete for medals. "China takes its Olympic medals very seriously. They are funneling an unprecedented amount of money into its national team. And this is an elite group of young professionals that China is paying for every aspect of their careers. No other country is doing this at such a scale," says Washburn.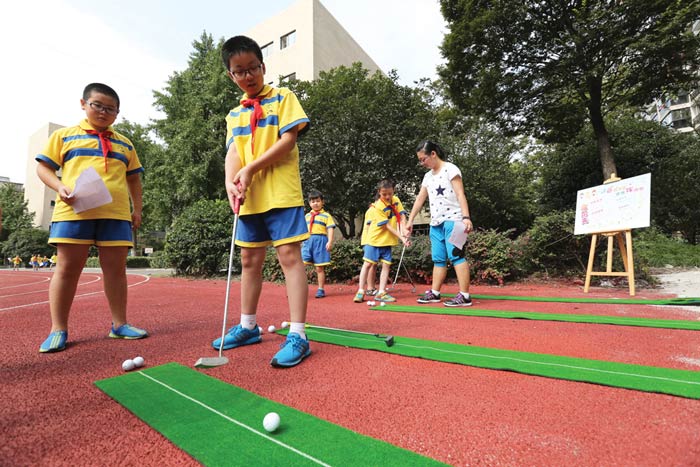 The Rich Kids Club
A growing number of China's emerging middle class, with more money to spend on luxury goods and leisure pursuits, are in a position invest in training for their children, and for these new economic elites golf still has both novelty and prestige. Many Chinese business people also find golf is a useful way to bridge the gap between East and West when doing business deals.
Unsurprisingly then, the rich are more likely to play golf as a hobby, as is the case in many other parts of the world, and cost plays a role too. It is not simply a shortage of courses, competitions and coaching, but the high prices for all of them that make junior golf a zone of exclusivity. This is heightened by the fact that China lacks the scholarships, high-school programs and cheap municipal courses and ranges that other countries have.
"If you travel throughout China and you ask the average person about the game of golf, if the person has ever heard of golf, they would probably say: ʻOh, that's the rich man's game'. And in China that is more true than anywhere else in the world," claims Washburn.
Zhang Wei, a 26-year-old auditor at one of the big four accounting firms, laughs when asked whether or not he played the sport. "Golf? No way, that is only for those with deep pockets."
His reaction comes with good reason; playing golf comes with a hefty price tag in China. Even starting out, some families spend around $30,000 a year on lessons, greens fees and travel for tournaments and training. Expenses increase sharply when families start traveling to the US for junior tournaments, enroll their children in fulltime US golf academies or hire a full-time foreign coach in China.
China has everything to play for when it comes to golf, especially as it is just about to become an Olympic sport. To maintain the momentum, however, golf still needs to widen the sport's appeal and improve training as the sports market in China becomes ever more crowded.
Enjoying what you're reading?
Sign up to our monthly newsletter to get more China insights delivered to your inbox.