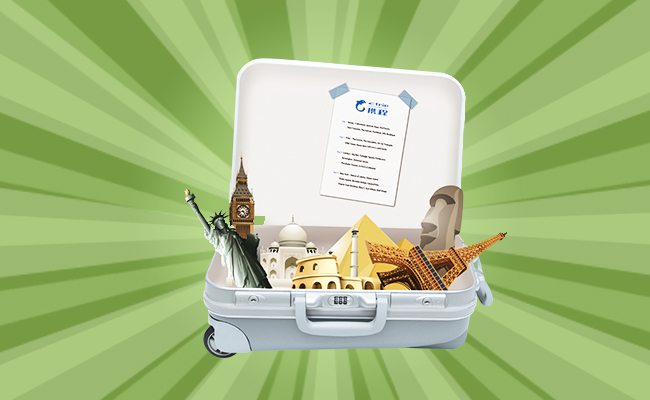 Leading Chinese online travel company Ctrip now faces the dual challenges of overseas expansion and stronger competitors.
Nancy Zhou, 23, and Amy Fang, 22, giggle over pictures they had taken during their time in Paris this Spring. Nancy was studying in Europe for a semester when Amy came from Beijing to visit, before heading to Sweden for a first-hand look at one of the graduate schools she applied to. Both girls are recent graduates of Beijing Foreign Studies University's International Relations course, a program with a reputation for churning out globetrotters.
Their first stop when booking tickets? "Ctrip," answers Nancy. Although perhaps unfamiliar to many outside China, the Nasdaq-listed firm has used its first-mover advantage in the country to dominate the online travel space, becoming China's largest online travel agent (OTA) in the process and capturing 55.9% of the OTA market in Q3 2014. But China's tourism industry is a dynamic one, and Ctrip's status, competition and expansion plans provide a window into the state of the market.
Now the world's third-largest by market capitalization after Priceline and Expedia, Ctrip plans to expand internationally to serve the ever growing numbers of outbound Chinese travelers like Nancy and Amy. To that end, in a deal that culminated in January this year, Ctrip purchased a majority stake in London-based travel content aggregator TravelFusion for a reported $160 million, allowing Ctrip's customers to search for and book a greater number of international flights, trains and hotels, as well as enhancing Ctrip IT systems.
Bolstering Ctrip's position in China's international travel market was the stated aim of the investment, and it looks to be just the start. "Starting with TravelFusion, Ctrip will invest in totally foreign companies," CEO Jianzhang Liang said in an interview with the South China Morning Post in February.
But the company can't take its eye of the domestic scene. Although Liang predicts there will be "blowout" growth in China's online tourism market, Ctrip's largest competitor remains offline travel agencies, still the preferred choice of most Chinese travelers, and the years since Ctrip's founding have seen the emergence of more online competitors such as Qunar, meaning Ctrip will continue to face challenges at home, even as it ventures abroad.
Taking Off
As with many sectors in China, tourism has witnessed prodigious growth in recent years. In 2014 the industry's revenue reached RMB 3.38 trillion ($551 billion), growing 14.7%, according to a Xinhua report quoting Du Jiang, Deputy Director of the National Tourism Administration.
As tourism grows, the nature of the market is also changing, says Feifei Xu, Brand Strategy Director for brand consultancy Labbrand. "When GDP reaches $5,000 per capita, the tourism market will mature," she says. "In leisure travel, they will have a lot more needs that weren't there before, like adventure tourism, travel[ing] to relax." In 2013, China stood at $6,807 per capita, according to the World Bank.
That increased wealth will be felt more and more in the tourism market. Enfodesk, a market research company, reported that the online tourism market is set to reach a value of RMB 352 billion ($56.7 billion) in China this year, and is expected to reach nearly RMB 500 billion ($80.6 billion) in 2017.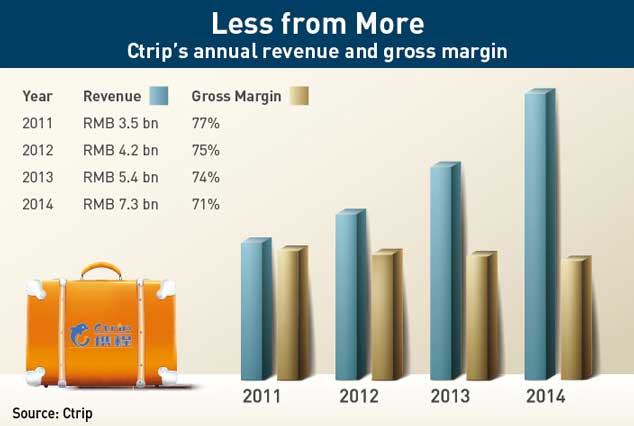 Such growth is also being witnessed in the area of travel reservation apps, and 2014 was a landmark year for them according to a China Internet Network Information Center (CNNIC) report released in February. They beat out every other category of mobile apps with an annual user growth of 194.6% year-on-year. Moreover, 53% of Chinese international travelers book online or via mobile apps—especially for independent travelers under the age of 25—overtaking traditional travel agencies.
"In the future, there will be 70% of Chinese travelers using the internet, which is the biggest proportion of all countries in the Asia-Pacific region," says Zhen Lu, Associate Professor at the Ted Rogers School of Hospitality and Tourism Management at Ryerson University.
Charlie Li, China expert analyst of travel research company Phocuswright, says such adoption has beaten expectations. "The travelers are actually shifting to the mobile side very quickly… much more quickly than what most of the industry experts expected before."
Ctrip has been quick to capitalize on that shift, pushing its own mobile app, with the company's 2014 earnings report noting that cumulative downloads reached nearly 600 million by the end of that year, growing over 70% from the previous quarter. In addition, over 70% of transactions were made through mobile platforms during the Chinese New Year holiday.
"Ctrip has built itself as a very dominant player in the online market. They also made some very strategic investments, especially last year," says Li. "They are investing very aggressively in new technology development on mobile, and big data."
Set for Expansion
As China's consumers have gotten richer, they've increasingly ventured abroad, both for business and leisure, and it makes sense for Ctrip to tackle this growing market. Chinese outbound travelers spent RMB 1.3 trillion ($498 billion) in 2014, according to China Confidential, the Financial Times' research service. And that year was a big one for the company in terms of strategic partnerships they formed to reach a larger audience. "They are trying to attract the outbound Chinese consumer with more choices and more options," says Li.
Their biggest partnership culminated in August 2014, when Priceline, the world's largest OTA, purchased a 10% stake in Ctrip for $500 million, allowing both websites access to each other's portfolio of products. In addition, Ctrip also partnered with Madrid-based Amadeus to provide "all air content for points of sale outside of mainland China", and has partnerships with cruise companies, Chinese car rental and services providers, and minority stakes in local hotel operators.
In making these partnerships, Ctrip is extending its ability to be a one-stop shop for consumers. "Their international expansion aims to offer Chinese outbound travelers or foreign companies in China an extension of their value-chain platform of tourism," says Xu.
"We are currently trying to build up brand awareness in overseas markets through our public relations and social media efforts," writes William George, Ctrip's Marketing Communications Manager, in an email. "Currently our biggest markets are outbound Chinese travelers and domestic travel."
But it hasn't been all smooth sailing. Expansion comes with problems familiar to all companies going beyond their original borders. "Some difficulties they might encounter are cultural differences, different management styles with their international partners," Xu says. "They are just like any company expanding internationally."
Moreover, operating margins continued to slide from their heavy investment in 2014—2% compared to 16% in 2013. Product development expenses for 2014 increased 86% from 2013, according to their earnings report. Sales and marketing expenses and general and administrative expenses also increased.
Their heavy focus on customer services (Ctrip has run award-winning call centers throughout its history) also comes at a premium, with the strategy paying off for some segments of the market, but not all. "For business travelers, Ctrip is their first choice because they are not as price-sensitive. The higher-end travelers appreciate the services," Xu says. "But personal travelers are more price-sensitive, and there are more personal travelers than business travelers." That is where Ctrip generates much of its revenue, with corporate travel only accounting for 4.8% in 2014.
In addition, there has been a dramatic drop in high-end and government travel, according to Lu, compounding the situation. And the composition of China's tourism market is also changing. "Millennials have become a major force… They have very distinct travel consumer behaviors," he says. Appealing to that market remains an ongoing challenge, although one helped by the company's increased emphasis on mobile.
Heating Up
In addition to the traditional offline travel agencies that it has always faced, some of Ctrip's biggest competitors now come in the form of other OTAs who have been able to strengthen their positions. These include eLong and LY.com, who had 9.7% and 6.3% of the market, respectively, in Q3 2014. And then there is Qunar, a meta-search site rather than a strict OTA.
Although Ctrip is still in the lead as China's largest OTA, competition has intensified a great deal since its establishment in 1999, not least because its rivals are also backed by the country's and the world's largest tech companies. eLong and Qunar have received investment from the Chinese internet giants Tencent and Baidu, respectively, with eLong also being a subsidiary of the world's number two OTA, Expedia.
Although Ctrip was a first-mover and pioneer in the field of online travel, its market share, although still dominant, has fluctuated with the rise of its competitors. Statistics from iResearch show that in 2012 Ctrip's market share stood at 45%, while eLong's hit a high of 16%. But the following year Ctrip rebounded to 50%, with eLong's falling to 10%.
"Qunar is one big competitor, but they offer different services. They are a search site and offer software services to travel agencies, for them to put the agencies' lowest price offerings on their platform," explains Xu. It offers a wide range of search results from airlines, hotels and other agencies, including Ctrip. Meanwhile, eLong focuses on hotel offerings.
While Ctrip, eLong and other smaller competitors mainly work much like a traditional travel agency, Qunar uses a different model. Instead, Qunar earns by pays per click or per successful transaction and the user buys from the travel agency they've been directed to. That means agencies must still compete with each other, resulting in price wars.
Price-cutting is the primary source of Ctrip's relatively tighter finances because it whittles down margins, according to Li. "They are competing head to head with their competitors like Qunar, eLong and Alitrip, so the price-cutting is becoming much more aggressive than before," he says.
In a speech in Shenzhen, Zhang Weining, Assistant Professor of Accounting at CKGSB, noted that using standard measures of gross profit margin, Qunar's has been higher than Ctrip's in recent years, but when marketing costs are properly factored in (the adjusted gross profit rate in Zhang's terminology), Ctrip's is in fact higher, and the company is much more effective at attracting users. That said, Qunar's adjusted gross profit rate is actually increasing year by year.
That helps explain the highly competitive relationship between the two companies. This manifested itself in September last year, when Ctrip cried foul over Qunar's search results—they removed their hotel offerings from Qunar, saying it was no longer a neutral travel search platform. Then in December Ctrip announced they were putting aside a RMB 1 billion fund in order to engage in a price war and offer zero-profit tourism products. Price wars and zero-profit products are unsustainable in the long run, but Ctrip clearly hopes it will help them achieve an unassailable position first.
But despite the intensity of the battle they are waging with other OTAs, these aren't even Ctrip's biggest competition—that would be offline travel agencies, who are generally preferred by middle-aged and older travelers. The online travel market represented only 10% of the entire travel market in 2013, although it is set to double by 2017, according to CNIT-Research.
That is in spite of the offline sector being hit by the country's first national tourism law, which came into effect in October 2013 and banned hidden traveler costs such as compulsory shopping excursions. Tour agencies could previously offer low rates to customers, only to make up the difference with commissions from shopping trips.
But Lu is optimistic about the online travel industry. "Tourism products are one of the most suitable products for online sales. OTAs, one day, will probably eliminate the traditional travel agencies," he says. "Traditional offline travel agencies, tour operations are only the providers of tourist products (such as tours, tourist attractions tickets, etc.) for OTAs."
Moreover, the line between online and offline in the travel market is blurring, with the latter investing in online, and vice versa. "Ctrip has been moving to the offline [market] by investing in some big travel agencies," says Li. That includes offering group-organized tours and products from offline tour operators on their own platform, he says.
In March, the OTA Tuniu acquired majority stakes in two offline travel agencies with licenses to offer and operate tours in Taiwan, expanding the company's reach outside mainland China. Qunar has likewise invested in an offline tour agency based in the city of Chongqing in southwest China, and offline tour operator UTour from Shanghai has dipped its fingers in investments online.
Big Fish Eats Small Fish
The market appears to be consolidating with a string of purchases and investments from larger OTAs. Ctrip acquired Tours4Fun, a vacation package site targeting Chinese traveling abroad, in January 2014 reportedly for more than $100 million. In addition, Ctrip and JD.com, who relaunched their own travel site JD Travel in June 2014, invested $15 million and $50 million in Tuniu, respectively. JD.com followed this up with an investment of $350 million in May.
Surprisingly, at one point the trend of consolidation looked set to include bitter rivals Ctrip and Qunar. Rumors of merger talks between the two companies swirled in April 2014, though eventually nothing came of it. "There were talks about the merger, but it ultimately didn't push through because both the CEOs of Ctrip and Qunar have strong personalities," Xu says. "But they have most of the same investors, so they want them both to succeed."
Problems with Qunar's financial performance may have also been a factor. "Qunar recorded some big losses last year, about RMB 1.8 billion. Their controlling shareholder, Baidu, is not satisfied with their performance… I think Baidu is pushing for this deal at this moment," says Li. "It's good for the investors of these companies. But it's not good for the consumer because less companies means less offers and less choice."
While that particular union might not have come to pass, Li thinks this trend of consolidation will nonetheless continue. "I think… the online market will have less fragmentation. Like in the US and Europe, right now there are only two major players, Expedia and Priceline," he says. "I think a similar thing will happen in China."
Acquiring new customers is also becoming harder, presenting a large barrier for new players, especially if mobile is the new face of the industry, as these platforms can serve to tie consumers in with one OTA. "Once you have the Ctrip app on your mobile, you probably think it's not necessary for you to get another app," says Li. He notes that consumers are becoming more impatient and they want the convenience of being able to rely on one app, which makes it harder for newer and smaller players.
But while the market is becoming saturated, Xu is confident of the industry's growth. "For this industry, I'm optimistic because the tourism boom is ongoing and it will develop very quickly in the future."
Ctrip has reason to be too—for proof, look no further than their positive Q4 2014 earnings report, which stated that 2014 net revenues were up 36%, and profits reached RMB 5.2 billion ($845 million), up 23% year-on-year.
The company's investments have started to pay off, and project further growth for the year ahead. Ctrip's guidance suggests net revenue growth of approximately 40-50% for Q1 2015, though they admitted that the Chinese online travel market environment is becoming aggressively competitive. It is planning for strong bottom line growth by the year 2020, with high operating margins between 20-30%.
If that comes to pass, Ctrip looks set to maintain its position at the head of a significant, albeit reduced, group of online travel companies.