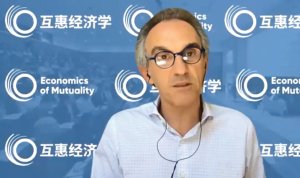 CKGSB partnered with Mars Incorporated to address sustainability and the future of business
Many people study how to do business, but very few discuss the reasons behind why business is done and how to ensure the long-term sustainability of companies. The concept and purpose of corporations has changed over time and as the world responds to the often devastating impact of COVID-19, enterprises are discovering the importance of addressing needs that exist in society, even if those needs fall beyond what is thought to be the traditional scope of a company. Should maximizing profit for shareholders still be the ultimate goal of a corporation? What should the right level of profitability be? How can corporations transform themselves and their business approach to ensure that all stakeholders benefit appropriately?
To address these questions, the Cheung Kong Graduate School of Business (CKGSB), held an E-Dialogue Series on June 22 on the topic, "The Future of Sustainable Business," in collaboration with Catalyst, Mars Incorporated's internal think tank, and Mars China. The key speakers were Zhu Rui, CKGSB's Professor of Marketing and Director of the Social Innovation and Business for Good Center, and Bruno Roche, the Chief Economist of Mars, Incorporated, and Founder of Economics of Mutuality (EoM).
Originally, the only party a corporation needed to answer to were its shareholders, said Professor Zhu—the sole purpose of a company has generally always been viewed as to make as much profit as possible to maximize shareholder value. But over time, that idea has changed. It is not just shareholders that companies now need to be responsible to, but also other stakeholders too—other parties that are related to the business such as employees, partners and suppliers and the community at large upon which the company depends. Considering the interests of all a corporation's stakeholders has become essential to ensuring the health of the ecosystem of business.
Corporations have created a tremendous amount of wealth, Zhu continued, but they also often created problems, such as environmental pollution and income inequality, in their single-minded race for profitability. There is now a growing demand from society at large for companies to take on a sense of responsibility for the communities in which they operate. Society as a whole is becoming less and less tolerant of companies shirking their responsibilities and they are expecting more transparency and better governance.
The public is increasingly focusing environmental issues, social issues and governance issues, collectively known as ESG. But this raises an unavoidable question: How can companies still make a profit while also paying sufficient attention to ESG?
To provide insight to business owners on how they can make their company more responsive to society's needs, Zhu advocates a three-step approach to sustainable business.
The first is to place a high value on mutual benefit. Corporations cannot solely focus on their own goals, there is also a need to understand and appreciate all of the elements that make up the chain of their business. The second step is for corporations to match their strengths with societies' weaknesses. What does society need that is your specialty? Focus on that for the well-being of both your corporation and the community. The final step is ensuring a comprehensive governance structure. Doing business in a way that is aligned with your corporation's values is vital. Focusing on this last step also incentivizes employees and the company to unite and strive for a common goal.
Bruno Riche backed up Zhu's views, saying that EoM was established to study the question: "What should the right level of profit be for a company?" To answer this question, said Roche, we have to understand five basic principles underlying corporate activity. The first is that the purpose of business is no longer to maximize profit, but to develop profitable and scalable solutions to the problems that society is facing. When businesses take this first step in realigning their purpose, it becomes a source of strength and innovation, helping them to outperform companies that do not respond in the same way.
The second principle is that of ecosystem mapping and orchestration. The role of business is not to dominate the ecosystem, but to orchestrate it and treat it in such a way that companies mobilize capital to develop overall business performance. The third principle is to establish non-financial performance metrics, while the fourth is ensuring mutual profit by equipping businesses with a new accounting system that no longer focuses solely on corporate gain. Roche proposed the mutual calculation of profit levels to prevent predatory behaviour in a business ecosystem. The fifth principle is that of expanding leadership and developing reciprocal relationships. All of these principles, he said, help improve overall performance in businesses.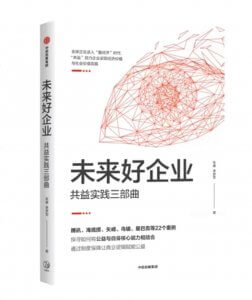 Enjoying what you're reading?
Sign up to our monthly newsletter to get more China insights delivered to your inbox.