Investment is flowing into China's shared office market. But will the returns justify the eye-watering outlays?
Co-working spaces are a booming industry concept in China thanks to billions of dollars in funding. But how long before the lack of profits causes a shake-out?
Walk into any of the most popular co-working spaces in China and you will instantly understand their appeal. They feel different to the average office, with their stylish designs, open office plans, laidback atmosphere, endless supplies of coffee and beer, and trendy young unicorn-hopefuls bouncing around.
Co-working spaces are essentially shared office workspaces that are leased out to individuals or groups on a flexible basis. They offer a desk to work at, usually along with amenities such as conference rooms, hot-desks, lounge areas, sporting facilities and more. The spaces were created originally for the likes of freelancers, startups, entrepreneurs and small teams in mind. But many larger companies have found that the arrangement works for them too.
The business of shared rented office space has boomed internationally over the past decade and leading the pack is WeWork. An American company founded in 2010 and armed with $6.5 billion in equity funding, WeWork now has co-working offices in 32 countries and reported revenues of $421.6 million in 2018, with 268,000 clients in-house at the end of June last year. It expanded into China in 2016, after raising nearly $700 million from Chinese investors. WeWork has already extended from an initial four to around 60 locations throughout the country's biggest cities, with Beijing, Shanghai and Shenzhen hosting the majority of the company's office spaces.
"Next year, it will be even faster," says Sern Hong Yu, regional head of project delivery at WeWork China, speaking of expansion plans for 2019 at an event in December. Significantly accelerating WeWork's growth in China was the company's acquisition of its main rival, Naked Hub, in 2018 for $400 million, absorbing that company's 24 locations. The acquisition also served notice to other Chinese competitors, all of them fighting hard for market share.
WeWork's top competitor in China now is Ucommune, which is the only Chinese unicorn—defined as a privately-held startup company valued at over $1 billion—in the co-working space market, with a valuation of $3 billion. It raised $768 million from Sequoia Capital China, among others, and has 200 locations spread across 37 cities, with 160 of those locations in China. But WeWork is the premium player with better locations and market positioning.
Co-working China
The co-working office trend has helped offset two problems in China's property market—oversupply of commercial space and declining usage of shopping malls.
"Co-working [companies] can absorb large vacant spaces and provide more flexible office spaces to startup companies," says Regina Young, Director and Head of Research & Consultancy at Knight Frank in Shanghai. "They are often large tenants in a building with several floors offering over 5,000 square meters of office space."
"In terms of location, co-working operators favor Grade-A office buildings or renovate other types of properties involving shopping malls and hotels to meet the demand for space," says Young.
Co-working spaces in China offer services that are a good fit for the needs of Chinese startups. China has seen a surge in startups in recent years, and the trend has received increasing support from the central and local governments in the form of investment and preferential tax policies, with a flow-on benefit for co-working spaces at all levels. Home-grown technology companies often start life in such spaces, and the Chinese government has been embracing technology in its drive to developing a more self-reliant economy. The country now has 120 homegrown unicorns, making up over 50% of the global number of 234.
"If you are a startup, sometimes co-working spaces can act like a sort of incubator, such as helping you meet potential investors," says Hannah Ryder, CEO of Development Reimagined and previous client of co-working spaces InCube and Vanke. "They can help you with all of your administration and registration of the business."
Convenience is a key factor for tenants of co-working offices.
"I like the fact that I don't have to worry about anything here," says Zennon Kapron, director of research and consultancy firm Kapronasia, and a client of WeWork in Shanghai. "For us, the benefit [at WeWork] is predictability, so I probably wouldn't look to move back into our own office. The startup culture in China is just not a very comfortable culture in general. You're usually working long hours, so I think that WeWork is cushier. WeWork is like a Starbucks experience. I think the Chinese co-working spaces are a bit more bare-boned."
Kapron refers to "the 996 mentality"—working 9 a.m.-9 p.m., six days a week—which is typical of Chinese startup culture. But the intensity of the experience is offset by the relaxed atmosphere of the typical co-working environment. A key factor for young businesses is keeping rental costs down, and staying flexible, not getting stuck with long-term leases on space that is no longer appropriate—either because it is too big or too small.
Ryder also highlights that co-working spaces are particularly valuable for startups in China because all companies are required to have a physical address.
"The big difference with China is that when you have a business you need to have a registered office address, which in other countries—such as the UK—is not required," says Ryder. "You can open a business and work from home, so the co-working space demand is not so high, whereas here in China [the demand] is created by this regulation of having to have a commercially registered offered space."
The Windings of WeWork
Backed by Japanese tech and telecom giant SoftBank Group, WeWork's recent global run-up in funding—it raised some $4 billion in 2018 alone—has given the company the firepower to expand quickly without worrying too much about immediate returns. But it is not sticking just with co-working office space, and doesn't view itself as being simply a co-working office operator. "We are a community building company," one WeWork staff member said.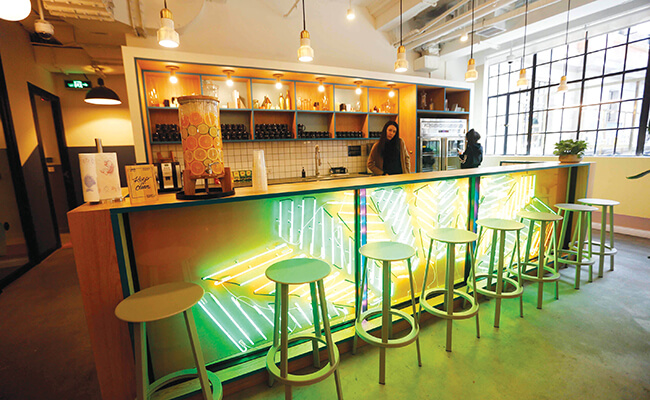 Co-working spaces are indeed just one aspect of WeWork's ventures. The company has pursued a diverse range of investments in recent years. In 2016, it launched a dorm-style housing venture in the US called WeLive, and it recently added a fitness center brand, Rise, that costs $180 per month to join. It has also acquired a software startup called Teem which gives enterprises the tools and data to optimize their office space.
The strategy of expanding beyond co-working spaces is one that they have also applied to China. "Earlier this year, we launched a new real estate strategy offering a range of options for partnership with our landlords including participating leases, management deal and revenue sharing," says WeWork's Greater China General Manager Alan Ai. "By doing this, we offer our partners an opportunity to share in the upside with us."
The real benefit of WeWork, the company says, is that it facilitates collaboration and enhances value.
"We create value," says Ai. "WeWork's presence, and the community it creates both within and around buildings we occupy, allows landlords to expand their tenant pool and has a positive effect on rental and real estate values."
WeWork also says that the services it offers could help combat China battle the infamous "996" work system. WeWork's Sern Hong Yu, says, "A lot of people like the [WeWork] workplace so much that stay longer than usual. But in the meantime, we do remind them of the work-life balance."
However, WeWork has come under criticism for not understanding the culture of the Chinese workforce. The company that is probably number three in the China market—Kr Space—says that the free beer offered by WeWork doesn't fit with the heavy workloads and lifestyle of Chinese startup people, and is instead providing no-charge add-ons like financial and legal consulting services.
The biggest issue facing WeWork, however, is how to sustain the fast pace of growth which underlies its market valuation. The company has yet to achieve profitability. In its first-ever release of financial results last year, WeWork said total revenue rose to $421.6 million in Q4 2018, up from $198.3 million in the same quarter in the previous year. But it also reported a net loss for the first half of 2018 of $723 million, up from $154 million a year earlier.
Co-working Crash
Is the co-working space market a long-term and viable business, and if so, at what valuation level? Is WeWork worth the high valuation the market has given it? Some critics have described WeWork as being really a real estate company with a tech company valuation. The Financial Times in a special report in July 2018, estimated saying that WeWork's valuation, then around $20 billion, had an actual worth closer to $3 billion due to weakening rental yields and low barriers to entry.
Slowing economic growth is also impacting on the prospects for the co-working office market in China. At the beginning of 2019, a number of China's co-working operators were forced to shut down due to a lack of financing, and a shortage of funding from venture capitalists has had a big impact on the industry, with even major operators struggling to keep up.
Between January and October last year, 40 companies disappeared from China's co-working scene, and almost 40% of the industry's remaining players were struggling with an occupancy level of less than half, according to a report by the China Real Estate Chamber of Commerce (CRECC), an information exchange platform for China's property sector. The going rate varies from RMB 1,500 ($22) per desk per month in some locations to as much as RMB 8,500 for a private office in a handful of prime locations.
"The reason co-working operators are in the doldrums is quite simple: they are leasing desks quite cheaply while their office acquisition and operating costs are high," Gary Wen, head of the commercial department at Savills North China, told the South China Morning Post in January. "They have been telling investors that they can rent out a desk at RMB 4,000 a month but they haven't been able [to]."
Whether there is an adequate supply of funding can be a matter of life and death for co-working startups, given the problems of achieving profitability. Without the financing to support them, they are unable to keep up with the price war initiated by deep-pocketed giants such as WeWork. Smaller startups will either have to close down or find a way to be acquired.
Kr Space recently said it has become much more careful with its expansion plans, which is a sharp contrast to what founder Liu Chengcheng's stated mid-2018 that the company planned to add 10,000 desks per month in its race to beat WeWork. But given its lack of an operating profit, even WeWork needs to be concerned about financing.
"I don't see financing as a short-term risk [for WeWork], but in the next couple of years I think it would be a bigger a concern. What concerns me the most is just how fast they are expanding; the available space appears to be gradually exceeding the number of people that need the space," says Kapron. "You've gone through this period of economic growth …you have to consider an environment where funding is no longer as readily available."
A Head Above Water
WeWork is still confident in what it is bringing to the co-working table, and it has deep-pocketed investors. In addition to that, the market potential is still viewed by many investors as huge. Sullivan Data Management, for instance, estimates that by 2022, the Chinese market for co-working office space will reach a staggering value of RMB 409.22 billion. Significant industry consolidation can be expected before then, however, and the question is who will the survivors be?
"The future of the spaces will depend on two factors, one, the government regulations for requiring commercial space—if these are relaxed co-working spaces may not be so helpful for small entrepreneurs—and two, whether they can find cost-effective business models to continue to prosper. This is still a work in progress," says Ryder.
Enjoying what you're reading?
Sign up to our monthly newsletter to get more China insights delivered to your inbox.