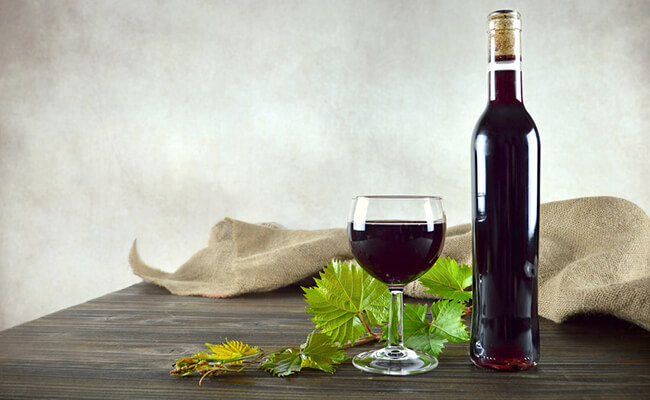 When talking about the Chinese wine market, most Westerners think of baijiu, a strong alcoholic beverage made from grain. But today, young Chinese are developing their taste for various non-Chinese wines—red, white and sparkling—which can be seen at parties, business banquets and even dinners with a strong local Chinese flavor such as hotpot. According to Claudia Masüger, a businesswoman from Switzerland who has been importing wines to the Middle Kingdom for over a decade, the Chinese are becoming more "sophisticated" in their taste in wine. They are not only learning how to pick the right wines for the right occasions, but are also matching certain wines with certain food.
Masüger, from a Swiss family that has been in the wine business for generations, set up a chain store brand called CHEERS in Beijing seven years ago that aims to provide quality wines at a good price, as well as teach young Chinese how to enjoy wine more. With 50 stores across major Chinese cities, CHEERS lures young people with its fun activities such as blind wine tasting and wine-themed parties and gatherings involving dancing and painting. Masüger follows the strategy of letting people try first and then making their own decisions.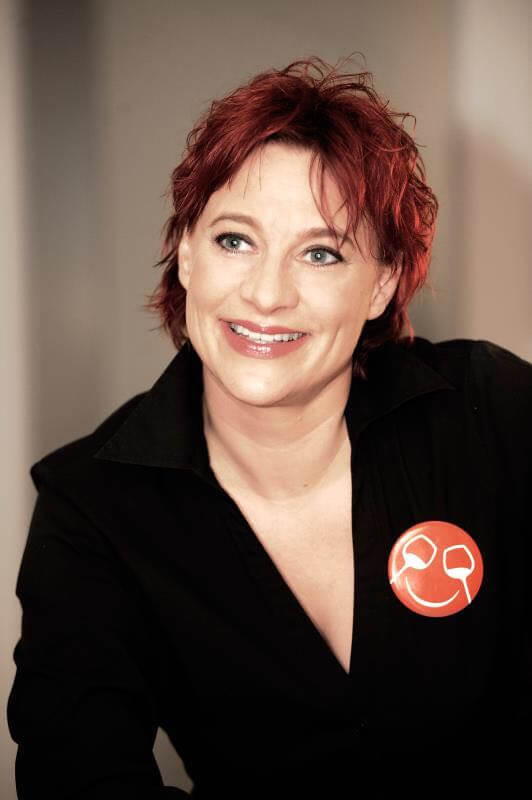 Q. How did you come to China and start a wine business?
A. It was 8 January 2008. In particular I chose that date because, when doing research about China, I heard the number eight is magic. I assumed selling wine in China must be hard, so I chose this date. In 2008, it was mainly the government and business elites who consumed a lot of wine, not normal people. I was very lucky at the beginning because I got the deal for the [House of Switzerland] during the Olympics—to bring and organize all the wines and beverages for [it]. So that was my first big experience. I found the market is huge and I fell in love with the country and its people, so I decided to start a B2B company, called MQ Wines. M is my name Masüger and Q is for quality. We started to sell to distributors and also retail partners.
Q. How did you transition from MQ Wines to CHEERS Wine?
A. Because at that time we encountered a problem. The wines that I imported always had the best price value because my family has been in wine trading business since 1898 and many suppliers have known me since I was a little girl. But my partners in China always put RMB 100 to 200 margin on each bottle! And I thought that was not so fair.
Then in November 2011, our warehouse in Beijing burned down, so we were out of business for four months. It was a disaster, but afterwards we realized it was the "best" thing ever happened to us. Those four months allowed me reconsider the market, and I realized that only the government channels were buying wine, not normal people. So my vision was I wanted to, A, make wine affordable so that everyone on the street could buy at least one bottle of wine every month, and B, to make wine drinking fun, as the wine business at that time was very boring. When you see a wine store, it was [serious], full of wood and dark, smelly inside and the prices were expensive.
Another problem that most people at that time underestimated was how to store wine. So [it was a case of] when you have a lot of good brands on the market, but the wines are bad because they're stored wrongly.
Therefore I decided to create CHEERS Wines. We're non-traditional and approaching the young generation. For example, last week we had a blindfolded wine tasting where everyone was covering their eyes and using [other] senses to taste the wine, and we played music to animate people. My favorite part is that our wine expert taught people how to open a sparkling wine with a kitchen knife. It's easy and an experience that you can show off with your friends while enjoy sparkling wines.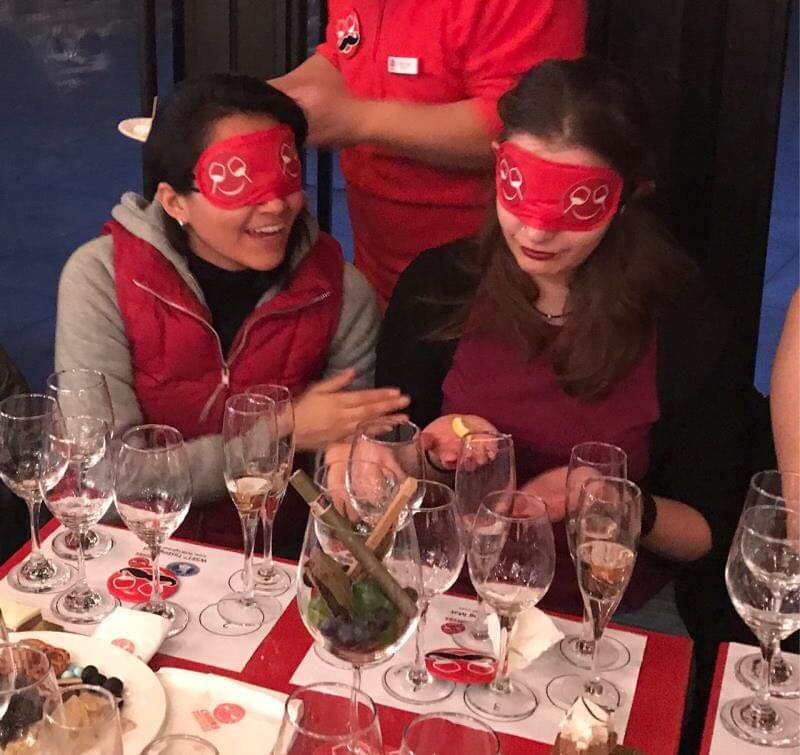 Q. Are such events regular? Why? How do these parties help CHEERS' business?
A. We always try to entertain, and wine can be connected to all countries, languages and party methods. This Friday, we're having a Latin party in our store, and every Sunday we have "sip and paint" activities where people can paint pictures while learning about wine. We used to have "tangle" nights where people can learn to dance while drinking … so it's all about experience and interaction.
Another strategy we use is everyday you can go to any of the CHEERS stores and try wines for free. It's very important and you can only learn by trying. Every Wednesday, we have a mini wine school. We invite our customers to learn more about wine if they want. For example, we choose specific wines and some people may have heard of the grapes, but don't know their differences, so we can really have a blind tasting. This has been very popular and it's all for free and it's about education.
We put in a lot of effort in educating people. Our own store staff can really guide you through it, to find the wine you like, because most people don't know which wine they like.
We also have the strategy of selecting only 150 wines for consumers in the stores to try because we don't want to confuse people. So when you stand in front of a shelf, so many choices are available you don't know what to take [and so] walk out. We don't want our consumers to experience that.
Q. Do the franchise store owners cover the cost of wine tasting?
A. Yes. One and half years ago we also launched our franchise system, that means we give our employees and also customers the chance to open their own stores. It's all managed and trained by us. We provide strict and intensive training. So it's part of the strategy that in every store 2.5% of the revenue should be contributed to free wine tasting. If you give people free tasting, they will know your product and they will buy it! Only looking at a Port wine will not help a consumer to buy it. Free tasting is customer service. It's all about communicating with the customer, telling them about the product and letting them try it, then at the end of the day you generate profit as well.
Some people, including our competitors, still don't understand it. They follow the philosophy of "don't give anything", but we're living the philosophy of "go-giver"—"first you give, then you get". At the end of the day, we all want to have fun and we all want to reach happiness. So CHEERS wants to give you space where you can have fun and be happy. That's what the customer wants and what we want. It's much more than a business. For me, I don't have my own family and this is my life.
Q. CHEERS Wine has been in China for seven years, what are the major changes in wine-drinking in China in that time?
A. Now it's a much more honest wine-drinking culture in China. What also needs to be known is that the Chinese wine market [underwent] extreme change in 2013 after the anti-corruption campaign. So the old business model collapsed and everyone started to target the young generation. In 2010, when we started CHEERS, people were saying young people don't drink wine and they were laughing at us. Then in 2013, suddenly there were many copycats. Now you can see wine is approachable everywhere online and offline, and education is everywhere. So for us, we need rethink and redevelop our wine experience.
Q. From the customer side, what has changed about them?
A. Our customers are [aged] between 22 and 38. Because we've been here for 6 years, our customers have grown older and we have a new generation coming … they have become more sophisticated. They are trying, learning and started to get interested in combining food with wine. So when you get to this stage, when you realize that food and wine change when the combination changes, you will start a totally different wine experience. In Europe, there is no lunch or dinner without wine. We always have it, not much, but one glass. It's good for digestion and it makes food better and makes wine better. This is what many Chinese consumers learn now and that makes them more regular wine drinkers.
And of course, the young generation, they don't ganbei (finish their glass in one drink) anymore and they don't waste wine or get drunk. They really like it. There is nothing greater when you have a date and a glass of Malbec from Argentina … red wine makes you talk and open up, sparkling wine makes you dance and, if you have a lady's night, I'll go with the white wine. It bubbles up a little bit and makes you happy. And if you are to have a fun night, you're not to use a heavy red wine … so it's important to know what wine to choose for certain occasions and times, and such training is also part of our CHEERS activities. So coming back to your question, yes, the consumers are really learning this and enjoying it much more because they know more about how to choose the right wine and even the suitable glass for a specific wine.
Q. I have noticed that many wine drinkers have started to pick glasses for wines.
A. Yes. It's a lifestyle. For example, for wines such as champagne with bubbles, you will want to use a flute glass, because if you use a big glass, the bubbles go out quickly. With a small glass, the bubbles stay in and the taste can remain longer and nicer. With heavy red wines, use a bigger glass because they need air to develop the wine … once you get hooked, you will experiment and learn. I can tell you whatever you want, but only when you feel it will you realize the difference.
Q. The current model is both B2B and B2C?
A. No, we only do stores. But our stores also sell to restaurants nearby, because what has become more popular among the Chinese young generation is bringing your Riesling or other wine to hotpot or to other Chinese food. That is becoming more of a habit now, but it just started.
Q. So among all the kinds of wines CHEERS is selling—white, red and sparkling—which is most popular?
A. This is a good question. Right now, Moscato, for the younger generation, is really popular. Looking at general statistics [by industry analysts], it always shows that Chinese people like to drink red wine, but it's not true at CHEERS. In the summer months we looked at our best sellers, 10 wines, [of which] four were white wines, two were sparkling wines and four were red wines. The reason [for the difference] is, in all the other channels, people just have in mind "I have to drink red wine, because it's the best wine". At CHEERS, we don't tell you anything and we let you try and make your own decision. When people come to our stores and leave the sayings of other people [to one side] and start trying, they will have different conclusions.
I have joined many wine tastings, but found that most of them were boring. People sniff around and say things like "I taste vanilla", "it's a heavy Bordeaux" and things like that. You can get totally lost. They make things very complicated and make the wine business too high brow. We want to have fun and enjoy life.