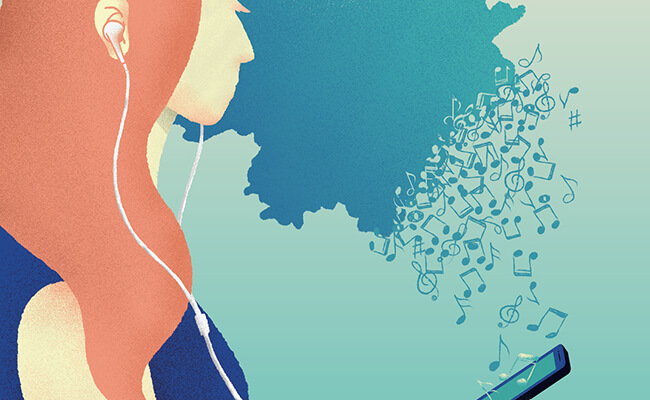 There is no definitive answer to the question, "Which is China's most popular band?" But TF Boys are a solid candidate.
The wholesome trio of teenagers have garnered legions of fans—over 60 million across several official accounts on Weibo, China's Twitter. And with their squeaky-clean aesthetic and pro-Communist Party lyrics, they have earned approval from the Ministry of Culture in the form of both funding and sanctioned appearances on state television.
But despite their popularity at home, TFBoys—meaning "The Fighting Boys", as from a "Fight! Fight! Fight!" chant one might cheer at an American football match—would seem to have little chance of winning over international audiences. Their sugary-sweet personas and willingness to pander to the state clash with Western associations between music and rebellion or counterculture, as evidenced by the bemused tone with which publications like the New York Times write about the band: "TFBoys display no signs of youthful rebellion. They decidedly do not walk on the wild side."
However, other Chinese acts are emerging which, while much smaller than mainstream performers, are knocking on the door of international fame. ACrush, a band of five androgynous women with a devoted female fanbase who refer to the boyish stars adoringly and ironically as "husbands," has far greater crossover appeal—and are generating more interest internationally than domestically, at least in terms of media coverage.
Another is Higher Brothers, a rap group out of Chengdu in China's southwest. Over the past year, this intense-but-humorous bunch has seized the attention of rappers in Korea and the United States resulting in several collaborations, in addition to gaining a devoted following in China.
Stream On
In theory, the world's most populous country has the potential to become the world's most profitable music market—and yet it is far away from that. According to a report by the International Federation of the Phonographic Industry (IFPI), China was the 12th largest market in 2016, with $202 million in revenue compared to the US's number-one ranking of $5.3 billion. The figures include physical sales, digital sales, performance rights and licensing, but not concert ticket sales.
But there are important differences in the way music is consumed that may give China a business edge. Combined with the growing popularity of some up-and-coming stars, China may soon be on the international music map.
One of the most interesting divergences between China and the three highest-ranking countries in terms of global music revenue in 2016, is the way that revenue is split between digital and physical releases. Despite seeming an underdeveloped music market, China stands out in terms of how money is generated compared to the top three. IFPI reports that in the US, digital releases account for a healthy 70% revenue, versus 18% for physical records. The UK in the third spot is 47% digital and 32% physical. Japan has higher revenue of physical releases at 73%.
China, on the other hand, reaps a whopping 96% of its music revenue from digital releases, with over 75% of that number coming from streaming sales. While still only a sliver of the global market, China has adjusted to the digital future of music more quickly than other countries.
The campaign toward digitalization is being led by internet giant Tencent, which dominates the market with a 70% share, according to The Economist. Owner of streaming service QQ Music, which has 400 million daily active users, Tencent has tightened its grip this past year by acquiring competitors Kuwo and Kugou, and inked licensing deals with Universal Music Group, Sony Music and Warner Music Group for exclusive streaming rights.
With this power, Tencent is pouring resources into combating music piracy and conditioning the Chinese public to pay for digital tunes. QQ Music's number of paying monthly subscribers is relatively low at 10 million, but an increasing number of users are paying to stream individual tracks. Other users listen for free but are exposed to ads, which ensures that Tencent continues to rake in profits. Apple Music, by comparison, claims upwards of 17 million subscribers, but has yet to turn a profit. Spotify lost $581.4 million in 2016—more than double the losses of $241.6 million in the previous year—despite its 140 million active users, of which more than 50 million are paid subscribers.
"We are educating people to accept that content has a value and we are making progress," Andy Ng, Tencent Music Entertainment Group Vice President, told IFPI. "Young people are in particular more willing to pay for a music service; they are happy to spend a few dollars supporting the artists they truly admire."
Shifting Chinese music consumers away from piracy has been a tough task, as it is baked into the modern culture in China—which is one of the reasons the world's most populous nation still has a comparatively small music market. In the late 1980s and early 1990s when the mainland pop music scene was born, there were no labels to speak of and bootleg tapes ruled the scene. Then came the MP3—music as digital files—revolution and China embraced the change faster and more thoroughly than anywhere else on the planet.
But against the odds two major homegrown labels emerged: Modern Sky, who manage the likes of Edison Chen, a Hong Kong actor, musician and entrepreneur, and Maybe Mars, who have classic Beijing bands like indie rock trio Carsick Cars on their roster. The exploding popularity of streaming has been both a blessing and a curse for Chinese record labels.
"Streaming affected many parts of Maybe Mars," says Yang Haisong, the label's CEO and the frontman of the highly influential Chinese post-punk band P.K.14, formed in 1997. "The good part is that the bands and musicians can easily gain more fans and audiences, but the bad part is we have to work much harder on physical sales."
Labels have instead turned to tours and festival shows to promote the acts and gain an audience, which in turn leads young people to seek the bands out via streaming. And those live performances have themselves become a major revenue source.
"Most of the revenue generated by any artist in China is from live performances," says Dave Luce, founder of SHFT, a Shanghai-based music promotion company focused on hip-hop.
There were over 200 domestic pop music festivals across China in 2016. One of the biggest and most longstanding is Modern Sky's Strawberry Festival, which annually brings a mix of high profile Western and Chinese rock and electronic music acts to 12 cities across the nation. With ticket prices of RMB 599 ($91) and up, it is easy to understand how it is making money.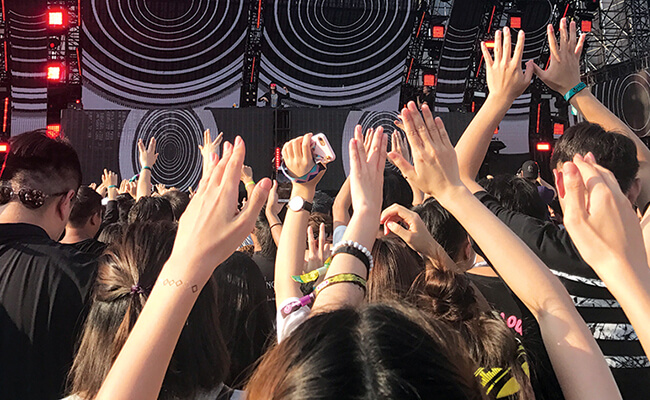 Support with Strings Attached
A special feature of the mainland China music scene is that the government has a substantial stake in it—not for money, but for soft power. The 13th Five Year Plan, with goals set for 2020, vows to make cultural exports a pillar of the national economy. But it is tough to say what exactly that means for Chinese music.
"I'm all for it in principle," says Jonathan Campbell, who chronicled the birth of Chinese popular music in the book Red Rock: The Long, Strange March of Chinese Rock & Roll, citing the positive effects of government funding for the arts in Western nations such as Canada. For China, however, he thinks support will be carefully limited to certain acts. "In recent years, the direction that things are taking generally in China signals a shift far from anything remotely oppositional or non-mainstream."
In such an atmosphere, individual artists must be cautious. The State Administration of Press, Publication, Radio, Film and Television (SARFT) studies the lyrics of songs and approves every record before it receives distribution rights. Those who toe the line make it on state-sanctioned talent shows and other televised performances, and so get an undeniable edge from the visibility. A band that causes too much controversy can see their distribution rights lost and performance permits revoked.
"We've never had a problem with [censorship]," says Luce, "but the artists that I'm working with are careful about what they're saying. Nobody's rapping about politics or drug use."
What happens far more often than lyric censorship is rejected permits and cancellations of live shows, especially large-scale festivals. Campbell points out this has been occurring with increased frequency over the last five years. The Strawberry Festival was pushed out of its original home in Beijing, while Phoenix Burn, China's answer to Burning Man, was canceled outright in 2016—only a week in advance.
Rejection can cut both ways, however, especially in youth-oriented popular music. "I don't like Maybe Mars to be part of any government plan," Yang says firmly. "To my understanding, the policy of the underground scene is that if you stay independent longer, you'll stay stronger to face the mainstream scene in the future."
Poised for a Breakthrough
For independent acts that may not adhere to the party line enough to receive the government support reserved for the likes of TF Boys, international markets are a natural alternative. Modern Sky, for instance, has been putting on a Modern Sky Festival in Central Park in New York City since 2014. It has recently begun collaborating with other major festivals across the US and Europe.
"A main goal with overseas festivals from the beginning was to provide a larger platform for our bands to reach Western music fans," says Michael LoJudice, the head of Modern Sky's US operation. "I do feel, at our end, that a few artists are being provided with the right resources to reach a wider audience."
At the same time, Western labels are beginning to sign Chinese acts and market them overseas. The most notable example is 88rising, which was founded in 2015 by Sean Miyashiro, co-founder of Vice Media's electronic music platform Thump, with the specific goal of giving Asian hip-hop artists a Western platform. The label is behind Indonesian viral rap sensation Rich Chigga, and more recently has cultivated a healthy online following for its rap act, Higher Brothers.
The ascent is still gradual, however: Miyashiro asserts that he's putting together a US tour for Higher Brothers, but for the moment, they've never played outside of China.
Campbell agrees that the crossover potential lies in the indie/underground sector. "They are playing music with clear roots outside China," he says. "They are eager to engage with artists and audiences in the West."
The differences between TF Boys and more underground bands reflects this. While TF Boys enjoy mainstream mega-stardom by embodying uniquely Chinese values and pandering to the state, more underground musicians are making the effort to gain an overseas following. If anyone can achieve both domestic and international fame, it may be an act like Higher Brothers—their lyrics can be anti-establishment, but in a tongue-in-cheek manner, such as in tracks like "Made in China," in which they simultaneously mock and honor their heritage.
"Higher Brothers is representing China, and we want to continue putting Asia on the map," MasiWei of Higher Brothers told Paper magazine. "Our focus is to make music for the world."
Enjoying what you're reading?
Sign up to our monthly newsletter to get more China insights delivered to your inbox.