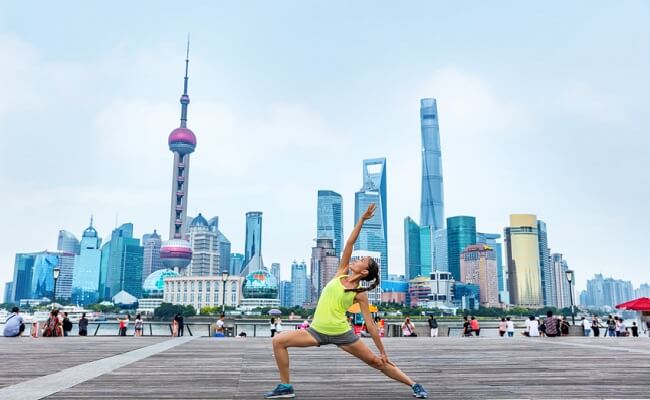 Chinese consumers are ready to pay for health and wellness, but have the fitness clubs figured out their best offer?
Running has become a hot trend among young Chinese: a runner should at least do a 2km jog for morning exercise, maybe a 5km Color Run for a meet-up with the running community or even some consistent training for a serious full marathon, which requires both physical and spiritual strength. In China today, the typical healthy and aspirational lifestyle of the new middle class is incomplete without being or trying to be sporty.
The wish to be healthier and the benefits that can come of it are boosting the growth of fitness gyms and sporting events. In the past couple of years, over 37,000 fitness clubs mushroomed in China; in 2016 alone, 2.8 million people participated in 328 marathons, the latter number now being 14 times the level of five years ago, according to the 2016–2017 China Fitness Industry White Paper and the Chinese Athletic Association (CAA).
The primary driving force behind this is of course the willingness to improving health and physical fitness, followed by the mindset of sharing or "showing off" athletic achievements, which 60% of sports enthusiasts say they have. "For a lot of [gym goers], it is like I go to gym and wear the latest Adidas outfit and take some selfies to share with my friends," Andrew Atkinson, managing director of China Skinny, told CKGSB Knowledge. "What actually are Chinese motivations in working out? It's like a kind of fashion and beauty in their lives".
Indeed, sportswear brands that can adopt China's fashion taste and position themselves right are doing well. "Nike and Adidas hold the top spots in China … and they are not just sportswear brands; by all accounts they are fashion brands in China and they are saying as much," added Atkinson. In 2016 Adidas's sales in greater China rose 28%—the fastest pace of any region—and Nike reported "double-digit" year-on-year sales growth in China in its fiscal Q4 2017.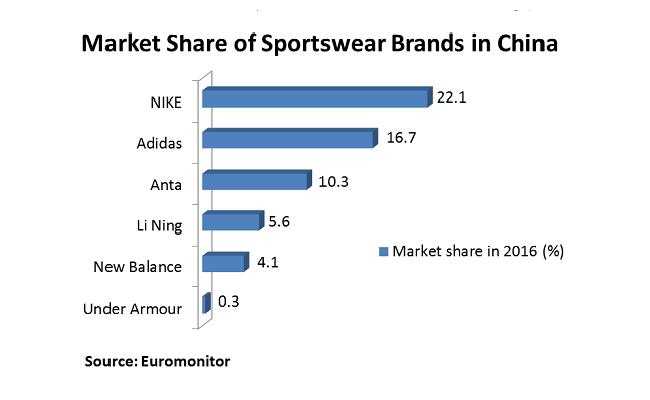 Another successful brand is Under Armour. On its Q3 earnings call, management said the company is on track to more than double its 2015 sales in China of $80 million. The company has been promoting training and basketball gear in China, and its success seems largely to be driven by its brand ambassador, the basketball star Steph Curry, and the brand image it has built in consumer's mind—on Hupu, China's biggest sports portal, many describe Under Armour as having "premium quality and no discounts in price"—to Chinese consumers, that is a symbol of high-end goods, consistency and a lack of desperation for sales.
The company has positioned itself differently as an upper and sheer sportswear brand, and although it has not gained a big portion on sportswear market, it is still many sports professionals and personal trainers' first choice, and that says something—if you are really serious about fitness, you wear Under Armour.
On fitness clubs
A fitness industry report issued by IBISWorld shows that from 2012 to 2017, the annualized growth rate of the fitness and gym industry was 12%, and the industry is set to generate $6.31 billion in 2017. Such a rising market is filled with different players: high-end luxurious clubs like Will's Fitness and WIDE-TERA Wellness, whose annual membership range between RMB 6,000 to 10,000, and mid-level chain gyms like Hosa Fitness and Anytime Fitness, costing RMB 2,000 and above. In addition, there are online-to-offline (O2O) companies such as LEOAO and SunPig coming to stir the water by offering monthly subscriptions at RMB 99.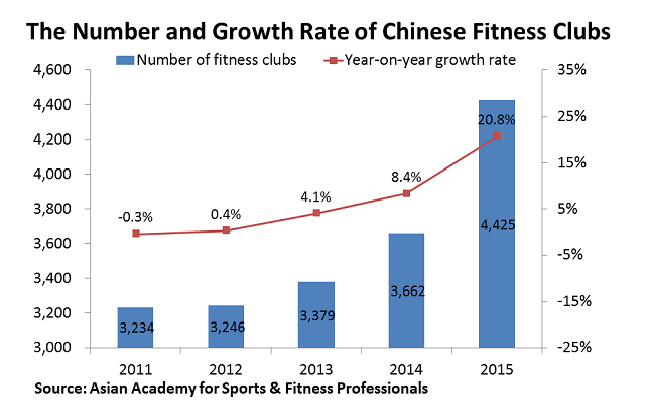 At the 2017 Chinese Sports Industry Carnival, Will's founder and CEO Will Wang insisted that in the fitness industry, aiming for the high end and maintaining a strong cash flow is the only way to be profitable. "Making money from the poor is very hard; you need to target the rich—in the future, over 80% of the market will fall into the high end", he said. In December last year, Wang decided to sell most of his shares to Guirenniao, a Shanghai stock exchange-listed sportswear company, to capitalize on Will's growth and accelerate its expansion.
Will's Fitness clubs are located in downtown offices and shopping malls such as Shanghai Jinmao Tower and Super Brand Mall, and it targets "gold collar" workers who have limited time and so require efficiency and convenience. Jake Yu, a membership advisor of Will's, told CKGSB Knowledge that at the Beijing Oriental Plaza gym, the walk-in customers are all office people nearby and quite a lot of them choose to purchase membership after seeing Will's facilities and environment.
Small gyms also understand the importance of location; for example, SunPig facilities are close to universities or in residential neighborhoods. Atkinson, who goes to the gym regularly, agrees that location is important: "[The one I go to is] more convenient for me—it's very close to home, very close to work. People realize that if a gym is far away, they are not going to use it."
O2O gym platforms that connect customers to local gyms all have mobile apps on which users can check courses, reserve personal trainers and pay their monthly subscription, with their core competence being convenience and reasonable prices. But most of them don't have good word-of-month promotion as the physical stores operate separately from the online platform, and by its very nature it is very hard to ensure a good experience, with some gyms receiving complaints for getting too crowded during peak times.
An open secret in the fitness business is that most membership sales come from impulse purchases—the members won't go to the gym as they planned, and most gyms only sell membership on a yearly basis, in the process selling more than their capacity. Yu explains that in China today, being fit is not a part of common people's everyday life, and that's why there's a membership department—they are there to "brainwash" consumers to get fit, and getting fit is a longer commitment.
Atkinson adds the western subscription method, where fees are charged to a credit card weekly, is not here yet—for all the lessons and training, people are always paying money up-front. For those who already have membership, the gym's management will promote personal training courses to further make a profit. Again, Yu says, "a lot of those will end fruitlessly", as a quite significant portion of personal trainers are not competent, and if trainees don't see improvements, they lose interest and persistence.
Outside the big gyms, specialized sports studios without treadmills and cycling equipment are prevailing. Usually experience-based, they give specific training in boxing or yoga. Instead of simply getting fit, participants also learn professional techniques, and may even find a community they enjoy being with, and thus less likely to give up training.
The other category is fitness apps, and compared to physical stores it has a much bigger user base, ranging from young students to elderly people. The top fitness app in China is Keep. By providing free fitness training videos and shareable work out records, Keep had accumulated 60 million users by October 2016, and by August 2017 the number reached 100 million, according to an internal letter written by Keep CEO Wang Ning.
The app has now added an e-commerce function to sell sports gear, but at this stage it hasn't been able to make ends meet. April Lin, a postgraduate student in Beijing who follows Keep's training course three times a week, responded "not necessary" when asked if she considered buying new gear on Keep, although she speaks highly of the app, describing it as "awesome".
"Fitness apps are good for people who doesn't have much time or travel a lot, so they can't go to physical gyms regularly," says Yu. Apps are also a supplement to physical gyms, and many see them as preparing people for offline gyms in the long run.
New players such as LEAOA and Keep already made a dent in this industry, but no one knows how sustainable or profitable they are. What does the future hold for fitness clubs? Will it be like Wang's prediction—80% of the market falling into the high end, or will the more specialized studios be dominant?
The fitness business is still very young and full of potential and opportunity in China—it would be too bold to jump to a conclusion at this stage. However, one thing worth noting is that on September 4, Guirenniao called a halt to buying Will's because of the price and the traditional fitness clubs' business model: selling membership and personal trainer courses, the firm believes, is just too simple and not sustainable. And that is a signal of future trends.