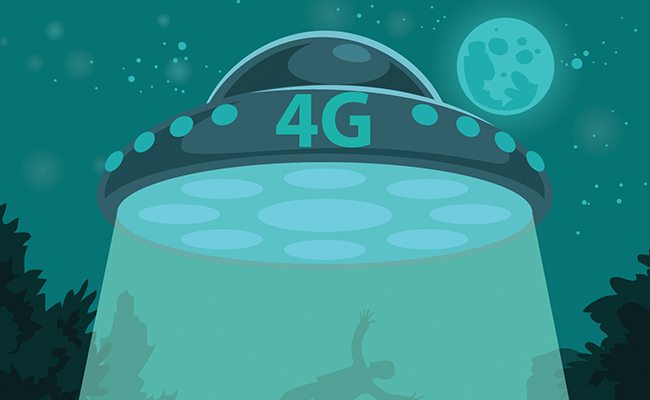 China is charting the course for 4G but did operators learn from their problems with 3G?
There is never a dull moment for Chinese smartphone users. More than 330 million users have access to the greatest volume of free internet content on the planet. Whether thumbing through news, watching a soccer match or simply buying clothes or groceries, Chinese are burning mobile internet data as fast as their third-generation (3G) connections allow. But that connection often isn't quite fast enough.
"I can't always stream video with my service. I use Wifi connections for that," says Yang Liwei, an unemployed 28-year old from Harbin, Heilongjiang Province, who uses China Mobile's 3G plan. "Of course, I want to go faster."
But Yang isn't completely willing to double the price of his service plan, which runs about RMB 80 per month, and he doesn't want to buy a more expensive phone either. He would have to do both if he wants to jump from 3G to 4G, which could be commercially available by the end of the year. Since 2011, China Mobile has been erecting 4G towers in major cities across the country. These towers—an expected 200,000 of them by the end of 2013—pull large amounts of data from phones and other mobile devices at the same rate they feed the data into the phones. This allows users to not only watch uninterrupted videos in the palm of their hands, but also upload content to the web at the same pace. The technology is generally known as 4G or 4G LTE, which stands for "fourth-generation long-term evolution".
The government has given no official indication of when it will hand out licenses for 4G service. But as one of China's most centrally controlled state-owned enterprises, China Mobile's rollout of homegrown 4G technology is a strong indication of a soon-to-come commercial launch. The seemingly imminent approach of 4G begs the question: will it be an improvement over the torturous rollout of 3G in China?
China Mobile needs to get 4G right. The company, with 720 million subscribers, the biggest mobile provider in the world by that measure, botched its deployment of 3G by most accounts. The state's other two telecoms, China Unicom and China Telecom, with 246 million and 165 million subscribers respectively, are most certainly preparing to launch similar services. China Telecom wtih 165 million subscribers, has already pointed to a foreign-developed standard as its choice for 4G, which would allow for a deliberately speedy rollout.
"They way that I look at it is that [China Mobile needs] the 4G technology because for them this is their 3G, this is their mobile data product which they can then use to compete against China Unicom and China Telecom," says Bertram Lai, head of China research for CIMB, a Malaysia-based investment bank.
Analysts told CKGSB Magazine that service plans for 4G will cost roughly double that of 3G. The networks are valuable in developed nations because of the volume of data that they sell. China Mobile will need to translate the costly deployment into profits if it wants to be the national champion of the 4G generation.
From a logistical standpoint, a 4G launch in China is already showing improvement over that of 3G. China Mobile struggled to provide devices for its 3G network four years ago, phone manufacturers look prepared this time around to meet at least most of the initial demand.
How many of China's approximately 1 billion mobile users will want to pay for 4G-capable handsets is a different question. Much of that market is still price sensitive even for 3G services, a trait that does not bode well for the more expensive 4G.
Adding to the complexity of the 4G rollout is competition between China's two smaller mobile operators and China Mobile. Depending on when the country's telecommunications regulator issues licenses, the fight for subscribers could range from China Mobile taking the entire market to all-out war with China Telecom and China Unicom. Analysts say they expect the Ministry of Industry and Internet Technology (MIIT) to wait until all parties are ready before issuing licenses for the service.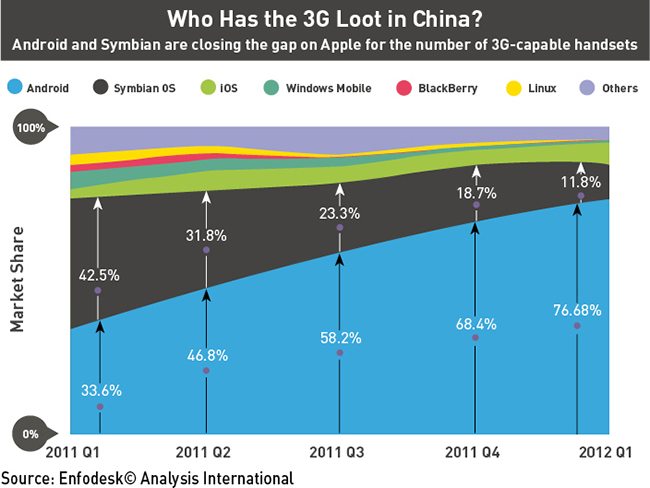 Technology Blues
The MIIT, the main telecom regulator, has been cagey on divulging details surrounding the licenses that will allow the operators to launch 4G, and with good reason.
China Mobile's 3G launch has been unsuccessful on a number of levels, leading the ministry to a more cautious approach to 4G.
China Mobile was expected to launch 3G services in 2006. However, it took three more years for the company to put its homegrown technology in working order. The other mobile operators waited patiently for the mega-carrier to prepare the service network, namely erecting towers and ironing out service coverage issues, and only then did MIIT issue licenses.
Since then, all three companies have done poorly at making money off of 3G. Average revenue per user, a baseline metric for calculating the success of mobile products, is actually falling at all three operators, according to a note from Barclays. In March, per-user revenues were more than 20% lower than they were a year earlier. In this sense, the 3G market in China is still in infancy.
MIIT doesn't want a repeat of 3G. The ministry will most likely hold onto licenses until it's sure that the operators can turn a profit on 4G.
Another technology problem added to a long list of 3G ailments for China Mobile was the supply and selection of phones. Users needed to buy phones made specifi cally for China Mobile's 3G and couldn't choose from the wide variety of brands and models that are compatible with global 3G standards.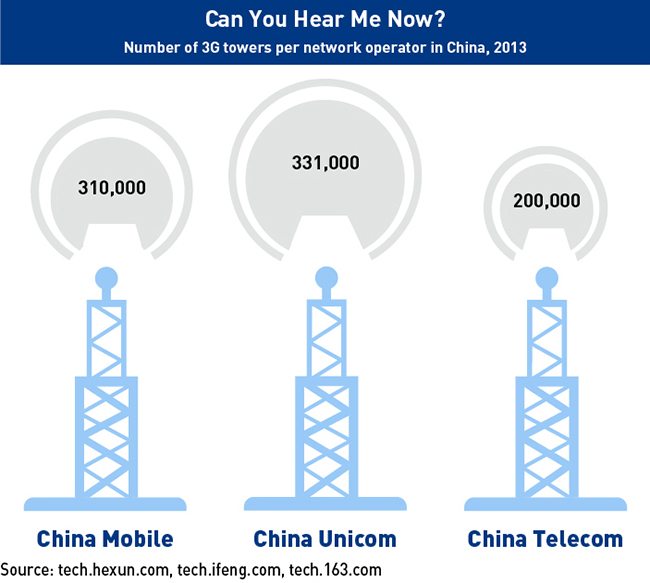 China Mobile 4.0
China Mobile and its technology are on a more positive trajectory for the 4G rollout. The standard for 4G will look much more similar to those already deployed globally, a factor that should make the domestic launch easier.
The number of global 4G users is expected to more than double between 2013 and 2014, according to a recent report from technology intelligence firm Juniper Research. Next year, there could be as many as 220 million people using the service, up from 105 million this year.
The first 4G networks were launched in Norway and Sweden in late 2009, according to OpenSignal, an organization that compiles information on mobile networks. Since then, 62 countries have brought the technology online in some form, although it is often limited to urban areas or even specific districts within cities.
In December 2010, Japan was the first East Asian market to launch 4G, but Korea, which launched the following year, has one of the world's highest 4G penetration rates at about 17%.
A notable characteristic of the global launch is that most operators use FDDLTE, a globally developed technology for 4G services. Although several other standards exist, FDD-LTE thus far has been the clear winner in the global rollout.
With an estimated 440 million 4G users by 2017, according to tech intelligence firm IHS iSuppli, China Mobile's launch will greatly offset the dominance of FDDLTE.
TD-LTE, a standard developed primarily by China, should perform somewhat similarly to FDD-LTE, analysts say. However, China holds the intellectual property rights to many of the patents on- the technology, meaning Chinese companies such as Huawei and ZTE will earn royalties on it should other countries and regions choose to adopt it.
The equipment used in TD-LTE is 70% the same as FDD-LTE, according to Elinor Leung, Head of Telecom and Internet Research at CLSA investment bank.
In contrast to the poor performing TD-SCDMA, on which China Mobile launched its 3G services, TD-LTE was developed by several global players with China leading the way. The 3G standard was more an exclusively domestic effort.
"TD-LTE is a global technology. It's not fully tested but basically the evolution is the same as FDD—meaning it works," Leung says. "But it still needs to be tested to see if it can handle so many people using the network at the same time."
The network will need that capacity because demand for the product is "humongous", Leung says, even with the product priced at a premium. Contrary to pricing trends in other markets, where new products start at a high price and gradually fall, Chinese companies will price 4G low in order to pick up initial subscribers, Leung said. From there the service cost will climb.
As with Yang Liwei, the Harbin resident, it's unclear how many Chinese will buy into services at double the cost of what they already have. Chinese want more mobile data, yet not all are willing to pay for it or the new phones they'll need to use 4G. The market will be relevant only to city dwellers at fi rst, according to Leung.
Strong Signal
On the device side, China's switch to 4G should be a vast improvement over 3G. The 4G system will be much more flexible with phones due to its more global nature, Leung at CLSA says. All 4G phones will be usable on the TD-LTE standard, she says.
The government's momentous push for the new technology, far outshining its support for 3G, will also mean more incentives for phone makers to produce compatible phones, says James Yan, a Senior Market Analyst at US-based global market intelligence firm IDC.
"Because [the government] will support this, there are benefits for phone vendors. They'll be willing to take part in China Mobile's TD-LTE," Yan says. "I'm pretty optimistic about this."
One phone maker held high hopes for a possible 4G launch this year and its impact on the smartphone market. In January, Jeffery Yang, Huawei's Vice-President and Chief Marketing Officer for the China region told CKGSB Magazine that the issuing of 4G licenses would be the biggest driver for China's smartphone market this year.
Analysts have predicted phone sales to be dominated by lower-priced products in smaller cities as a new generation of Chinese enters the market. But a 4G launch could bring that attention back to the cities, where the vast majority of the high-speed data market is thought to exist.
Political Network
Considerable political intrigue is tied into the 4G launch. Since a major overhaul to China's telecom sector in 2008, the thennewly formed MIIT has maintained a proconsumer mantra that has sought to reduce monopoly in the industry, according to CIMB's Lai. Issuing licenses sooner rather than later would only serve to give China Mobile a significant head start, and thus a hold onto the vast majority of subscribers.
The National Development and Reform Commission, a ministry-level body under China's State Council, has been pushing for the quickest 4G rollout possible, Lai says, as has China Mobile. The company is composed of the top managers from an earlier rendition of the MIIT, which broke off to form the mobile company in the late 1990s. Its political sway is considerable.
It's also the carrier of the homegrown technologies TD-SCDMA and TD-LTE, which the ministry instructed it to use. The success of these domestic technologies— which are seen as representations of China's technical prowess—is a top priority of the ministry's.
China Telecom is a similar concoction of regulators-turned-businesspeople, only at a less influential level, according to Lai. China Unicom has little political influence. The two smaller companies are hard at work trying to convince the regulator to delay 4G so they can continue monetizing an immature 3G market.
All three mobile companies' agendas considered, the MIIT will likely begin issuing licenses toward the end of the year when the smaller companies are better prepared.
Mobile Cold War
China Telecom Chief Executive Wang Xiaochu polarized China's mobile indus- try in late March when he hinted that the company would deploy its 4G services on a Western-developed standard instead of the China-developed standard. The announcement shouldn't come as much of a surprise. Both China Telecom and China Unicom have used foreign standards to launch 3G over the past four years with relative ease.
The two smaller operators have essentially caught up with China Mobile despite the latter having a years-long head start in preparing the network. In March, China Mobile had about 104 million 3G users. China Unicom and China Telecom had about 83 million and 74 million, respectively.
At the earnings meeting where Wang disclosed the tentative plans, media sources also reported that he attempted to quell worries that the company, by far the smallest of the three giants, would lag behind China Mobile. Investors have worried that China Mobile could scoop up the majority of the early 4G market because it is far ahead in installing service towers.
Wang told investors and reporters that the rollout on the foreign-developed standard FDD would be quick and cheap. The claim is legitimate. FDD-LTE is a tested and largely proven standard. Rollouts in markets such as the US, Japan and Korea will add to the efficiency but reduce the price of a rollout in China.
Following the Money
Just as important as which standard will be used is where it will be used. Wang at China Telecom specified that his company would target only customers in urban centers, not across the eastern seaboard like China Mobile. The more focused launch could pick up customers where they exist and cut back on unnecessary infrastructure in places where people are unlikely to pay for pricey data services, analysts said.
This caveat could be the big difference between China Mobile and China Telecom in the cost of 4G. In fact, China Mobile's political status as a national champion, and the correlating government directives to reach as many people as possible, could hurt it.
"The way China Telecom will lower their 4G capital expenditure is by lowering the number of base stations and just by focusing on where they think the customers are, instead of having this mandate to launch it nationwide," says CIMB's Lai, referring to the political pressure on China Mobile to reach as many potential customers as possible.
Capital expenditure on 4G has been a major worry for investors in the two firms early this year. A report from Citibank said the companies will struggle to get returns on the investments in the short and medium terms.
China Unicom, which has most successfully monetized 3G deployment in China, has stated its preference for the more globally common FDD standard. In a report, Barclays toned down investor concerns over an expensive 4G network for China Unicom.
The firm, like China Telecom, will focus on ʻhot spots', namely cities, for the service, while only allocating one-eighth of its capital expenditure on 4G in 2013, a far lower ratio than at the other two carriers.
Going Global
Although China's mobile market is the biggest and one of the fastest growing in the world, TD-LTE, developers like Huawei and ZTE, China's biggest telecommunication equipment makers, are looking beyond the Middle Kingdom. As mobile services develop beyond 4G, the country's leadership certainly hopes to position China's economy as a net exporter of telecommunications technology—an ambition that may be within grasp.
The FDD frequency spectrum is increasingly crowded, and as more countries and carriers launch 4G, space at the FDD wavelength will be limited, leading to what many say would be a greater adoption of TD-LTE, which uses lower frequencies.
Some international operators have already deployed the Chinese technology. In the Indian state of Kerala, Airtel launched TD-LTE in partnership with ZTE. According to reports from Digimedia, there is yet more interest in the standard in India.
In addition, some 59 other operators have already shown interest in the Chinese technology this year, according to an Ovum market research report. This could mean a buy up of the Chinese-developed version.
"Absolutely there is interest in [TDLTE] outside of China," says Daryl Schoolar, Principal Analyst at Ovum. Sweden-based Ericsson, one of the world's biggest telecommunications companies, has expressed interest in buying more networks that use both TD and FDD as space on the FDD frequency grows scarce, he says.
There's more to China's 4G rollout than success at home. The world's telecom players are no doubt waiting to see how a TD-LTE network performs in China. If China Mobile can make the standard work, the country can expect a greater global interest in the technology.
It may be late in the game for China and TD-LTE to become dominant players in the global 4G rollout. But if Samsung's hopes of going live with ʻ5G' by 2020 are realized, as South Korea's state media reports, China may be able to perfect its positioning as one of the most influential actors on the global telecom stage in time for the fifth-generation. Android and Symbian are closing the gap on Apple for the number of 3G-capable handsets
Enjoying what you're reading?
Sign up to our monthly newsletter to get more China insights delivered to your inbox.