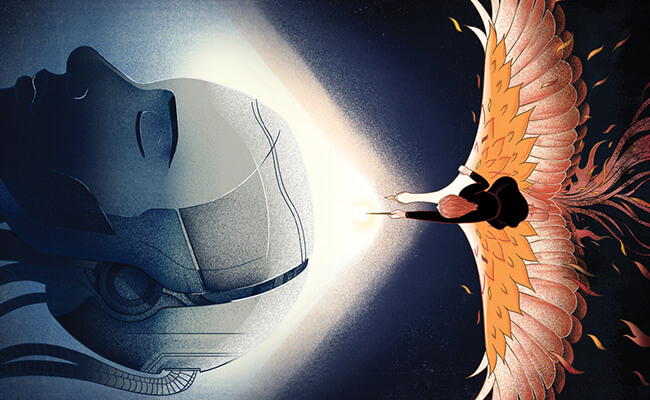 The United States is the undisputed leader in developing artificial intelligence technologies, but China is a very important second. While not on the cutting edge of research, Chinese companies are implementing AI in ways that will change the world
Anyone who has ever tried to transfer large sums of money from one account to another in China knows how frustrating the experience can be. The standard procedure is to go to the bank in person, queue up, present your ID card, fill out lots of paperwork and then, depending on the length of the queue, wait an hour or more for it to be processed.
Not anymore, thanks to AI (artificial intelligence). China Merchants Bank, a major bank in China, recently released a new version of their mobile app that allows customers to transfer large sums from anywhere and to have transactions securely verified by face scan using artificial intelligence. The whole process takes about a minute.
"The app is quite smart," says Lily Zhao, a busy woman in her early 30s in Shanghai who uses the technology. "It asks to scan your face if you're not using your own phone or if it suspects anything unusual—even if you are transferring a small amount of money."
The company that developed the AI-based facial recognition used by the bank's app is Chinese. Yitu Technology was founded in 2012, received angel investment the next year from ZhenFund, a Chinese venture capital firm, and later secured additional funding from California venture capital giant Sequoia Capital, among others. In addition to banking security, Yitu provides facial recognition capabilities to Chinese customs to help identify known smugglers, as well as technology to manage city traffic.
Silicon Valley may hog the AI limelight, but startups like Yitu, along with tech giants like search company Baidu, are making China a strong competitor. "China is pioneering in several AI sectors such as voice and face recognition and the technologies are well incorporated into real-world uses," said Lu Yanxia, Research Manager for China's Enterprise System and Software Research at IDC, a market intelligence firm. Her focus is big data and artificial intelligence.
According to a McKinsey Global Institute research report titled Artificial Intelligence: Implications for China published in April, "China is one of the leading global hubs of AI development." China's advantages include its vast population and a diverse industry mix that has the potential to generate huge volumes of the data needed to feed AI systems. That population also provides an enormous market for AI-related products.
Tech giants like Baidu and Tencent are pouring billions of dollars into AI research and China has a slew of startups that are attracting funding from both local and international sources. From 2015 to 2016, 226 AI companies obtained investment capital at an average amount of RMB 40 million ($5.9 million), according to a research report from 36Kr, an internet media company focused on startups.
MOZI Health, a Shanghai-based company founded last year, is among them. The company uses AI to assist in drug discovery. "It is kind of like the Wild West," says Kent Zaitlik, the 29-year-old founder and CEO of MOZI Health. "We have the opportunity to become a number-one company here in China."
It is not just private money that is feeding the boom. "We also noticed strong support from the government," says Lu. The Chinese government has vowed to invest $15 billion into the AI industry by 2018. It hopes to nurture world-class companies to compete with the likes of Google and IBM in building intelligent machines. It also singled out the AI industry as a key area of development in a report released during the National People's Congress last March.
Even foreign companies are becoming involved. Volkswagen, the German automaker, announced a $180 million investment into Chinese AI firm Mobvoi in April. The tie-up will focus on implementing Mobvoi's AI technology, such as its voice recognition feature and a smart rearview mirror, to improve the driver experience.
Yet, despite all the positive developments, the AI sector in China faces huge hurdles, especially in terms of talent. And while some areas are surging ahead, others like self-driving cars lag well behind the market leaders. Some analysts also fear that, with the amount of money being poured in, a bubble could be growing.
Natural Advantages for AI in China
The term "artificial intelligence" can conjure up frightening images of a world where machines lord over their human servants. Think of HAL, the homicidal robot in 2001: A Space Odyssey, the works of Isaac Asimov or the apocalyptic Skynet system in the Terminator films. Incidents such as the triumph of Google's AlphaGo over Ke Jie, the world champion of Go, China's ancient abstract strategy game, in a three-match playoff in China in May hardly allay such fears.
Yet, visions of such advanced self-sustaining robots remain firmly embedded in popular sci-fi. Where we are today is more about intelligence amplification. Instead of autonomous machines functioning in a manner detached from humanity, intelligence amplification is humanity leveraging computing power to enhance its own abilities—such as to make faster, more secure bank transfers or assisting in medical diagnoses.
This is where technology is becoming dramatically transformative for our world. Underpinning these developments is the idea of machine learning. Simply put, a modern computer program has the ability to find patterns in data and then, as it receives more data, gradually become better at that pattern recognition. That is, it can "learn" on its own through a feedback loop that assesses how humans react to the information it presents.
This process is how AlphaGo became the greatest Go champion ever, and how Yitu continues to improve at recognizing faces. Such machine learning requires three elements: advanced algorithms, powerful hardware capable of processing huge amounts of data quickly and the raw data itself. In the world of cutting-edge AI development, the first two are easy to access. What is more difficult is obtaining the raw data.
"It's not who has the best algorithm that wins. It's who has the most data," runs an AI science truism often attributed to Andrew Ng, one of the world's leading scientists in the field. Ng founded the Google Brain project and led Baidu's AI team as Chief Scientist from 2014 to March 2017.
With about 731 million internet users, more than half the total population of the country, China generates more data than most other countries. This data is collected from online content and browsing, interactions with apps, digital purchases, sound libraries and other digital interactions. Sometimes it even comes directly from the Chinese government.
"China's security department offered some Chinese AI companies [access] to a database of 1.6 million faces," said Jiang Wei, a venture partner with ZhenFund. The company is a seed fund founded in 2012 by Bob Xu Xiaoping and Victor Wang Qiang, co-founders of the language training company New Oriental, in collaboration with Sequoia Capital China. The focus of ZhenFund is technology, media and telecommunications (TMT).
Apart from any provision of data by the government, Chinese people are generally less touchy about privacy issues. "Chinese attitudes on privacy are slightly different from the West," Jiang says. More Chinese are likely to accept a tradeoff concerning use of their personal information than in the West, as long as they get a convenient, functional app in return. Access to data helped facial recognition companies develop AI that can identify faces with low error rates, even under adverse weather conditions or with different garments.
Voice recognition technologies developed in China are among the most advanced in the world. MIT Technology Review ranked Baidu at No. 2 on its "50 Smartest Companies 2016" list because of work on speech recognition and conversational interfaces (think Apple's Siri or Amazon's Alexa). Baidu recently rolled out Deep Voice 2, which a Baidu spokesperson said "can learn the nuances of a person's voice with just half an hour of audio, and imitate them perfectly."
Access to voice data is a key reason behind the success. "Chinese tech giants have advantages in access to large voice databases," says Jiang. Baidu is able to collect raw voice data through its various apps and services. Tencent, a competitor also investing heavily in AI, has similar access to voice and other data via its WeChat app. WeChat users last year made an average of 100 million calls per day, all of which were recorded on WeChat's servers.
The strategy for such tech giants is to produce valuable, revenue-generating services, and the prospect of all that revenue has attracted big-ticket investment in R&D. According to the Baidu spokesperson, the search giant began investing in AI six years ago, "before any other Chinese company did." Baidu now employs 1,300 people working on AI, and has spent $2.9 billion on R&D over the past two and a half years, mostly on AI. Tencent has 50 AI scientists in its WeChat lab. Alibaba has also begun to develop its AI capabilities, but as a direct offering to customers. The company aims to create a cloud-based, AI-driven service that will help companies analyze their data.
"AI is definitely going to be a huge moneymaker for everyone," says Zaitlik. "It will create new industries, it will change current industries, it offers huge opportunity to save money, to cut costs, and also to vastly increase funds and cash flows for current operations."
Changing Lives
As amazing as this all is from the business perspective, AI is also making a much deeper impact by saving lives. In this field, the area of AI-assisted healthcare, China is also at the forefront although, admittedly, often because of sheer drastic necessity.
"Doctors in small and local Chinese hospitals often lack advanced skills," says Lei Ming, former co-founder of Baidu and Director of the Artificial Intelligence and Innovation Center at Peking University. "AI diagnosis assistance can hugely improve medical care quality… and relieve pressure in large hospitals."
Real tools are already available. In April, the Zhongshan Ophthalmic Centre in the southwestern city of Guangzhou began using the "CC-Cruiser," an AI-driven diagnostic program that spots a rare form of cataract. In just a few short months, CC-Cruiser diagnosed more than 300 cases—with 93% accuracy.
"We first targeted congenital cataracts as it's such a rare disease that many doctors may not have any experience with it," says Lin Haotian, leader of the AI team at the hospital. Professor Lin said the Zhongshan Ophthalmic Centre has accumulated more than 2,000 cases involving congenital cataracts to train the AI platform. The number, while seemingly small, actually represents the world's largest dataset concerning this disease, he says.
The Centre expects the AI platform will learn to diagnose more common eye diseases in half a year and be able to direct patients to appropriate doctors. As China's best ophthalmic center, Zhongshan's doctors serve thousands of patients every day. Professor Lin says the tool will save time by directing patients towards the best specialist for their cases, enabling more patients to be treated.
Another Chinese AI medical technology company is Airdoc, a Beijing-based startup focused on medical image analysis. The company worked with Shanghai Changzheng Hospital to implement Airdoc DR to screen for diabetic retinopathy, a diabetes complication that causes blindness. The technology was unveiled in May at the Microsoft Build 2017 developer conference.
"There are 100 million people with diabetes in China," said Wei Ruili, Director of Ophthalmology in Changzheng. In a video produced for the Microsoft conference, Dr. Wei said early diagnosis is critical because once patients display symptoms it may already be too late to save their vision.
According to Airdoc, there are only 36,000 ophthalmologists in China, or one for every 39,000 people. In the United States, there is roughly one for every 13,000 people. This shortage places a heavy burden on hospitals and doctors that specialize in the field and it makes the plight of patients seeking treatment difficult. To help speed up diagnosis, doctors from the hospital are helping to perfect the AI application.
"Experienced doctors tag [images of diseased tissue]. Tags agreed on as indicating the disease by most doctors are then used to train our AI platform," says Ray Zhang, CEO and co-founder of the company. Airdoc says the system's diagnostic capabilities in some areas, such as in retinopathy, are beginning to approach human professional-level accuracy. In addition to working on eye diseases, Airdoc is also cooperating with hospitals to develop AI for skin treatment and other areas.
Sticking Points
Although China has made some stunning developments, it still faces significant hurdles. "China is moving fast in integrating advanced technologies into [real] uses [for customers]," says Lei Ming, but it is still behind in terms of theory. "We lag behind big US corporations and academic institutions in terms of… leading edge research."
According to the same report from McKinsey Global Institute research, China and the US are the world leaders in AI development. In 2015 alone, they accounted for nearly 10,000 papers relating to AI published in academia journals. Yet, although China produces a large number of widely cited AI-related papers, the United States and United Kingdom are far more influential.
McKinsey Global Institute said China lacks the vibrant AI ecosystem of the US, which has produced substantially more AI startup companies than China. The US ecosystem is large, innovative and diverse and has advantages based on the well-established strengths of the Silicon Valley tech world, such as talent pools, incubators and funding.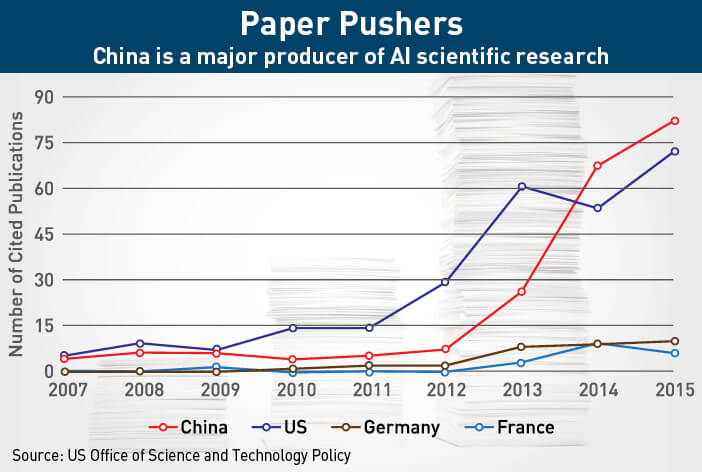 "They [China] are not up to par yet with Silicon Valley," says Zaitlik. "This is definitely changing, but I think China has a ways to go before they can actually reach that [level]."
That is why China's AI community reacted with shock when Andrew Ng stepped down as Chief Scientist of Baidu in March. In his resignation letter, Ng noted that while China is good at inventing and quickly shipping AI products, the US is very good at inventing new technologies. As such, his departure from China raised questions about how Chinese companies and institutions can become cutting edge.
One important AI frontier is autonomous cars, and China is visibly lagging in this field. While Waymo, the self-driving company of Google's parent, Alphabet, is already offering an early rider program to transport passengers in real traffic, Chinese counterparts are stalled at a far earlier stage.
In June 2016, Baidu CEO Robin Li disclosed a five-year goal for the mass production of driverless vehicles, but analysts wonder if the departure of Andrew Ng has disrupted plans, especially as Baidu is taking its self-driving research to the West. In March, Baidu announced it is expanding in Silicon Valley, with a new office in Sunnyvale, California, aimed at autonomous driving research.
Baidu is also trying to remedy the situation with "Project Apollo," launched in April, which opens up the company's driving technology to developers. The company spokesman said it is aimed at "creating a robust ecosystem, encouraging the AI community and partners to grow."
Didi Chuxing, the ride-hailing firm, is also moving West. After absorbing Uber's China business, Didi opened its own AI lab in Silicon Valley, creating a distinct unit to drive research for intelligent transportation. Didi has already poached a number of engineers for its new lab, including Charlie Miller (formerly of Uber's autonomous vehicle security unit) and Jia Zhaoyin, a senior software engineer at the Waymo unit of Alphabet.
Companies are also aggressively hiring in the US, with a preference shown for young Chinese talents who received higher education in the US. Baidu hired Lu Qi, a veteran Microsoft artificial intelligence specialist, to act as Chief Operating Officer earlier this year. Similarly, Tencent, developer of WeChat, hired Zhang Tong, a Stanford-trained researcher to lead a team of 250 researchers and engineers and has begun investing in AI companies based in the United States.
For Kent Zaitlik, whose MOZI Health startup lacks the resources of the cashed up technology giants, it is an uphill battle to find suitable talent. "It has been a huge problem and I still haven't found the people we need in China," says Zaitlik. "People here lack many of the essential skills required."
Too Hot?
Whether struggling for suitable talent or not, AI is still a top priority in China. Earlier this year, AI became a component in the Chinese national scientific and technological innovation strategy planned out until 2030.
The Chinese Association for Artificial Intelligence is also pushing for higher academic status for AI courses, such as machine learning and computer vision. Chinese academic institutions are competing for space against the far more accessible online American education hubs.
The wave of interest that this all has inspired has nurtured hundreds of AI startups in China. It does not seem to matter if these startups will ever deliver on their revenue promises—their valuations still seem to rise inevitably. In a survey published in late 2016 by AI Era, an online AI hub in China, 98 AI companies interviewed were together valued at RMB 101.4 billion ($15 billion), with an average valuation of roughly RMB 1 billion ($147 million). And yet only 32 of the companies reported revenue from the previous year, with an average of RMB 20 million ($2.9 million) each.
"I met someone in underwear manufacturing who claimed to be from an AI company," Kai-fu Lee said in a public speech in March, according to Xinhua News Agency. Lee, a former Microsoft and Google executive who is now Chief Executive Officer of Sinovation Ventures, said, "It's extremely abnormal. There are serious bubbles arising in artificial intelligence."
Although China is yet to experience high-profile AI busts, this could easily occur. "Investors expect too high a return on investments, and valuations of Chinese AI enterprises are much more expensive than those in the US," said Wang Xiaochuan, Chief Executive Officer of Chinese internet company Sogou, at the Boao Forum in March.
Kent Zaitlik of MOZI Health is more positive. Although AI in China is running hot right now, he expects the future to be a more slow-but-steady development. "The opportunities here are immense," he says. "And China has the hunger and need to develop technology such as this over the long term."
Enjoying what you're reading?
Sign up to our monthly newsletter to get more China insights delivered to your inbox.