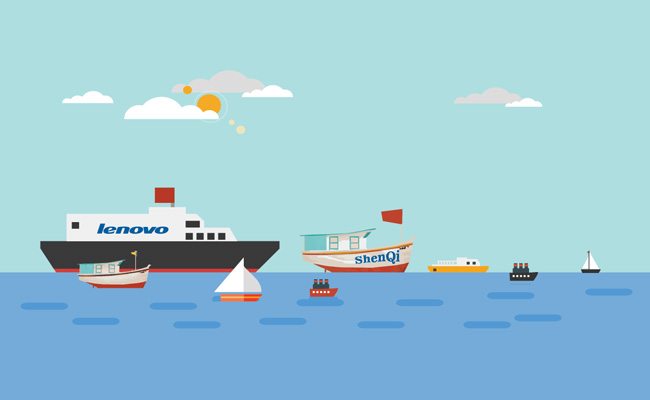 By keeping start-up ShenQi at arm's length, parent company Lenovo is hoping to get ahead of nimble rivals in the ultracompetitive Chinese smartphone market. An interview with CEO Chen Xudong.
If you are familiar with the early days of the Chinese internet, the name fm365 may ring a bell. Created with much fanfare by Lenovo and financially co-sponsored by AOL, the $20-million portal was once the hallmark of the rising PC maker's lofty ambitions to foray into the dotcom industry.
But unfortunately, the result was a damp squib, thanks to the dotcom bust and a dysfunctional partnership. In a couple of years, the joint venture was reduced to nothing but a token existence on the internet. And in late 2003, the website even lost its domain name briefly to a small offshore firm because the administrator forgot to renew the registration.
A decade later, Lenovo, already the world's biggest manufacturer of desktop computers and laptops, has quietly revived the URL fm365.com. What it links to this time is a company called ShenQi GongChang, a start-up that currently sells only three products—a wireless router, an air purifier and a 3D printer. However, the company is also building what it hopes to be one core of future smart appliances—a smartphone.
In more ways than one, ShenQi represents Lenovo's new and much more careful approach to the internet, which, since the failure of fm365 13 years ago, has transformed China's business landscape.
Today, people are connected more than ever by wireless networks that were non-existent 10 years ago; in 2014, 450 million smart handsets and tablets were shipped in China, more than seven times the number of PCs. The rise of internet-based and asset-light companies like Xiaomi are redefining hardware companies as design powerhouses that are also versatile in marketing, e-commerce and capital management.
Lenovo is also selling more smartphones than PCs, but the 30-year-old company is trailing behind local competitors who are either telecommunication experts or trendsetting marketers. Although the group is trying to right the ship by making itself a flatter and more innovative organization, the vessel is just too big to make quick turns. By releasing a speedboat—ShenQi, Lenovo is making a venture investment that it hopes will become a new pillar of the entire group.
The "Miraculous Workshop"
Still lacking an English name, ShenQi GongChang, the phonetic name of the six-month-old company, literally translates as "miraculous workshop". The official introduction on its website calls the company "a subsidiary of Lenovo", although Chen Xudong, CEO of ShenQi, says he prefers to call it "a start-up that Lenovo invested in". Despite a majority stake in ShenQi, Lenovo has no direct influence over the management of the company, Chen says, adding that the co-founders also chipped in their own savings as shareholders.
But as a spin-off, ShenQi remains tightly connected to Lenovo, at least for now. Chen, a former Senior Vice President at Lenovo in charge of its Asia business, had spent his entire 22-year career in the group until he was assigned the current job. He says he was picked because he had been one of the most active executives in Lenovo to embrace the internet—his 2.7 million Weibo (a very popular Chinese microblogging platform) followers being one proof.
"We're the beachhead that Lenovo deployed to seek a new China strategy," Chen says. "Lenovo had focused on globalization in the past decade since its acquisition of IBM, but the group needs to take a fresh look at China now."
According to Lenovo's recent financial reports, more than 63% of the group's revenue now comes from overseas markets. Although the domestic market remains the most profitable, the group has to look for growth outside its home turf. This reliance on foreign sales makes it hard for the company to concentrate more on China, which Chen believes requires a specially tailored approach, given how massive and unique the market is. So that's where ShenQi comes in—it's smaller, faster and more internet-savvy. Being kept at arm's length from the mother company helps. ShenQi stays away from the short-term pressures that impact those within Lenovo, thus giving it freedom to experiment and test the waters without worrying about short-term results.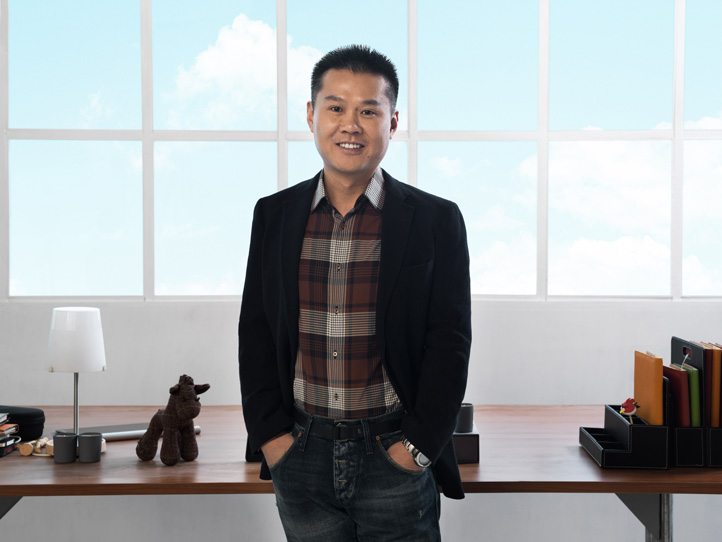 Red Sea Market
Although ShenQi has a limited product portfolio so far, the company is aiming to take on a much broader market. Chen says the smartphone will be released in three to four months and will not resemble anything that Lenovo makes.
"Lenovo has many product lines, but we're just focusing on one or two models a year," he says, hoping that the ShenQi phone will have "everything that an Android user would ever want".
And in terms of differentiation, Chen dismisses the argument that smartphones need to be unique to gain an upper hand in the market; instead, he says that the company focuses on creating top-notch performance and user experience.
However, ShenQi is not the only company that claims to do so, as a number of up-and-coming Chinese smartphone brands are already gearing for a bigger share of this uber competitive market.
Chen admits that he lacks experience as a start-up CEO, since his previous expertise was scaling an already successful business, not creating a new one. But he also stresses upon his advantages as a new player to the market, such as agility and flexibility.
"I always say that the barefoot are not daunted by those who wear shoes," Chen says, drawing from a Chinese idiom to say that compared with other more established companies, ShenQi has no burdens on the shoulders. For example, he believes that Xiaomi is facing pricing pressures while moving towards a more upscale market, and ShenQi can swoop in to win over consumers looking for similar quality but lower prices.
As for the initial sales target, Chen says that the team would be happy if they could ship more than a million units in the first year.
Smart Everything
In addition to smartphones, ShenQi is betting on smart home products, as the "internet of things" (IOT) wave gains traction in China. But the company is only trying to serve as a platform that connects, not makes, all the smart gadgets.
"No single company can manage to produce, or even invest in, everything a smart home has," Chen says. "We have to partner with other companies."
The three products ShenQi currently has on its website are either co-developed with or fully developed by other companies. The $349 entry-level 3D printer is made by XYZprinting, a start-up based in the southern city of Suzhou; the smart router is a product it made together with Baidu; the air purifier is from a German brand called Luftmed.
But ShenQi is building its own platform software that will manage and control smart products made by others. The app, Chen says, is already compatible with about 20 devices including some made by industry leaders such as Sonos and Broadlink. The goal is to open the platform to between 200 and 400 devices. Chen says the key to make the platform successful is to make the interface extremely friendly to users; for example, the app will automatically detect and connect with the devices as soon as they are turned on.
Chen says the platform will also be open to any devices using the same communication standards and protocols, including products made by competitors such as Haier and Xiaomi, who have similar smart home initiatives of their own. Xiaomi is already building an ecosystem with smart routers, TVs and air purifiers, while Haier, China's leading home appliances maker, has rolled out its smart home platform called U+.
The competition is surely going to be fierce in this sector, but Chen believes that the market is simply too big to miss. "In five years you probably wouldn't find a non-smart bulb or air conditioner on sale," he says.
Lenovo to ShenQi
ShenQi clearly has opportunities, but the real concern is whether it has the chops to survive in unfamiliar territory. Experienced in the traditional product development process and distribution channels, ShenQi has to abandon the old tactic of relying on intuition and do things in profoundly different ways.
The most straightforward change is to move distribution online to e-commerce platforms, which in essence is a test of the company's marketing power to drive web traffic. Consumers today are more product-oriented and more sensitive to social media influences. The key strategies adopted by companies like Xiaomi are to communicate thoroughly with consumers about the product and create a phenomenon through social networks and word-of-mouth.
Yet it is still unclear if ShenQi has thought this through—Chen says his team is so occupied with developing the smartphone that it hasn't decided whether to present it through a launch event once it's done. He also says that he's not interested in having a large in-house marketing team like his competitors usually do.
Holding Apple-style launch parties to garner attention is now common practice for Chinese smartphone makers; last week, Xiaomi CEO Lei Jun's mangled English greeting at his India launch event went viral on social media; earlier last month, LeTV CEO Jia Yueting's star-studded, Apple-bashing event attracted hundreds of journalists and tech bloggers
ShenQi's patience so far is a marked contrast to the high decibel launch of fm365 in 2000. It would be interesting to see if the company can come up with a radically different way of marketing. Chen says that although he might eventually step into the spotlight like other tech entrepreneurs, he wouldn't count on making ShenQi a success based on his personal image. "I don't think a company becomes successful because the entrepreneur is popular," he says. "It's the other way around."