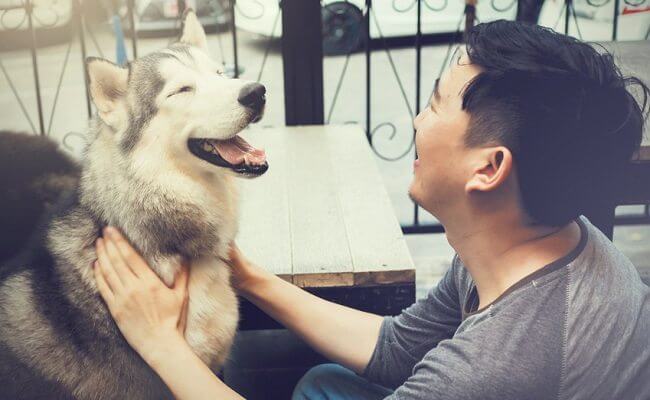 the United States and Japan. By 2015, the pet market size had reached RMB 97.8 billion, and it's estimated that from 2010 to 2020 the average annual growth rate will be 32.8%, accordingly to China Pet Industry and Consumer Behavior Report by Goumin.com, China's biggest online pet owner community.
The increase in pets has come about for a reason. Some say having a pet is a very middle class thing to do when people are better-off, and it shows the owner is stable and has spare time and money. But Tang argues that's not always the motivation.
"A lot of the middle class have pets, but there are many poor people who own cats and dogs, and also feed stray animals in their neighborhoods. It's more your love for those little ones that makes you a pet owner."
Owning a pet is on many young people's wish list once they become financially independent.
"I always like cats and dogs, so once I started working and making money myself, I bought Datou," Tang says.
In fact, 73.2% of pet owners fall into the 20–35-year-old category, meaning the vast majority of pet owners are not retired people who have spare time. Some young people also see pets as their kids—"Mother of one dog, two cats, DINK" is antique shop owner Chen Bei's one-line introduction on her Wechat.
Adding to the lure of pet ownership are social media KOLs (key opinion leaders) such as A Dog a Day (6.4 million followers) and Beijing Adoption Day. These post dog and cat photos and videos every day, getting thousands of likes and reposts as they do so. Thirty-year-old Tian Xin says he is influenced by A Dog a Day, and despite never having any dogs or cats during his childhood, he bought a Labrador Retriever after watching dog videos on Weibo.
For the beloved
The increasing number of pet owners has seen a concomitant rise in the pet food and products business. The Goumin survey shows that 99.8% of pet owners are willing to spend money on goods specifically for their furry friends, including food, training, vaccinations, neutering and going to the vet.
"When I bought Datou from the breeder, his diet was Royal Canin pet food, so I choose to not change that. Also, I was told this is one of the few safe pet food brands in China," says Tang. Royal Canin is one of the more high-quality pet food brands in China and the average price per kilogram is RMB 70.
The evolution in the pet food market represents pet owners' changing attitudes over the past few decades, says Ariel Wang, who works in the pet e-commerce industry. Before, dogs were fed with human food, carbohydrates, vegetables and meat with salt and different ingredients. But later people decided that dogs should eat dog food, not what their owners eat, and now more and more people understand that dogs and cats should have high-quality food that's good for their health.
When Datou was 6 months old, Tang also bought another cat so they would not be too bored when she is not home.
"The food and treats for the two cats costs around RMB 900 each month, and tinned wet food is really a big part of the spending," says Tang. But she is always into finding better cat food through different vendors, even though she knows that means more spending.
In Tang's year and a half raising cats, she has tried different kinds of dry food and treats to diversify her cats' diet, but one thing that has not changed—as with many other pet owners, she is willing to pay more for better 'natural food' and also has a strong resistance to 'commercial food'. The latter is said to have additives that affect a pet's lifespan if eaten long term. Although China doesn't have a very long history in terms of common families owning a pet, the criteria for pet food is getting more similar to in how many people prefer a 'natural', organic and balanced diet for themselves. 'Natural pet food' now has a 24% market share, and this is growing at a rate of 55% year-on-year, figures in the GfK Pet Ownership report show.
"I have visited some small pet food producers and their factory in Hebei, and it's… terrible," says Wang. "So I only recommend products from big companies to pet owners, for example Mars' Eukanuba and Nestles' PRO Plan."
In this segment, Chinese brands are nowhere near the market leaders: Mars has a 35.1% market share, followed by Nestle at 16.4%. The indications are that multinationals gained a first-mover advantage as well as consumer's trust. Even for human food, the scandals of tainted baby formula and expired chicken at KFC still cling to people's minds, and so for Chinese brands to regain consumer's trust on food safety, even for pet food, is not easy.
Besides food, pet owners are also interested in other services. The Goumin survey shows that 40.9% owners take their dog to a beauty salon, 25% pay to have professionals wash their dog or cat, and 4.5% have even booked a photo shoot for their pet.
"Spa services, from manicures to hair styling, are very popular," Jiang Yuxuan, pet beauty director at Naughty Family, one of Shanghai's most in-demand pet salon and private clinic, told Forbes in an article published in March 2016. "We style 40 pets on average [per day], although during the holiday season that number can go up to 60 or 70. We are always very busy."
The profit margin of pet-boarding services can be as high as 20.5%. When owners can't take care of their pet, they can find another experienced owner to host the pet in his or her house. The cost per dog per day ranges from RMB 60 to 110, and usually including walk the dog three times a day and streaming a video of the pet to the owner.
Another obvious trend is that more and more owners care about their pet's emotional needs. Wang says her clients take their dogs to the beach and mountain hiking, as well as buying them educational toys and subscribing to DogTV.
"Pets are part of the family—there is also pet insurance now," she says.
To understand China's pet business and pet owners better, click the infographic below.