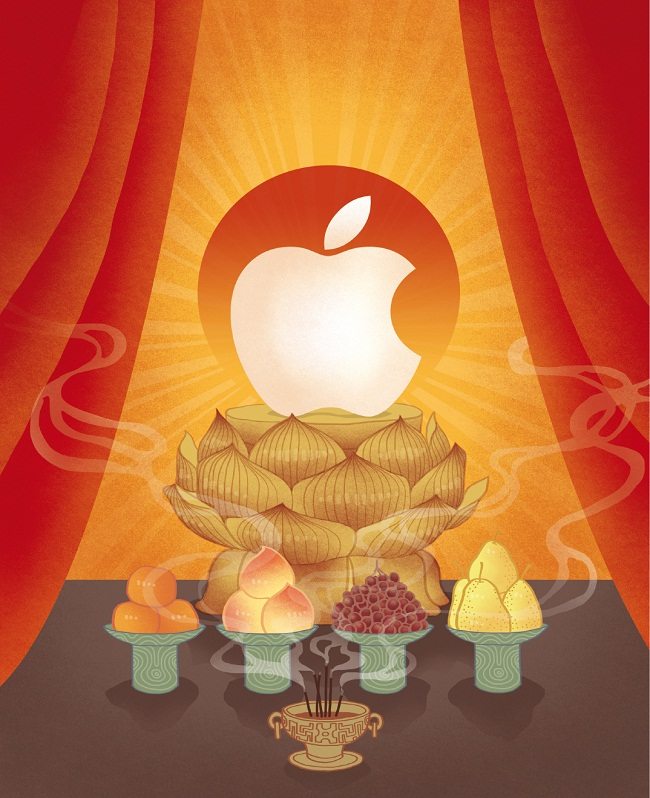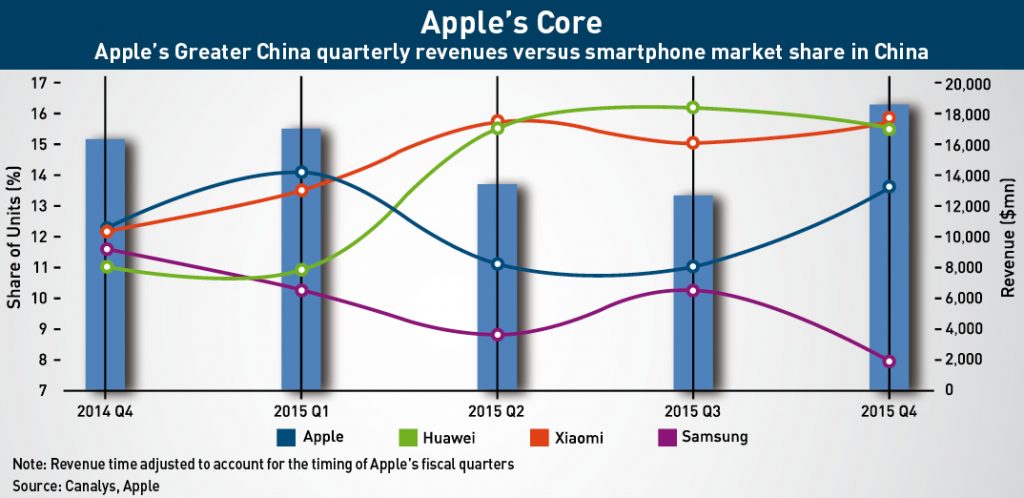 (Click to enlarge)

And there are concerns that Apple's innovative capacity will ebb under the leadership of Tim Cook. As a supply chain expert, Cook approaches business very differently than late Apple founder and CEO Steve Jobs, who is widely hailed as a creative genius.

"Steve Jobs' approach was to tell consumers: 'You don't know what you want, so I will show you,'" says Eddie Han, a smartphone analyst at the Taipei-based Market Intelligence & Consulting Institute (MIC). "Now, Apple is behaving more like a regular tech firm—having launched a large-screen smartphone because there is high demand for that product right now."
Patience is a Virtue
Apple did not always flourish in China. It was a latecomer to the country's handset market, entering in 2009 via an agreement with China Unicom after two years of secret negotiations with Chinese carriers. At the time, Unicom's 3G network was the only one that was technologically compatible with the iPhone.

By the time it became available to Chinese consumers in October 2009, rivals like Nokia, Samsung and Motorola were firmly ensconced, having benefited from long-term investments in the Chinese mobile market. Apple also faced fierce competition from local brands Huawei and ZTE.

Apple's strategy in China was then—as it is now—to target the premium market, allowing the company to maintain high profit margins. There have never been discounts, even though the iPhone is pricier in China than in the US because of import duties.

Aiming high helped build Apple's image as a premium brand in the minds of Chinese consumers, but sales were initially modest as fewer Chinese could afford an iPhone than today.

In 2012, upper middle class consumers, defined by consultancy McKinsey & Company in a 2013 report as having household incomes of RMB 106,000 to 229,000, accounted for just 14% of urban households. By contrast, the mass middle class, with household incomes of RMB 60,000 to 106,000 annually, made up 54% of urban households.

An iPhone 4 without a contract cost about RMB 6,000 in 2012, which was unaffordable for most of China's mass middle-class consumers at the time. Yet household incomes have steadily risen since, giving a boost to Apple's China fortunes.

However, the key catalyst for the company's surge was the deal signed with China Mobile in December 2013, says Han of MIC. That agreement gave Apple access to the massive state-owned carrier's then 700 million subscribers, he notes.

Since then, Apple has risen from number 5 to number 3 in China's smartphone market, trailing only Xiaomi and Huawei.
Far From the Tree
China is currently Apple's fastest-growing market. Even as sales slowed globally in its first fiscal quarter ended, which ended December 26, Apple managed double-digit growth in the Greater China region.

For the fiscal year that ended September 2015, the company reported 84% annual revenue growth—an increase of roughly $27 billion—for Greater China. Operating income nearly doubled from $11.04 billion to $23 billion, boosted by sales of high-margin 64 GB and 128 GB iPhone models.

The iPhone is driving Apple's success in China. Stifel, a US brokerage, estimates non-Android (primarily Apple) smartphone sales jumped 33% year-on-year in China in the fourth quarter of 2015 to 24.3 million units.

Strong adoption of the iPhone in China is driving a parallel surge in app store downloads. From the fourth quarter of 2014 to the fourth quarter of last year, iOS downloads in China increased by 20%, according to Beijing-based analytics firm AppAnnie. Apple's iOS app store spend "exploded in 2015 as revenue doubled year over year" on the back of brisk games sales, AppAnnie notes in a January 2016 report.

In China, Apple relies largely on sales in brick-and-mortar stores that CEO Cook has said "are among the busiest in the world." The US tech giant currently has 33 stores in China, and plans to have 40 in the Greater China region by October.

"We've been going gangbusters since 2011," says a person close to Apple's China retail business, speaking on condition of anonymity. "There was a bit of a lull in 2014, but since the launch of the Apple Watch, we have accelerated to a record pace."

Apple had sold over 1 million of its smartwatches in China as of early September 2015, according to Beijing-based analytics firm Talking Data.

In addition to official Apple stores, the company is opening a large number of 'shop-in-shop' locations inside other retailers—cellular carriers and authorized Apple resellers. "When Apple says it is opening four stores in January, that is just the [official Apple store] retail program," the person says. "They will probably open 30-40 other [shop-in-shop] locations as well."

Meanwhile, for China's tech-savvy upper middle class, Apple's brand power is irresistible. Its products are attractive, reliable and iconic, especially compared to the drab Android competition, consumers say.

"Android phones aren't stylish at all, and the operating system is unstable," says Anna Zhou, 28, an e-commerce sales manager for a European fashion brand in Shanghai.

Google's absence from China has been a boon for Apple, whose official app store is more trusted by Chinese consumers, says Han of MIC. "It's not just that iOS is a closed system and Android is open. Google doesn't have control over the apps sold in China's own Android stores, so it's inevitable that Android phones end up with more malware on them than iPhones."
Pay to Play
Looking to China as a long-term growth source, in February Apple launched its mobile payment service Apple Pay in the Middle Kingdom. There is strong potential in China's ascendant mobile payment market, analysts say. The Beijing-based research firm iResearch reckons Chinese consumers spent RMB 9 trillion (about $1.4 trillion) using mobile payment apps last year. Spending will double to RMB 18.3 trillion by 2018, iResearch says.

Apple Pay works best on the newest iPhone models, like the iPhone 6 and 6S. Using near-field communication technology, the service allows users to tap their devices on readers at store sales counters and make purchases by scanning their fingerprints.

Apple Pay can be used with the iPhone 5, but only when paired with an Apple Watch: fifth-generation iPhones cannot perform contactless payments independently.

To bring the service to the country, Apple has teamed up with China UnionPay, which has a monopoly on processing bank-card payments in China, and 15 Chinese banks.

"Cooperating with a strong local partner like UnionPay will help Apple penetrate the Chinese market fast," says Nephy Hu, a mobile payments analyst at MIC.

Just as it has partnered with mobile point-of-sale (POS) provider Square in the US, Apple may work with similar local firms in China to boost use of Apple Pay at physical retail locations, Hu says.

Also, Apple may team up with a local online payment service provider as it did with US payment startup Stripe to encourage online shopping with Apple Pay, he says.

But Hu believes Apple Pay will face considerable headwinds in China, where Alibaba's Alipay and Tencent's Tenpay together control 90% of the market. Compared to Apple Pay, both of those platforms are "deeply rooted in local consumer habits", which involve using a mobile phone for everything from paying utility bills to making investments. Alipay and Tenpay reach a larger user base as well, as they can operate on either an Android or iOS phone.

Apple could expand the user base for Apple Pay by integrating the service with Alibaba's Taobao and Tmall shopping sites, which together with the business-to-business
site Alibaba.com form China's largest e-commerce marketplace. In 2014, those three sites had combined sales transactions of $248 billion, exceeding the sales of Amazon and eBay together.

In October 2014, speaking at a tech industry conference in California, Tim Cook and Alibaba CEO Jack Ma said they would be open to working together in China. A formal partnership between Apple and Alibaba is yet to be announced, but the two companies are believed to be in ongoing discussions.

The partnership is unlikely to be a priority for Alibaba, which already dominates online payments in China with Alipay, says Hu. Still, Hu believes Apple Pay has a reasonable chance of success in China. "Apple Pay has a lot of things going for it—the brand loyalty Apple commands, the company's strengths in software, compatibility with the Apple Watch, a high level of security."
The Clock Is Ticking
Even if Apple Pay doesn't catch on in China, Apple's devices remain popular with the nation's consumers. Alex Zhu, a 28-year-old editor at a Shanghai lifestyle magazine, says she is committed to the brand. "An iPhone is expensive but it's worth the money," she says. "It's more user friendly than Android and I don't have to worry about malware infecting my phone every time I download an app."

Demographic trends are moving in Apple's favor as well. By 2022, McKinsey estimates China's upper middle class will account for 54% of urban households and 56% of urban private consumption. By contrast, the mass middle, for whom an iPhone is usually out of reach, will fall to just 22% of urban households.

Chinese brands will be targeting the growing upper middle class market too, analysts say. James Yan, a Beijing-based handset analyst at the research firm IDC, says Chinese smartphone brands Oppo and Vivo could eventually compete with Apple. Both Chinese brands offer phones with excellent hardware, and they have customized Android operating systems that are more secure than what is typically found on an Android phone, he says. Compared to Apple, "the price is right, too."

Nicole Peng, the Shanghai-based APAC research director of research firm Canalys, agrees Vivo and Oppo will move to tap China's burgeoning high-end handset market.

But "Huawei [the top-selling Chinese handset brand overseas] has a stronger brand and wider appeal," than Vivo or Oppo, says Peng. She notes Huawei's global success has boosted its popularity at home.

Meanwhile, Chinese smartphone brand Xiaomi has moved into China's booming TV market, an area where Apple is absent (Apple TV launched in the US a decade ago). The Xiaomi smart TV sold briskly in China's e-commerce shops last year, according to the Beijing-based company.

Some observers say Apple's reliance on retail sales in China, where e-commerce is ascendant, is a mistake. China's e-commerce platforms have shown little interest in promoting Apple's products because of low profitability for the online shopping providers, according to DigiTimes, a Taipei-based research firm. Retail stores also require much larger investment than e-commerce channels.

But for a premium brand like Apple, iconic brick-and-mortar stores are integral to the brand image and shopping experience. "Apple is right to open a lot of retail stores," says Yan. "What they also need to do is innovate more." The company's ailing innovation is evident from the disappointing global sales of the iPhone 6S and iPhone 6S Plus, he adds.

Meanwhile, Evelyn Huang, a PC and tablet analyst at MIC, sees a similar issue with falling iPad sales. The iPad's sales continue to be eroded by the iPhone 6 and iPhone 6S, "mainly because the iPad appears to have hit an innovation bottleneck," she says.

To maintain its strong position in China, Apple will need to diversify its product lineup, says Peng of Canalys. She expects the company's innovation to be seen in "gradual improvements rather than something radical." To that end, she points out Apple has a stronger research and development program than its local competitors, who lack the US tech giant's resources.

The company's recent moves suggest it is expanding into new sectors, Peng notes. For instance, Apple executives met last year with officials from the California Department of Motor Vehicles to discuss the company's plans for a self-driving car. More recently, Apple acquired the virtual-reality start-up Flyby Media and hired Doug Bowman, former head of Virginia Tech's Center for Human-Computer Interaction.

In China's smartphone market, an advantage for Apple is its loyal customers. Apple can channel their brand loyalty by giving them reason to upgrade their iPhones sooner, Peng observes. She points out the replacement cycle is stretching to three years in China. "This is not something Apple wants to see, so they need a renewal program, perhaps running on an annual basis."

And to expand its customer base further, the company will have to win new customers accustomed to cheaper Android phones: "Apple needs to look at how Huawei, Oppo and Vivo are attracting middle-class consumers and convince those consumers to spend RMB 1,000-1,500 more," says Peng.

Although enjoying strong revenues in China, Apple can by no means remain complacent then. As Han of MIC points out, further down the line Apple's increasingly conventional business strategy could falter: "Apple used to be innovation-driven but it is now focused on maximizing operational efficiency." Unless it prioritizes innovation, "Apple will only be left with its brand value," he concludes.