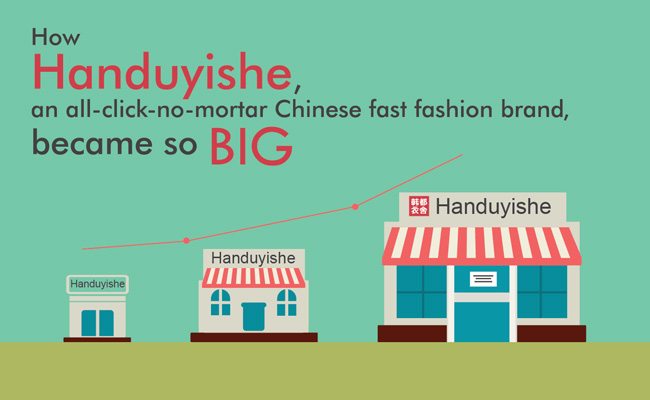 Chinese fast fashion brand Handuyishe is beating well-established rivals by focusing exclusively on e-commerce. Why is that a good strategy?
In China Alibaba is a force in itself. Alibaba's massive e-commerce platform Tmall accounts for 59.3% of the total online business-to-consumer (B2C) market in the country (and all of Alibaba's platforms combined took up 80% of China's e-commerce market in 2013). As an e-commerce company, Alibaba is already the largest in the world by some measures.
Alibaba, in turn, has spawned an entire breed of entrepreneurs in China who have built—and scaled—entire businesses on Alibaba's platforms.
One of the companies riding high on the Alibaba wave is Handuyishe, an apparel company. Founded in Jinan in 2008, Handuyishe's entire business is built online on e-commerce websites such as Alibaba's gigantic Tmall, and others like JD.com, Amazon China and VIP.com. Nearly 50% of its sales come from Tmall.
In just about seven years, Handuyishe, which has brands like HSTYLE, AMH and Soneed, has risen from virtually nothing to a formidable player. It has already beaten many well-established brands like Uniqlo and Only in China's e-commerce domain. On 11th November 2014 (Single's Day, originally a day to celebrate one's single status but now the world's biggest an online shopping festival), Handuyishe took the crown for best women's apparel-seller with a turnover of RMB 279 million (approximately $45 million) in one single day, surpassing the runner-up Uniqlo by over RMB 170 million.
Handuyishe's founder and CEO Zhao Yingguang is aiming for more—he is now trying to convert his company into a platform on which independent designers can start their own businesses, turning Handuyishe into an incubator of sorts. The aim is to create a variety of sub-brands under the Handuyishe umbrella brand by giving designers a platform and access to inexpensive resources and manufacturing. As a result, Handuyishe will be able to compete effectively in the fast fashion segment where turnaround times matter.
So far China doesn't have anything like this. "[Alibaba's] Tmall is a retailing platform and there still is a gap between entrepreneurs and consumers. To bridge this gap, we need to integrate needs and connect those needs with large-scale industrial support," says Zhao.
Talking to CKGSB Knowledge on the sidelines of a recent forum titled New Driving Forces of Chinese Brands, organized by Cheung Kong Graduate School of Business, Millward Brown and Australian Chamber of Commerce, Zhao explains how he made Handuyishe's100% online business model work and why China's e-commerce sector is so special.
Excerpts from the interview:
Q. How and why did you decide to have an apparel business purely online when you started Handuyishe?
A. I think the internet or e-commerce does not necessarily just mean a new channel to do business. E-commerce and offline commerce are not two parallel lines. It is what I call a disruptive innovation to [existing] business models. Since the infrastructure has been established, there should be some brands that are built purely on the e-commerce platforms. I viewed it as a great business opportunity.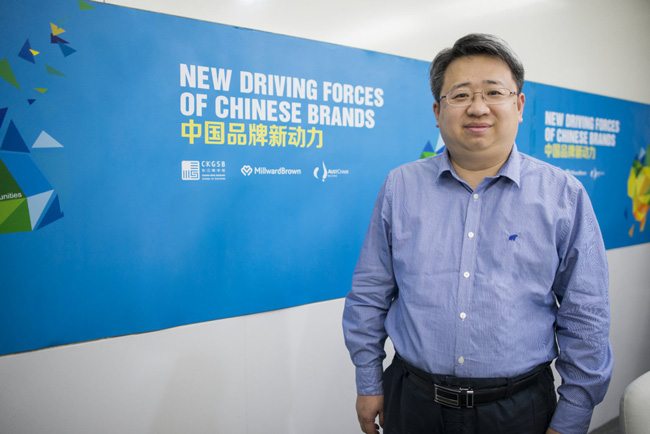 Q. Did you have any concerns before launching the online shop?
A. I was quite worried before launching it. In fact, Handuyishe was launched in 2008 but I made my first few forays into e-commerce as early as 2001, when selling online was just beginning to become trendy in China. At that time, people believed that e-commerce would be the future trend in China. But to what extent exactly would this market grow? People were unsure of the answer to this question. The future development of e-commerce should be promising but what would the challenges be and when would they crop up? Nobody had the answers.
China's e-commerce market started to gain traction around the year 2000, but the second e-commerce wave arrived in 2008. China's e-commerce market was at a low ebb for quite some time in the years between and that's why I had second thoughts about my business. I didn't make any aggressive moves when e-commerce wave was just starting to take root in China. I only became an entrepreneur after the e-commerce environment was mature enough.
I did not worry too much from a business performance perspective, but the speed of future growth and the potential room to grow, because e-commerce was a new thing [back then]. Even in today's context it is still a minuscule market within the business world.
Q. What do you think are the pros and cons of having a business that relies 100% on the internet?
A. One of the perks is that e-commerce operations are digitalized and, therefore, it is significantly more efficient than traditional operations. Secondly, regarding branding, e-commerce brings the cost of communications between customers and retailers down, and also increases the [likelihood and] frequency of companies hearing the customers' voice [to take into account feedback], which will accelerate the branding process.
When it comes to the weaknesses, the common perception is that the generations born in the 60s and born in the 70s are not considered habitual internet users. Those born in the 80s are regarded as 'internet immigrants' while those born in the 90s are born to be internet surfers. Therefore, the development of e-commerce is closely linked with the growing up of those born in the 90s. But it is inevitable that it will take some time for those born in the 90s to grow up. And with our target audience being those born in the 90s, time is a major drawback.
Q. How different is the process of brand-building when your platform is purely online and you don't have the same image as a regular established brand that people know like, say, a Zara or a Mango? People don't know you like they know them.
A. As a new brand, we focused more on the quality of our product. Hence, in the first two years, we devoted ourselves to guaranteeing the quality rather than branding. Three components that determine an online brand are customer recognition, loyalty and reviews. Customer recognition can be achieved by the product and user experience. Back then, the tools we used were Weibo (a popular Chinese microblogging platform) and [internet] forums. Speaking of Weibo, we practiced a special marketing approach there. For example, college students or people in their early 20s are very likely to be fans to some pop stars, so we created "Handuyishe fan clubs" on Weibo to interact with those fans. We were like "a brand behind the fans". If we post something positive about certain stars, we can create our own fan base out of the stars' fans.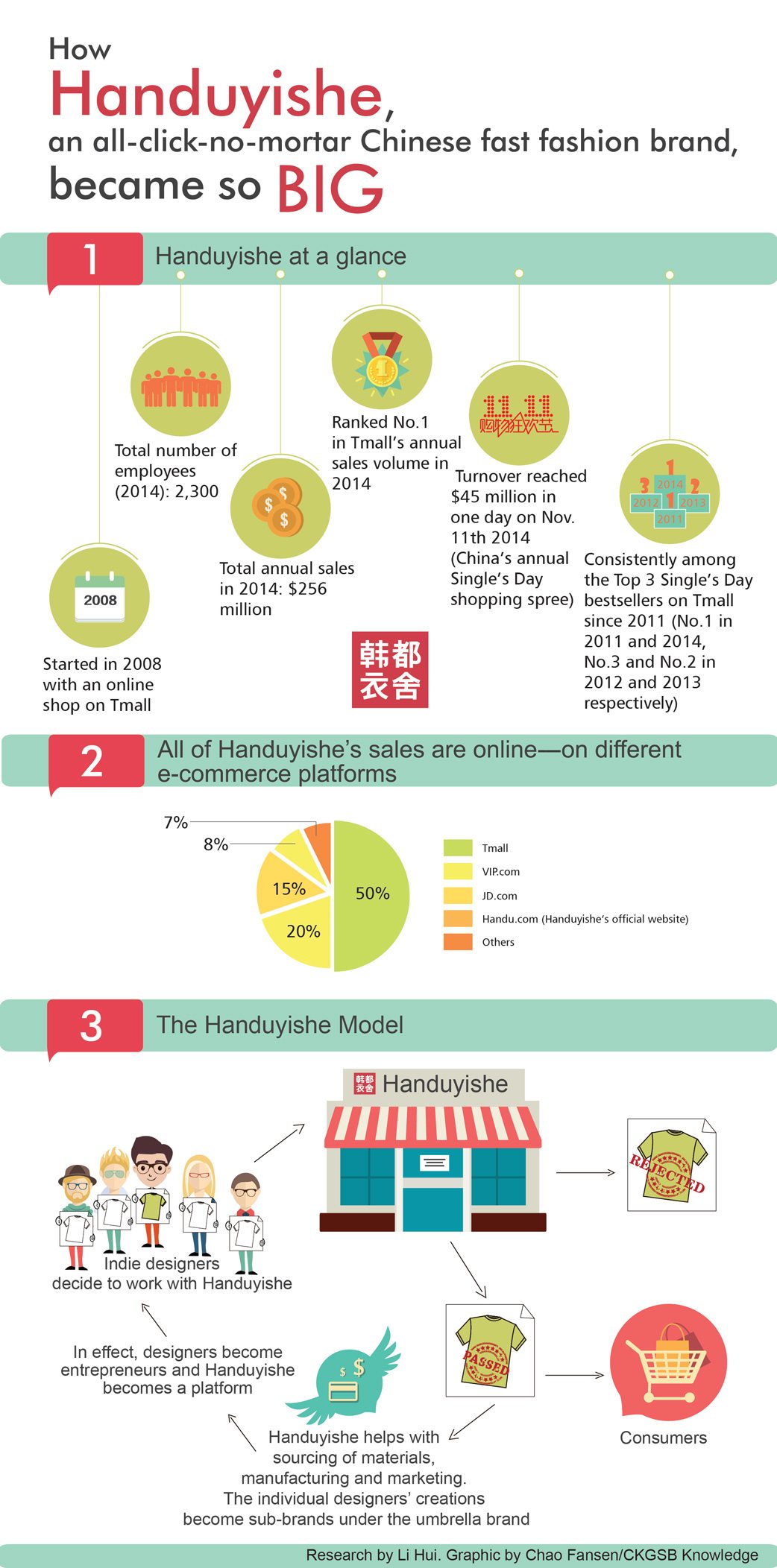 Q. Handuyishe is working very closely with celebrities. From receiving capital from Star VC (founded by three Chinese movie stars) to the recent partnership with Korean pop star Park Shin Hye, how does leveraging stars help your business?
A. Offline shops can convey their message through their location, look and feel and the ambience of their stores. When customers see the actual store, they will more or less be able to gauge the brand positioning. However, for online shops, these two factors won't play a crucial role because brands appear similar once they are on the internet. Hence, the tie-up with celebrities can help advertise your brand's positioning as each star has his or her own positioning. If we invite very well-known stars to be our spokespersons, then our brand image will improve substantially.
Q. You said that you will not bring your business offline. Are your thoughts regarding that unchanged?
A. I won't bring Handuyishe offline and here's why. Consumers will always have offline shopping needs. But every brand has a different mission. For Handuyishe, since we are not an apparel company but an "internet brand incubator", our mission is to help more brands develop.
Q. You are available on multiple online platforms—your own online store, Taobao, JD.com, VIP.com, etc. Which platform contributes more to your business?
A. Tmall accounts for 50% of our total sales revenue, VIP.com takes up around 20%, JD.com is nearly 15% and our own site has 8%. I think the percentage division is quite normal. Handuyishe is not a new name for many Chinese online shoppers today and the percentage of revenues generated from multiple platforms is, in principle, proportional to the number of visitors of the platforms.
Q. You have worked in Korea for many years and are pretty familiar with the Korean market. Do you think the Chinese e-commerce is very different from that in Korea or other countries?
A. In Korea, the offline retail industry was already highly efficient. If we are to put a number on the efficiency of Korea's offline retail industry, it would be 7 on a scale of 10. If offline retailing decides to go online, that number could rise to 8 or at most 8.5, which is not a huge growth. In China, due to a handful of reasons, offline businesses have very low efficiency—I would rate it as a 4 or 5. So when the efficiency jumps to 8, the difference can be felt very easily by the consumers. China's e-commerce has way more room to grow than that of Korea.
Q. The e-commerce market is getting increasingly crowded with more global brands gearing up to take a piece of China's e-commerce pie. How do you view the competition?
A. I don't see more foreign brands tapping into China's e-commerce as a bad thing. On the contrary, it is a positive phenomenon. From our perspective, actually online retailing and offline retailing are two competitors. Ensuring that customers have a better online shopping experience and convincing those who don't to shop online is the more important issue at hand. With more top-notch international brands leaning on e-commerce, China's e-commerce environment can benefit a lot from it.
These brands are not competing with Handuyishe. We are expanding the e-commerce territory together. In fact, the e-commerce pie in China will expand with more brands going online rather than more people sharing the same old pie and each brand getting a smaller piece.
Q. How have you seen the industry change in the past few years?
A. In the preliminary stage of China's e-commerce development, consumer-to-consumer (C2C) was the mainstream business model. It was a time of selling products that are of low quality and low price. Later on there came the B2C era, when internet brands dominated. The B2C era was an phase of good quality and low prices. Starting from 2011, offline brands started shifting online. During this period of time, product quality improved but prices went up as well. Since 2014, the e-commerce world changed. Offline brands took the center stage in e-commerce and online brands became sidekicks.
Q. Are you planning on going global?
A. We already have quite a few distributors overseas. These distributors would order our product and use our promotion materials and then sell on Amazon or eBay. I don't think now is the appropriate time for Handuyishe to go out of China yet. We might consider it in the future, but at the moment, our main focus is still the Chinese market.
Q. What's next for Handuyishe?
A. Handuyishe has four stages of development: Stage 1.0 was a mono-brand era; and 2.0 was a multi-brands era. We had many sub-brands targeting various audiences. Stage 3.0, what we are currently working on, is what we call the "internet brand incubator" era. We've successfully launched 22 brands on our platform. We hope that we can welcome our Stage 4.0 in 2016, when we can build an ecosystem cultivating internet brands. Also, we are planning to list in 2016 or 2017.