Genki Forest has successfully challenged the perception that China's beverage industry belongs to established brands
By Teng Binsheng, Professor of Strategy at CKGSB, and Wang Xiaolong, Senior Research Fellow at the CKGSB Case Center
While the beverage industry in China has not been short of growth miracles, there has never been a new brand or product with such a positive reputation and consecutive years of high growth as Genki Forest. On its way to becoming China's fastest-growing beverage brand, the company overturned traditional perceptions one by one, and most importantly, proved that the assumption that new brands can't compete against long-lasting behemoths is no longer true.
In the country's Tier-1 and Tier-2 cities, the company's sales of low-calorie, low-sugar drinks are fast approaching those of the traditional beverage giants. In Shanghai, for example, Genki Forest's sales reached 67% of Coca-Cola's in 2019 and climbed to 92% in 2020. But even though they now have an annual sales volume in billions of RMB, there are still huge opportunities for the company to expand into the rest of the country.
The drinks they manufacture have proved popular with the Chinese Gen-Z and Millennials, who are overall looking for healthier consumer products, and Genki Forest has now released its products in 40 countries around the world, including the United States, Japan, Australia and the United Kingdom. And in its most recent round of funding in early 2021, the company raised $6 billion.
For Genki Forest, 2022 is a critical year. The company is looking to build on its sales of around RMB 7 billion in 2021, and if it manages to exceed RMB 10 billion in 2022, then by 2023, Genki Forest will be considered a legitimate challenger to the established giants.
Planting the seed
Genki Forest was founded in 2016 by the serial investor and tech entrepreneur, Binsen Tang, who previously founded China's third-largest gaming company, ELEX Technology, before selling the company for $434 million in 2014. Frustrated at the overwhelming dominance of Tencent and NetEase in the gaming sector, Tang decided to switch to consumer goods, in particular the beverage sector, which he believed was yet to be transformed by technology—something that he and his team had notable expertise in. After ELEX Technology and before Genki Forest, Tang also set up an investment company called Challenger Ventures, through which he supported many Chinese entrepreneurs in the FMCG industry.
Tang and his team of tech entrepreneurs, none of whom had previous experience in the drinks industry, initially struggled to launch a product that resonated with consumers. Their first batch of products was a disaster and the team eventually chose to pay an extra RMB 1 million to destroy the RMB 5 million shipment. This failure sent the Genki Forest team back to square one, and for a long time the company survived almost entirely on loans from Challenger Ventures.
The company eventually managed to generate enough funds through crowdfunding on the Chinese platform Weibo to launch their first product—Xuanmi or "Burning Tea," a low-calorie, low-sugar oolong tea. Its price of RMB 6 ($0.94) per 500 ml bottle was one of the highest in the bottled tea beverage market at the time. The high cost was due to the use of the sugar substitute, erythritol, which, although it has advantages in terms of taste and health benefits, is 70 times more expensive than other substitutes commonly used, such as xylitol, maltol and aspartame, which is used by Coca-Cola.
After the success of "Burning Tea," Tang and his team launched the company into the carbonated beverage market in 2018, with its zero-calorie, zero-sugar sparkling water sold in stand-out white bottles. It was an immediate success and the company now offers over ten different flavors, including white peach, cranberry and cucumber.
Genki Forest has since continued to release new products on the market: a low-sugar milk-powdered drink with jasmine and Assam tea extracts, and Xiancha tea, based on traditional Chinese medicine using corn silk, brown rice and barley extract, were both launched in 2019. The company has recently released new products under subsidiary brands, such as Hokkari Pastures' sugar-free yogurt, and Alienergy, a zero-calorie herbal energy drink.  
Assembling the team
Tang's philosophy on prospective team members was less about how many years of experience they had in a particular industry and more about their skill set, which explains the make-up of the core Genki Forest team, who managed to hit the ground running despite having no previous experience in the FMCG industry. In Tang's view, "trusting in young people" was the way forward. According to him, their passion, taste, ability to learn, motivation and desire to succeed makes them incredibly valuable to any business.
The team members are, therefore, mostly young people who come from all walks of life, with few having a background in the traditional beverage industry. Moreover, the majority of the members are women, who provide a strong link to the target customer demographic in terms of desire for healthy products.
Many of the team are not trained in chemistry or nutrition specifically, but they are able to quickly and thoroughly research the requirements for the creation of a healthy, tasty drink. They then utilize the team's chemistry and experimental expertise to cross-pollinate ideas and come together to create great products.
By mid-2020, the team at Genki Forest had grown to more than 3,000 from just 30 people in 2016.
Growing reach
In a previous generation, when Nongfu Spring and Wahaha were entering the beverage market dominated by established brands such as Coca-Cola, they faced great difficulties given their low levels of brand recognition at the time.
So, how did Genki Forest become China's fastest growing beverage company? By centering its entire strategy on the sugar-free, calorie-free market, catering to a consumer base that is becoming increasingly health conscious.
The initial visibility for their first products was provided by the crowdfunding process they had used to launch the drinks. This proved incredibly useful given that early on in its existence Genki Forest had no marketing budget and Weibo was its main tool for getting its message out. The team set up an official Weibo account, and instead of posting ads, their daily job was to search for the keywords "Genki Forest" and "Burning Tea" to see what people were talking about and whether they were happy with the product. Then, in response to the different feedback, they rigorously expressed their gratitude, apologized to and addressed the concerns of as many users as they could.
This tactic contrasted sharply with the traditional FMCG practices of the time, where the main contact point with consumers was the cold shelves in hypermarkets and supermarkets, and the only communication between brands and consumers was through sales channels and various promotions. Now, the company often tops the beverage category on e-commerce platforms such as Tmall and has used key opinion leaders (KOLs), such as the influencers Li Jiaqi and Weiya, to promote its brand on streaming platforms, for example on both Xiaohongshu and Douyin (TikTok's Chinese sister app). Its drinks can also be found offline in shops and convenience stores all over China.
But for Genki Forest, having started out online, entering into these traditional sales channels was not an easy task. Luckily for Genki, new retail models that integrate online and offline shopping began to emerge around 2016. These new retail channels were looking for new, high-quality products to differentiate themselves from the shops on the streets. They also needed higher-margin products, something that Genki Forest could supply.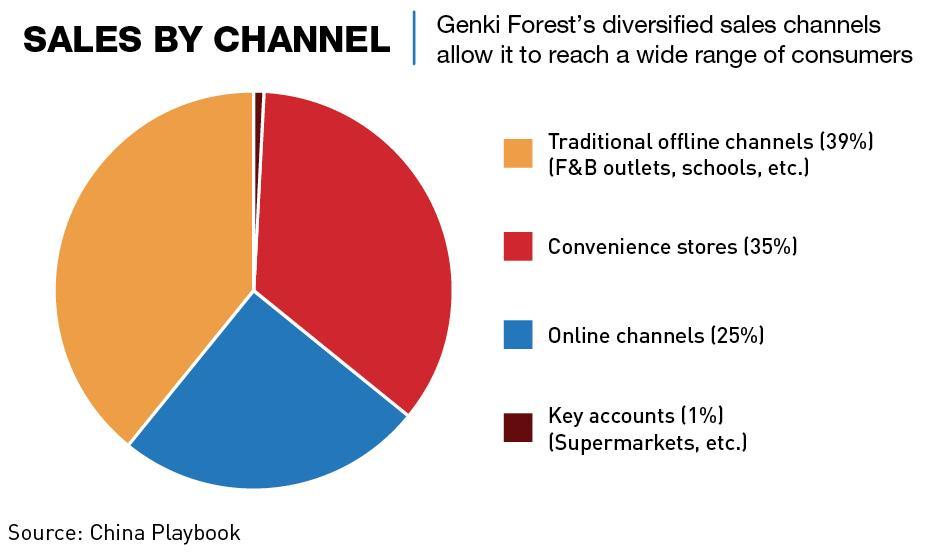 Genki Forest has also marketed its products using Japanese-style packaging: even its brand name uses Japanese characters, which makes its brand more unique in China and appealing to consumers. Japanese products, which are known for being high-quality while aesthetically pleasing, are very attractive to Genki's young target demographic, so the company opted to induce customers into thinking that it is a Japanese brand—a reasonably common tactic in China (another case being the Chinese retailer Miniso, although the company has apologized for the practice after a backlash).
Unlike "Burning Tea," which gradually grew after a slow start, the company's sparkling soda water proved popular with young people as soon as it launched. Interestingly, on social media such as Xiaohongshu, Zhihu, Jieyin and BiliBili, a large number of users spontaneously recommended, commented on and reposted messages about the product, which quickly boosted the product's reputation. In just a few months, the sales of Genki Forest's sparkling water reached levels that had taken "Burning Tea" more than a year to achieve.
In an attempt to continuously expand the influence of the brand, Genki Forest has also utilized product placement in the variety show "Our Band," appeared in the Golden Rooster and Hundred Flowers Film Festivals, and signed the actress Kitty Zhang as an image ambassador.
Growing up
As a self-described technology company, Genki Forest now sees its data-driven and high-tech manufacturing as an indispensable part of its model. But prior to 2020, Genki Forest had adopted an asset-light model, outsourcing the manufacturing of its products to other companies including Toyo, Jianlibao and Unity. China's domestic beverage production capacity has long been controlled by a few leading brands, and as Genki Forest continued to grow its market share, it experienced a bottleneck in terms of reliable production capacity.
Since 2020, the company has taken control of its production lines by building five of its own factories. This has significantly reduced production costs and increased capacity, as well as permitted the company to manufacture its sparkling water without preservatives. Over the last two years, Genki Forest has completed the development of these factories, forming a production network that spans the entirety of China, covering key markets such as North China (Beijing, Tianjin and Hebei), East China (the Yangtze River Delta including Jiangsu, Zhejiang and Shanghai), South China (Pearl River Delta including Guangdong, Hong Kong and Macao), Southwest China (Sichuan, Guizhou and Yunnan), all with a significantly increased delivery capacity. With all five factories in operation, Genki Forest's annual production capacity will exceed 5 billion bottles.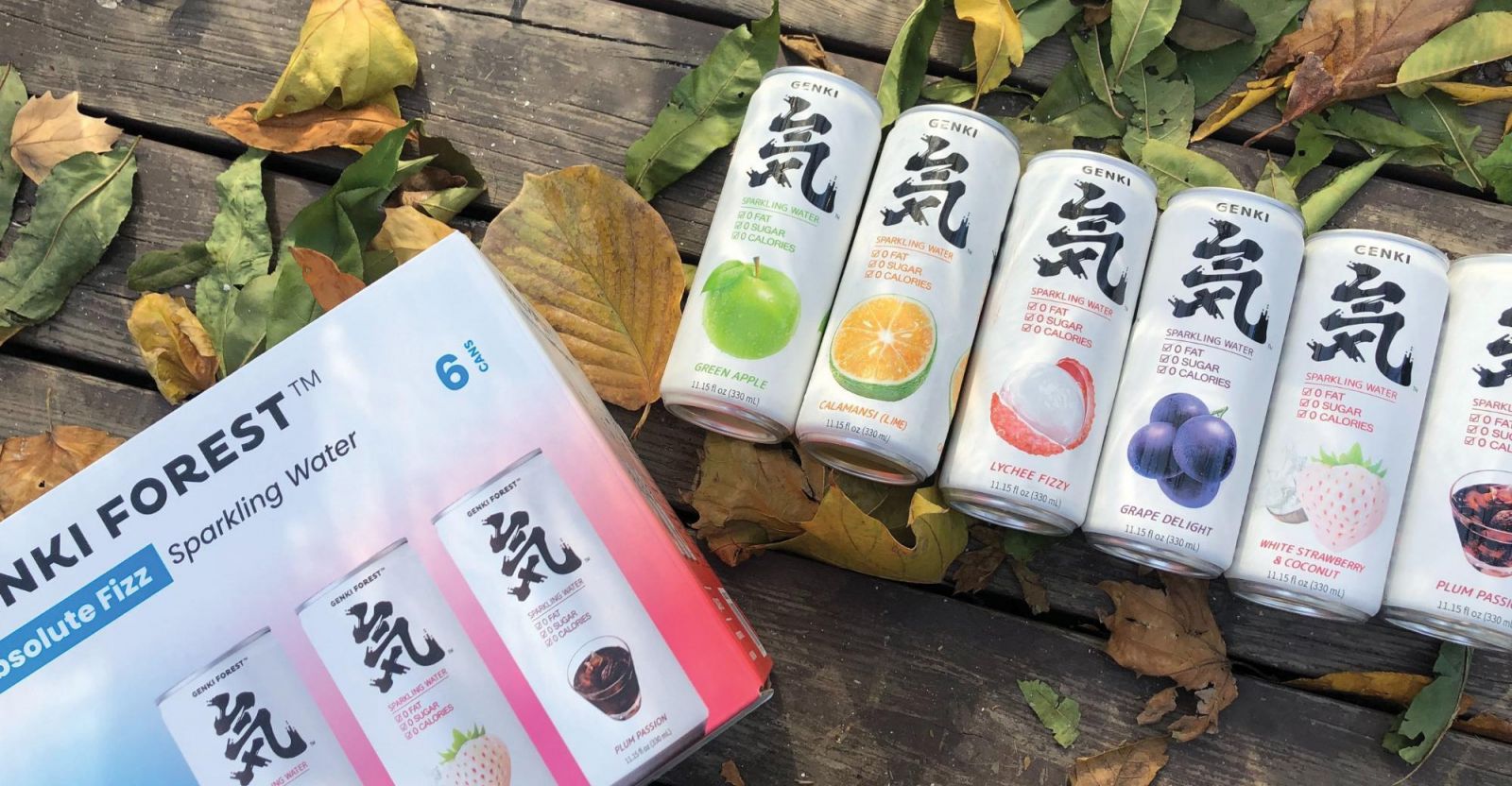 The next level
Although it was initially a challenge for a group of technology entrepreneurs to enter the consumer goods industry, the technological prowess of Tang and his team has enabled Genki Forest to release a slew of new and innovative products. In 2020, Tang said that 95% of Genki Forest's planned products are yet to be launched.
While the beverage industry has never been short of growth miracles, there has never been a new brand or product that has matched Genki Forest's growth trajectory and stellar reputation. In just a few years, the company has gone from strength to strength, challenging the traditional perception that the beverage industry belongs only to the established brands. The success of Genki Forest is based on entrepreneurship and technology, but most importantly a fundamental belief in the power of innovation.