Share

China Roundup: Panasonic's Pollution Compensation and Alibaba IPO Heads for US Shores
The week that was: Panasonic offers China-based Japanese workers hardship allowance; Alibaba IPO to reportedly happen in New York and not Hong Kong; tech giants plan to issue virtual credit cards; and premier Li Keqiang acknowledges the 7.5% GDP growth target is flexible.
Panasonic's air pollution compensation
There seems to be a silver lining in China's pollution after all. (Pictured below: Beijing's Forbidden City shrouded in smog.)
When heavy smog engulfed Shanghai in mid-December, consumer products giant Unilever allowed its China employees to work from home. Chinese netizens hailed the gesture saying that Unilever has a "conscience".
Now Panasonic is doing something similar, but only for its Japanese hires. According to the Financial Times, the Japanese electronics manufacturer has declared that it will pay employees it sends to China a "hardship allowance", which is included in a benefits package offered to employees relocating to less developed countries. It's not clear how many Japanese employees will be covered by the Panasonic program, but the Chinese workers will get nothing, the story says.
Although other international entities have also increased such benefits since air pollution worsened in China, the Financial Times says, Panasonic is the first one that makes the reason loud and clear. In November, reports claimed that the US Embassy in China had bought "thousands" of air purifiers (of the "best" brand) for its staff in China.
Chinese tech giants are becoming banks
Suddenly the hottest topic in China's business news is no longer e-commerce, as major players in the industry made a unanimous turn into internet finance, offering higher returns than traditional banks to lure deposits from online shoppers.
On Wednesday, Tech in Asia reported that Alibaba and Tencent, two of the largest tech firms in the eastern hemisphere, will partner with China Citic Bank to issue millions of "virtual credit cards" to netizens, allowing them to buy online with money they don't yet have.
The applications of those credit cards can be done on mobile phones, and applicants' online shopping history will be taken into consideration for credibility assessment. The whole process takes less than a minute.
The story came out the same time as Reuters reported that China's central bank, the People's Bank of China (PBOC), will launch pilot programs that allow privately owned banks to form and develop in four Chinese cities. Alibaba and Tencent are among the 10 companies that participate in the trial.
However, news came out earlier today in Chinese media that PBOC has prohibited tech giants from issuing credit cards. Xinhua, the state's mouthpiece, said that the central bank will answer questions and clarify the matter soon, citing sources inside PBOC. None of the three parties (Citic Bank, Alibaba and Tencent) has been able to confirm the halt.
Alibaba IPO: New York wins Over Hong Kong
One of the largest IPOs in history may very likely take place in New York, said the Financial Times on Thursday. Sources told the newspaper that Alibaba (Alibaba's Hangzhou headquarters are pictured below) is "95% certain" to choose the Big Apple over Hong Kong when it goes public.
Alibaba's negotiations with Hong Kong Stock Exchange have completely stopped, according to people close to the process, as the city's listing rules conflict with the intentions of Alibaba to exert tight control of its board appointments. In Hong Kong, investors share voting rights in accordance with the amount of shares they hold, while in the US the e-commerce group can offer preferred stocks for its current partners, giving them voting privileges.
Analysts believe that it's unlikely that Hong Kong authorities would concede and change the rules for Alibaba, which can be viewed as special treatment that cripples investors' rights.
According to the Financial Times, Alibaba's offering could "eclipse Visa's $18 billion" IPO, the largest so far in US history. Investment bankers believe that Alibaba does not want to wait for an olive branch from Hong Kong anymore, since the company has made several big acquisitions recently and listing helps it reduce its capital cost.
On Wednesday, Alibaba just agreed to spend $804 million on a 60% stake of ChinaVision Media Group, a TV and movie producer listed in Hong Kong.
Some defaults unavoidable, and growth target flexible
Chinese premier Li Keqiang, who oversees the country's economy, made several noteworthy remarks yesterday, during a press conference at the end of this year's National People's Congress.
According to CNBC, Li interpreted China's 2014 GDP target like this, "We set the GDP growth target at about 7.5%; this 'about' shows that there's a level of flexibility." Li continued to explain that while the economic expansion needs to support full employment and increase people's income, the government is not "preoccupied" by the target. Instead, he said, that economic development should bring real benefits to people, including energy conservation and environmental protection.
But some observers believe that the Chinese government will not stand by if the economy slows down too drastically. RBS' Chief China Economist Louis Kuijs told CNBC that growth is still a top priority for the government, and there's potential for stimulus. "I wouldn't be surprised if they did (inject stimulus)".
China's industrial output and retail data (January and February) released earlier this week both failed to beat the estimates, according to CNBC; February's exports also fell sharply, sending commodities prices down, Reuters reported.
On another note, when asked about risks within the financial sector, the Chinese premier said that defaults of some financial products may be hard to avoid, while the government will continue to monitor closely to ensure that there are no "regional and systematic financial risks". China's shadow banking industry has come under scrutiny in the past months, spooking investors into sell shares of Chinese banks in Hong Kong, among other concerns over their future profitability, according to Bloomberg.
When asked about the local debt issue, Li told reporters that the official debt-to-GDP ratio is still below the warning line, but the government again will watch closely and "keep the front gate open and lock the side doors".
Some Lianghui quotes, better if they matter
To many Chinese, the annual Lianghui (two meetings), or the Chinese People's Political Consultative Conference (CPPCC) and the National People's Congress (NPC), which just wound up this week, mean nothing more than scripted voting processes and paranoid security measures on streets. Nevertheless, some things of note are discussed and outlined.
Besides some outrageous and ridiculous proposals from celebrity representatives, we believe some comments from Lianghui VIPs are genuine and worth your time. Here're a few collected by Chinese magazine Caixin.
"Starting this year, we will start preliminary research for the 13th Five Year Plan (2016-2020). However, with the rapid market changes, the traditional way of drafting five-year plans is no longer suitable. Now we need to find a method that's more closely attached to the current market condition."
– Xu Xianping, Deputy Director of the National Development and Reform Commission, China's top central planning agency.
"I think energy conservation and environmental management has yet to fully catch on."
– Guo Yunchong, former Minister of Housing and Rural-Urban Development.
"Inevitably, some of the interest rate reforms have both pros and cons. From a mid-term point of view, however, the short term pain is much harder to prevent."
– Zhou Xiaochuan, Chairman of People's Bank of China (PBOC), the country's central bank.
"As internet finance grows in China, problems have emerged in regulatory oversight and supervision, in addition to a lack of self-restraint in the industry… on the one hand, development and innovation of internet finance should be encouraged. On the other, proper oversight should be imposed to prevent risks."
– Zhou Xuedong, President of PBOC's Nanjing branch.
"There's still much room for the government to reduce its holdings in state-owned enterprises where the state holds the majority of shares, such as the three major telecoms and oil companies, in which roughly 70% of the shares are owned by the state."
– Li Yizhong, former Minister of Industry and Information Technology.
"How many times do you want me to say it? I really do use Alipay."
–Yang Kiasheng, former President of Industrial and Commercial Bank of China, when asked by a reporter if he uses Alipay, China's Paypal, and Yu'e Bao, an internet finance product of Alibaba that is threatening bank deposit. He said, by the way, that he does not use Yu'e Bao.
You may also like
The BRICS countries no longer share similar economic trajectories, but the grouping still has a role to play.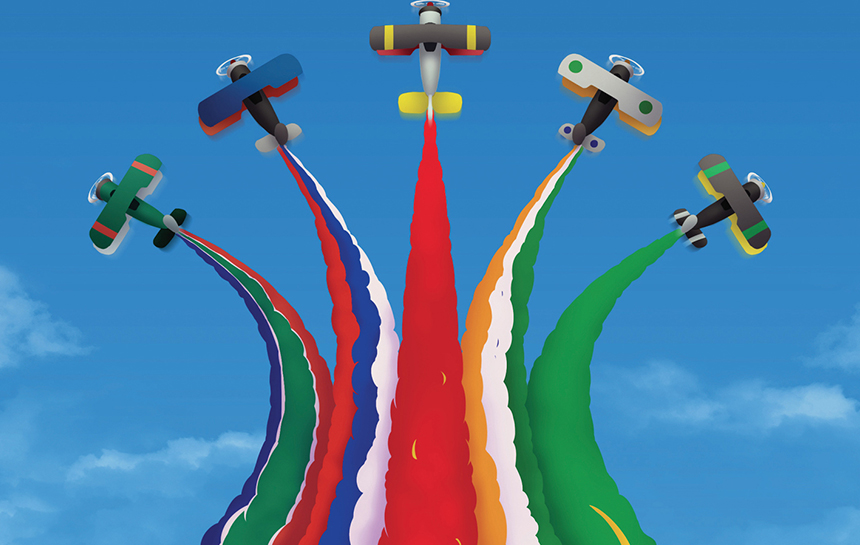 | Jun. 7 2023